How to make plantain flour at home to inexpensively add it to your family's diet as a healthy source of prebiotic resistant starch for keeping gut flora strong.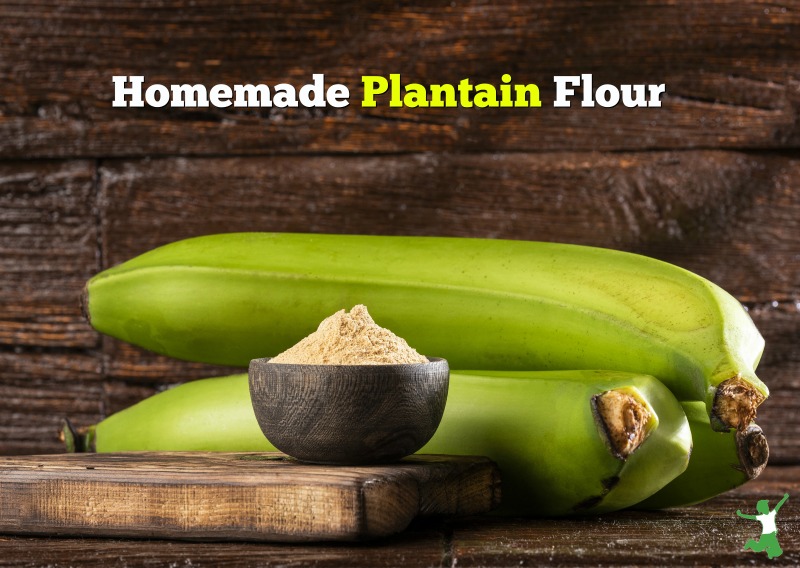 Plantain flour is one of the best foods for obtaining resistant starch in the diet. This important, yet frequently overlooked prebiotic nutrient feeds good flora in the gut, contributing to excellent intestinal health in general.
Studies have shown that resistant starch in the diet contributes to a flat belly too!
Many people enjoy adding one or more teaspoons to smoothies as a regular practice. It can be mixed into the batter of baked goods as well or simply sprinkled into a cup of yogurt.
Just start slow if you've never eaten it before to give your gut flora sufficient time to adjust gradually to avoid uncomfortable detoxification symptoms.
Unfortunately, organic plantain flour is difficult to find locally, and even regular plantain flour is quite expensive.
Thus, when available seasonally (they are very inexpensive at the supermarket!), making your own flour from unripe plantains is a good strategy. It freezes easily without clumping, allowing convenient use all year round.
Below is my easy recipe for making a little over a pound of plantain flour at a time.
Wondering how much to make at a time? In my experience, 2-3 pounds of plantain flour easily lasts 6 months or even longer for a family of 3-5.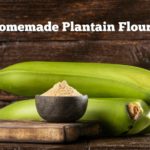 Homemade Plantain Flour Recipe
Simple recipe for making plantain flour at home. It is much less expensive to make than buy pre-made. Only one ingredient is needed: unripe plantains.
Total Time
6
hours
5
minutes
Ingredients
5

large

green plantains

unripe
Instructions
Peel and slice the plantains into circles about 1/4 inch thick.

Spread out on dehydrator trays or cookie sheets (if using the oven).

Set the dehydrator or oven to 140 F/ 60 C and dry out the plantain pieces for about 6 hours. If using an oven and the lowest setting is not 140 F/60 C, consult the user manual as most ovens can be adjusted lower if necessary.

When fully dry, remove the plantain chips and cool.

You can go ahead and eat the chips as is. Lightly salted and/or toasted in avocado oil, they are delicious! But, if you want to continue to make flour, proceed to the next step.

Place the cooled plantain circles in a food processor and pulse until a smooth flour.

Store plantain flour in airtight containers in the pantry or the refrigerator. It will stay good for several months in the refrigerator.
Nutrition Facts
Homemade Plantain Flour Recipe
Amount Per Serving (1 cup)
Calories 360
% Daily Value*
Potassium 1597mg46%
Carbohydrates 94g31%
Protein 4g8%
* Percent Daily Values are based on a 2000 calorie diet.