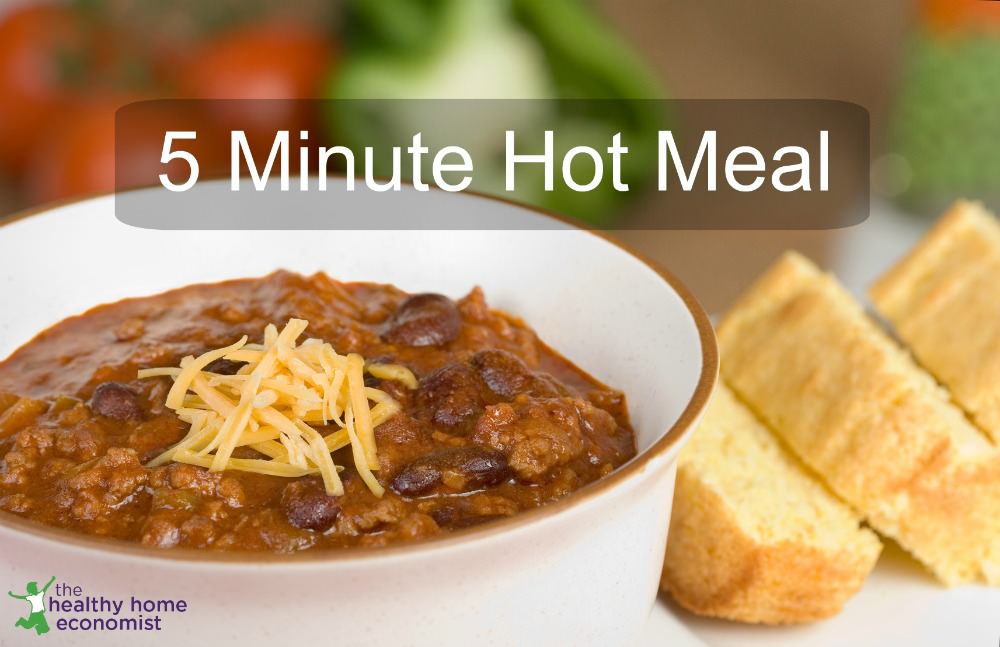 Crushed for time to make dinner and everybody is starving and can't wait another minute to eat? Here's a fast, easy solution with a few items pulled from the pantry, freezer, and refrigerator at a moment's notice.
The dinner in the picture above is one of many examples of fast, healthy meals that can be pulled together in minutes. This video below shows you another option!
Enjoy 🙂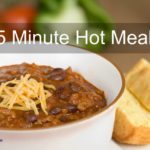 Hot 5 Minute Meal (whole foods only!)
Recipe and video demonstration of how to make a hot, 5 minute dinner with whatever whole foods you have on hand in the refrigerator, freezer and pantry.

Instructions
Brown the ground beef in a medium sized pot.

Pour in crushed tomatoes and precooked beans.

When hot and thoroughly mixed, add chili powder, sea salt, and pepper.

Serve with a small salad or carrot and celery sticks.
Recipe Notes
If you are interested in the bread in the picture, this recipe for garlic bread uses plenty of healthy fats and real, crushed garlic cloves. It is one of my family's favorite side dishes.
5 Minute Hot Meal (Demonstration)
The video below demonstrates the written recipe for you visual learners 🙂
Note that I use precooked beans in the dish, but you can just as easily use leftover veggies instead if that is what you have on hand. The point is to get creative and that a healthy dinner does not have to be complicated or time consuming to prepare.
Need some other ideas? Check out this recipe for shrimp fried rice that can be prepared in 10 minutes or this recipe for healthy homemade Chinese food that is ready to eat in about 5-10 minutes.
What are your favorite 5 minute dinners? Please share your healthy, whole food based recipes and suggestions with all of us in the comments section.
Sarah, The Healthy Home Economist