How to make dried oregano at home from freshly snipped sprigs from the garden that is tastier and more nutritious than any store brands.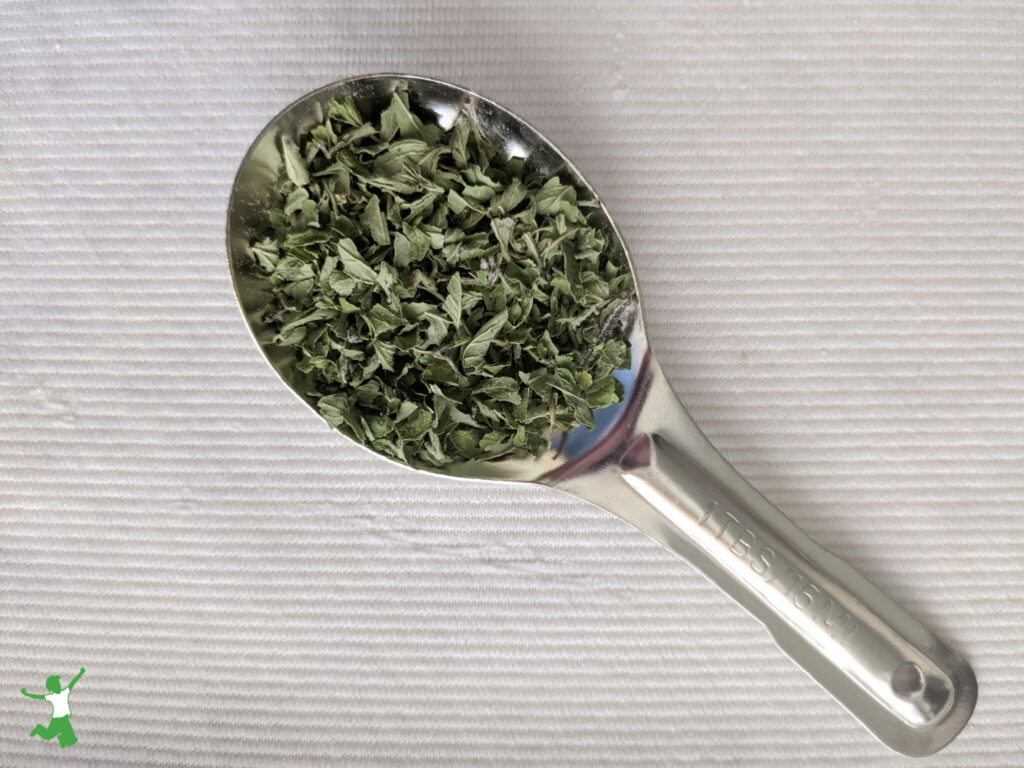 When people ask me which herbs are best to grow in the garden, I always include oregano on the list.
Oregano is So Easy to Grow!
Oregano grows very fast and is quite resistant to adverse growing conditions in my experience.
It doesn't need the best soil to thrive and is quite drought resistant too.
For example, I recently went out of town for 10 days. The weather was very hot with little rain while I was gone.
This was unexpected, as it was the time of year here in West Central Florida when rain is a regular occurrence in the afternoons.
I was concerned that much of my garden would be lost when I returned.
While I did lose quite a few plants, the oregano thrived and did not look any worse for the wear!
Shortly after I returned, the daily rains became quite heavy. Did the oregano leaves turn yellowish from excess rainfall?
No, they continued to thrive.
Currently, roughly a third of my garden is oregano as it has continued to grow with little effort on my part (I was spending most of my time on other plants that weren't growing as well!).
Hence, once you get oregano going (mine started with a single sprig two years ago, which has mushroomed into a shocking size), you won't have to do much to continue harvesting sprigs for the foreseeable future.
Both Food and Medicine
Another reason I love oregano is that I use it in so many dishes. It adds flavor to almost everything!
I use it most often in my homemade no-cook pizza sauce which I make almost every week. The flavor is incredible when you use fresh herbs dried with no heat instead of store-bought organic versions.
Check out the difference!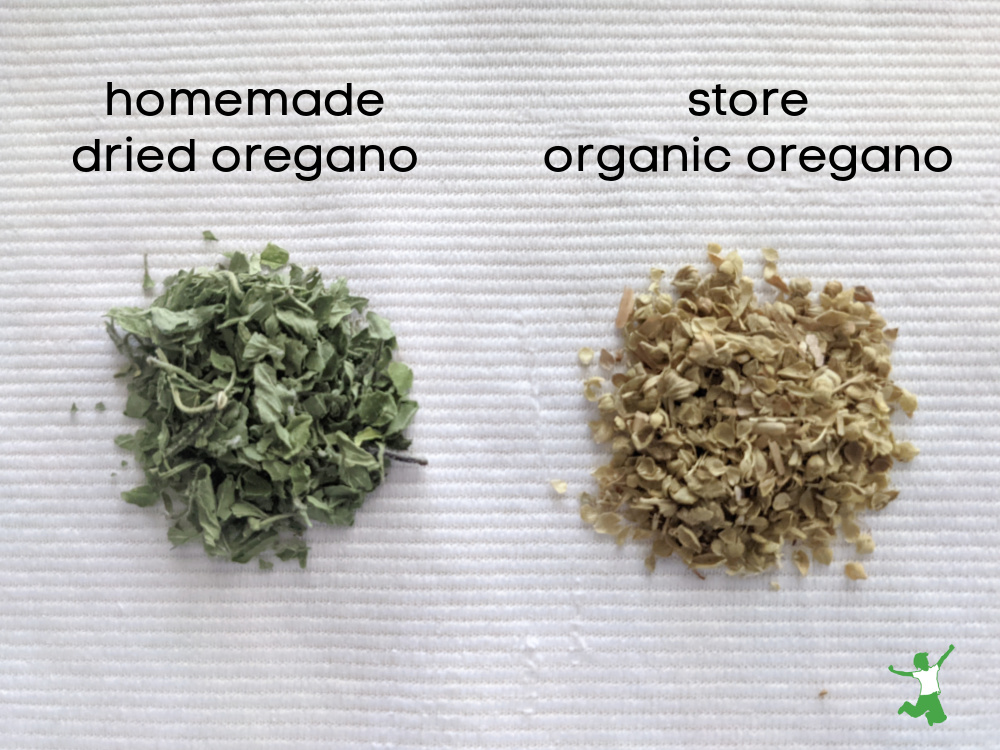 In addition to food, oregano is also powerful herbal medicine.
For example, oregano is a natural antifungal AND a natural antibiotic that won't harm flora…and a powerful one at that.
I've developed the habit of chewing on a freshly cut sprig most days when I am out tending to the landscaping or garden.
While this is only anecdotal, I can say that I've never been more well since I started this simple practice.
Does the fresh oregano have something to do with this? I don't know, but it certainly doesn't hurt.
How to Cut, Dry and Store Fresh Oregano
Once you get an oregano plant going, you will likely find that you will need to trim off sprigs often to keep it from taking over your garden!
What is the best way to use these sprigs?
I've documented my personal method below with pictures.
I do not wash OR apply any heat to the fresh oregano leaves. Why wash them if your garden is organic? The leaves are covered with beneficial flora that is best to preserve!
What's more, drying on the counter preserves the most nutrients. You can also use a dehydrator set on low.
But, in my experience, they will dry very quickly at room temperature.
Drying fresh basil is very similar.
If you prefer to wash fresh oregano, then use a dehydrator at a very low temperature as the wet leaves might mold before they are properly dry.
I hope you find this method helpful and will try it for yourself!
Trim Fresh Sprigs
The first step is to gather fresh oregano sprigs from your garden.
I suggest only trimming the sprigs that are "sticking up" as the plant as a whole generally stays low as a ground cover.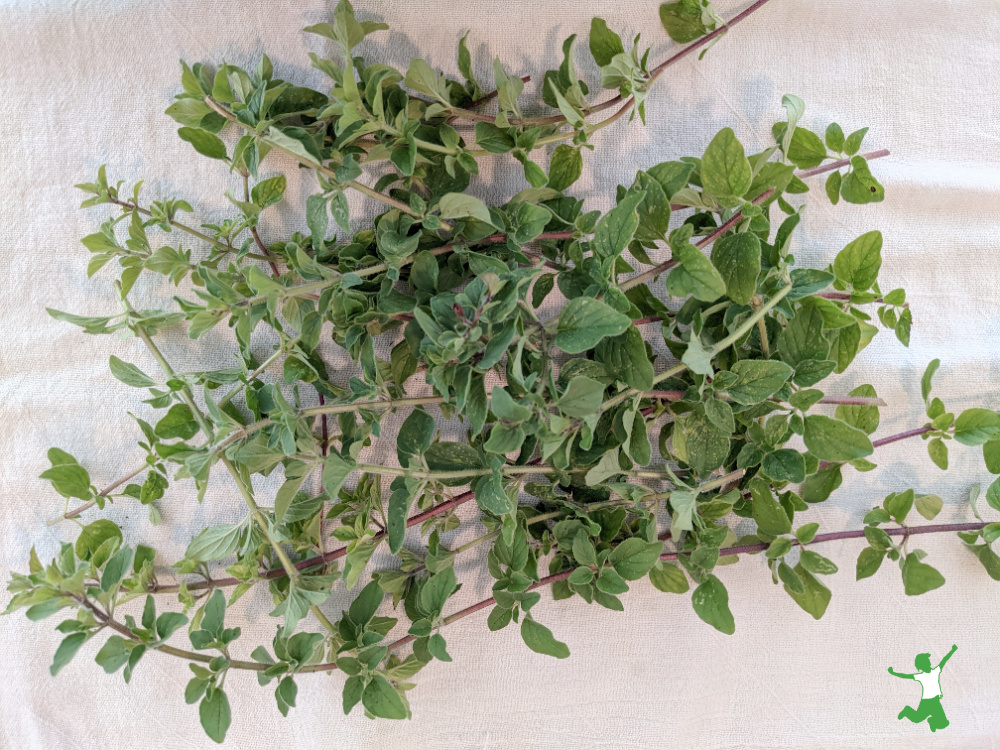 Remove Leaves from Stems
The next step is to remove the oregano leaves from the stems.
Once you've done this, I recommend composting the stems or chopping into small pieces and feeding to backyard chickens if you have some. Otherwise, simply discard.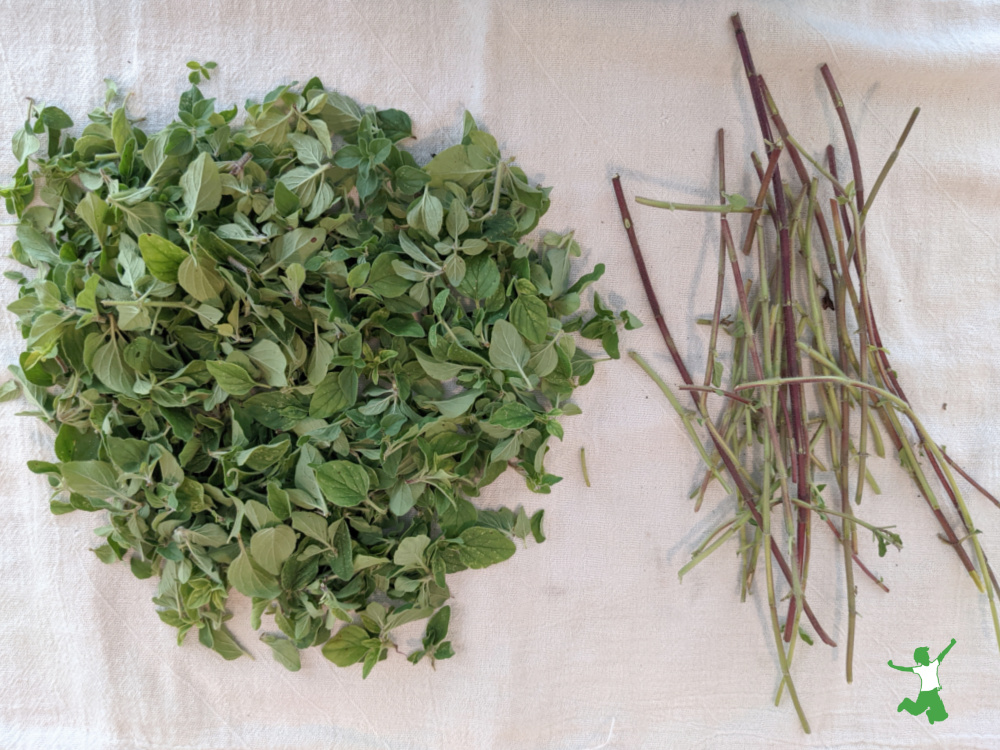 Spread Leaves Evenly on White Cotton Towel
After separating the leaves from the stems, spread out the leaves evenly on a clean, white cotton towel.
You do not need to wash or rinse them first if you grew them yourself organically.
This preserves the probiotics on the leaves!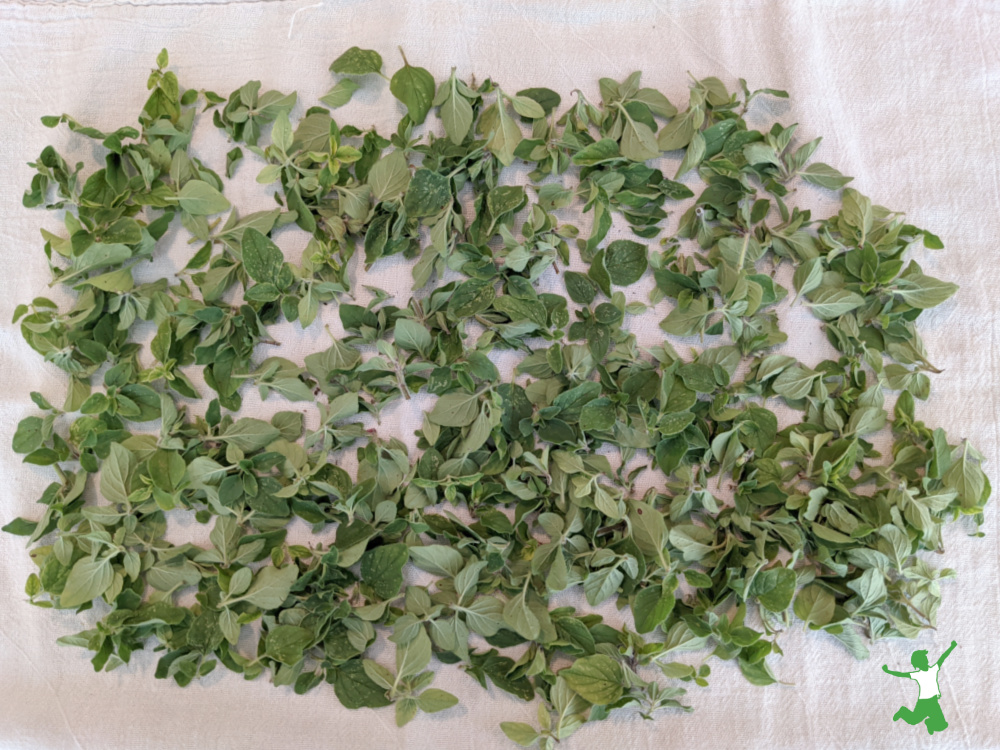 Dry at Room Temperature
Drying the oregano leaves at room temperature for two days is the next step.
I suggest folding the edges of the cotton towel gently over the leaves to protect them.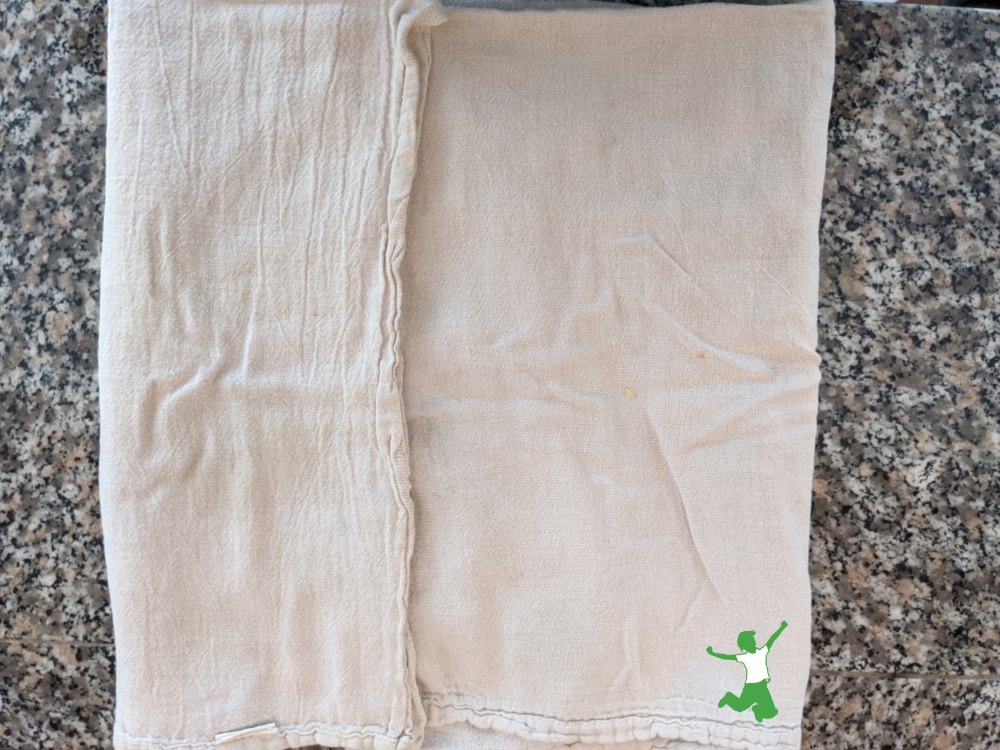 Chop Dried Leaves in Food Processor
After two days, unfold the edges of the cotton towel and transfer the dried leaves to the food processor.
Pulse a few times until they are roughly chopped to desired consistency. Take care not to chop so much that you powderize the leaves!
See the picture below for the size I prefer.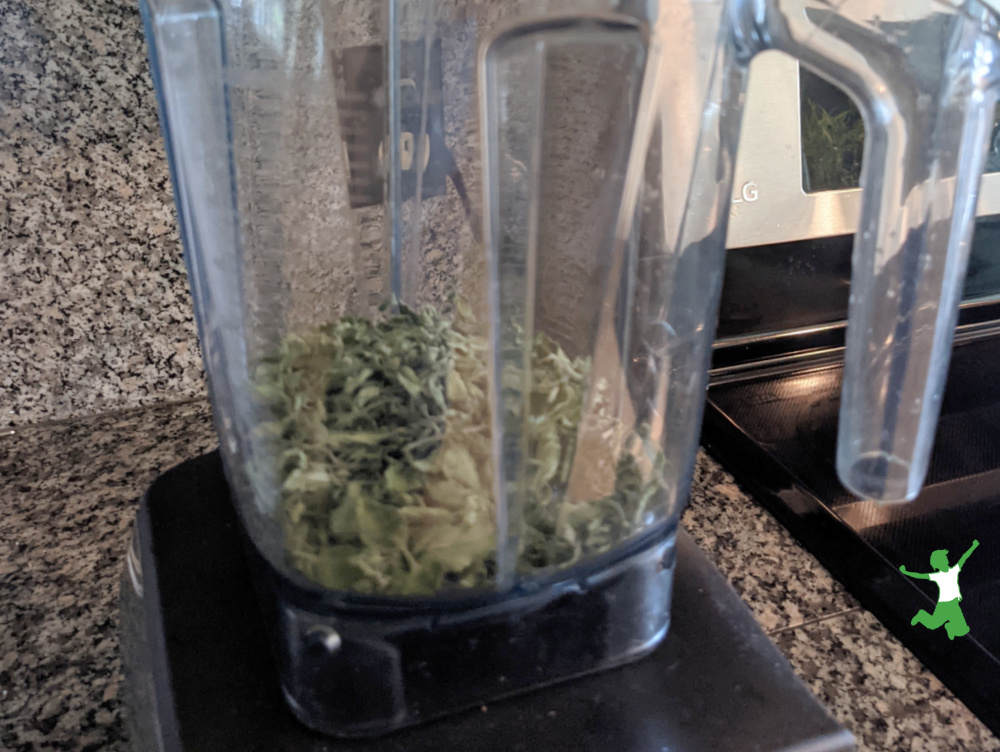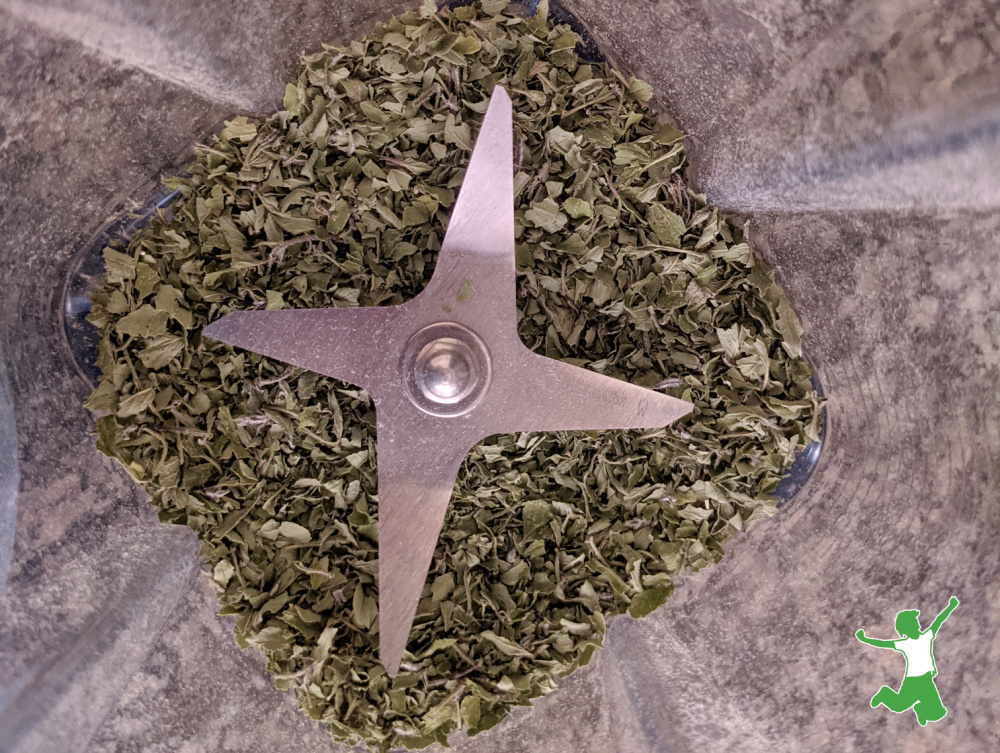 Storing Freshly Dried Oregano
Once the dried oregano leaves are lightly chopped in the food processor, store them in the pantry in a small glass container with a tight-fitting lid.
Use as desired in your homemade dishes, sauces and dressings!