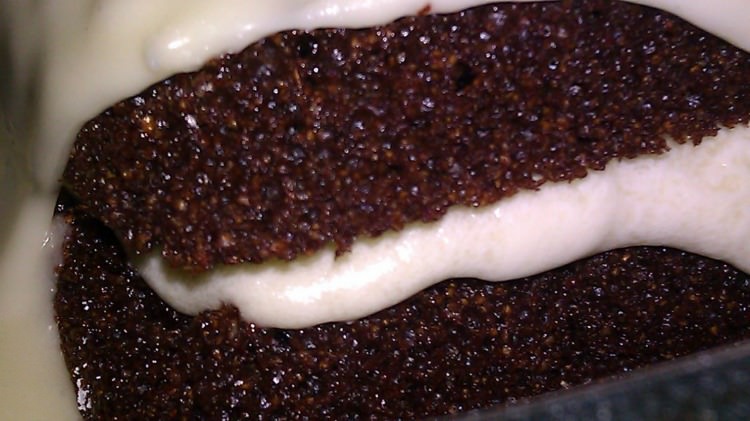 This recipe for devil's food cake makes for an absolutely sensational birthday treat.
In fact, devils food cake is almost always the birthday goodie my kids choose for me to make when their special day rolls around. Though recently, this recipe for chocolate chip cookie cake is giving it some good competition!
The inherent moistness of devils food cake combined with the nutrient-loaded butter frosting recipe I posted about recently makes for a melt in your mouth experience your child (and you) won't soon forget and neither will the birthday party guests!
Homemade Devils Food Cake (traditional method)
This particular recipe for devils food cake varies from other recipes due to the fact that it is soaked in sour raw milk to improve digestibility, break down the gluten in the wheat, and improve nutrient absorption from the wonderfully nutritious, fresh flour you are using to make it.
Soaking is one of the three traditional ways our ancestral cultures prepared their grains.   The great thing about traditional preparation of grains is that you eat far less when these foods are prepared this way because they are more filling and nutritious. When a food is more nutritious, you need to eat much less to feel full and feel satisfied for longer periods of time.
For those of you who try this devils food cake for yourselves, please email me to let me know how you like it!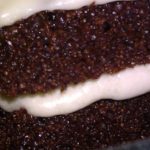 Homemade Devils Food Cake Recipe (traditional method)
This traditional recipe for devils food cake is easy and uses only whole ingredients instead of buying the chemical and GMO loaded cakes from the supermarket. Suggesting recipe for frosting too.
Instructions
Sift the fresh flour and feed the discarded bran to chickens, ducks or other birds. Removing bran allows just a quick soak of the flour to be effective for improving digestibility and also increases the lightness of the cake considerably.

Mix the sifted flour with the yogurt or soured raw milk, cover, and leave on the counter for about 7 hours. I usually mix the flour and the milk in the morning and make the cake in the afternoon.

Blend in the remaining ingredients. Pour the devils food cake batter into 2 - 9x13 glass baking pans greased with expeller coconut oil dividing the batter equally between the 2 pans.

Bake at 350F/177 C for about 30 minutes or until a knife or toothpick inserted in the center comes out clean.

Cool devils food cake completely and then remove one cake layer onto the cake serving platter and ice the top with raw butter frosting.

Remove the second devils food cake layer and carefully place on top of the frosted cake layer. Cover the remaining cake with more butter frosting.

Store devils food cake for up to 2 days in the microwave which makes the ideal, airtight pastry cabinet! After that, refrigerate any devils food cake leftovers (there probably won't be any).
More Healthy Cake Recipes!
Love making cake using traditional methods and ingredients? Try these other old fashioned recipes too.