Healthy recipe for baked beans using soaked beans and whole food sweeteners that you can feel good about serving!
Baked beans are a popular side dish for barbecues and summer holiday meals.
Unfortunately, supermarket versions contain high fructose corn syrup, GMOs and unhealthy additives. Stay away!
Shockingly, recipes online aren't much better.
I looked pretty exhaustively to find a decent one to use for our Fourth of July get-together this weekend.
N-O-N-E were decent enough where I could, in good conscience, bake and serve to my friends and family!
Even the "from scratch" recipes typically used canned beans.
Versions using dried beans didn't soak them properly. This is an important step to prevent an attack of "bean gas" if you know what I mean.
ALL were loaded (and I mean loaded) with sugar.
I did find a few that soaked the beans overnight.
This was encouraging until I saw that these same recipes used the bean cooking water (aka "aquafaba") in the dish. Yikes!
Ultimately, I decided that I needed to come up with my own truly healthy recipe instead. This often happens if you peruse the 400+ whole food recipes on this blog!
I am happy to report that the results were tasty and satisfying, using only whole sweeteners.
Give this recipe for classically inspired Southern baked beans a try if this dish is on your menu for a family get-together this summer!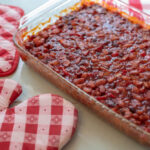 Classic Baked Beans Recipe
Healthy recipe for baked beans using properly prepared navy beans and whole food sweeteners that you can feel good about serving to friends and family.
Prep Time
1
hour
15
minutes
Total Time
13
hours
15
minutes
Instructions
Place dried beans in a large glass bowl and add filtered water to cover at least 2 inches above the beans. Stir in ACV only if using unsprouted navy beans.

Leave on the counter for at least 8 hours or overnight.

Drain beans and rinse thoroughly. Place beans in a large pot with 6 cups fresh filtered water.

Bring to a boil, turn down heat, cover and simmer for about 1 hour or until beans are soft.

While beans are cooking, saute diced bacon and onions in a large skillet. Cook over medium heat until bacon is slightly crisp and onions are soft.

Strain and rinse cooked beans in a colander. Place cooked beans in a large glass casserole dish and mix in cooked bacon, onions, chicken broth, sucanat, molasses, ketchup, dry mustard, sea salt and pepper.

Cover the casserole dish with a glass lid (use aluminum foil if you don't have a lid) and bake for 3 hours at 300 °F/ 150 °C.

After 3 hours, remove the lid and cook for an additional hour or until desired consistency and thickness of sauce.

Remove from oven and serve immediately.

Refrigerate room temperature leftovers in a covered glass container with a tight-fitting lid for up to 4 days. You may freeze leftovers as well.
Nutrition Facts
Classic Baked Beans Recipe
Amount Per Serving (0.5 cup)
Calories 152
Calories from Fat 39
% Daily Value*
Fat 4.3g7%
Cholesterol 20mg7%
Sodium 340mg14%
Potassium 177mg5%
Carbohydrates 19.5g7%
Protein 8.6g17%
* Percent Daily Values are based on a 2000 calorie diet.