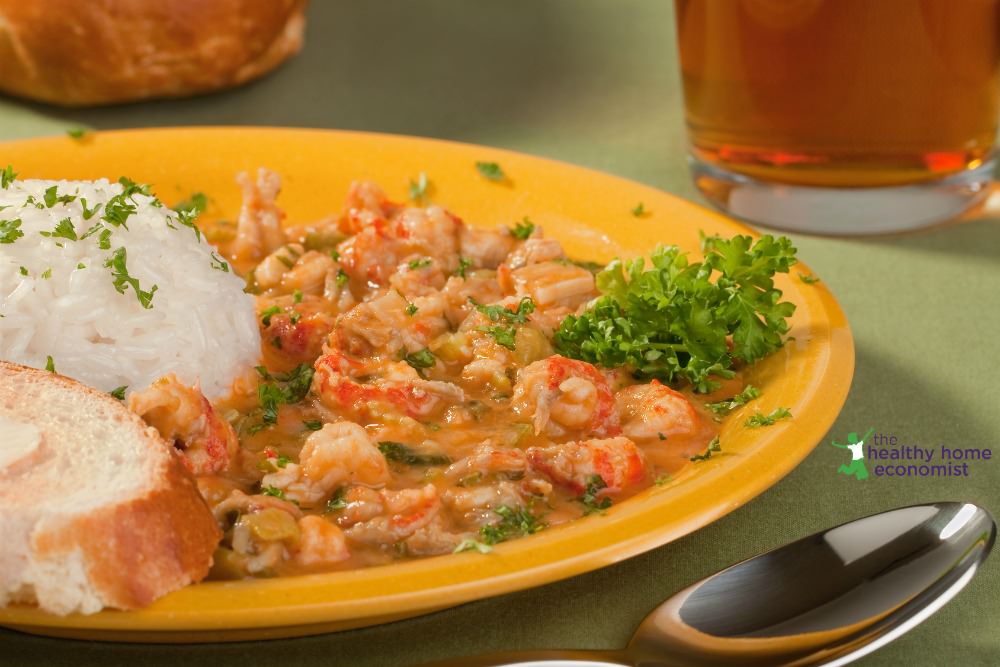 Spring is crawfish season in the Southeastern United States, and if you enjoy either Creole or Cajun food, crawfish etouffee is a dish found in both cuisines.
I had my first taste of this unforgettable dish while working an IT consulting gig in Tallahassee Florida as a newlywed a rather looong time ago. It remains my favorite to this day!
Most crawfish lovers have no idea about this, but in the United States, crayfish (aka crawfish) tail meat is dominated by Chinese imports. However, the best flavor and nutrition comes from Louisiana crawfish. 
You'll pay more for domestic, but the significantly enhanced buttery flavor is well worth it. Not to mention that you won't be risking your health from the heavy metals (arsenic, cadmium, nickel, and lead) and other toxins known to pollute Chinese waterways and its crayfish industry. (1, 2)
How to know if you're buying Chinese crayfish? That's an easy one ….
The vast majority of imported peeled tail meat is frozen in cheap and convenient one pound plastic bags. It is best to always buy whole crayfish anyway for a crawfish boil or any sort of crawdaddy-based dish made at home. This way, you get to use the shells, heads and tails to make crayfish stock as well as the meat for dishes. Much more value for money!
Please, please, puh-leez do not make crawfish etouffee using bouillon cubes or any sort of store bought stock. You really must use real crawfish stock. Broth made from shrimp, lobster, or fish may be used in a pinch, just never ever the fake stuff in the cans or cartons at the store.
7 Crawfish Etouffee Serving Suggestions
My husband prefers crawfish etouffee served as a stew in a bowl.
I prefer it over spinach pasta, a serving idea I learned from a little Creole restaurant in Tampa's Ybor City back in the 1990's.
My friend Paula Jager, founder of Crossfit Jaguar, who inspired this recipe, likes it over grits presoaked in limewater or chopped and cooked cauliflower for a grain free option.
Possibly the most popular and common way to serve this dish is over white rice. Of course, you may use brown or wild rice too if you prefer it. But, no matter which you choose, be sure to soak the rice first before cooking.
This process ensures far greater digestibility and nutrition absorption. In the case of white or brown rice, it also helps eliminate toxins. For example, the heavy metal arsenic is a common contaminant in paddy grown rice.
How do you best enjoy serving crawfish etouffee?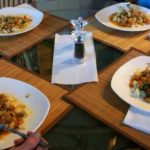 Authentic Crawfish Etouffee Recipe
Classical creole recipe for crawfish etouffee with 7 creative serving suggestions to cover the wide variety of food philosophies from gluten free and grain free to pasta and grits lovers.
Instructions
Melt butter in a large skillet over medium heat.

Add onion, celery, bell pepper and garlic stirring constantly for 5 minutes.

Stir in tomato, sea salt, black pepper, thyme, onion powder, white pepper, cayenne, hot sauce and crawfish, cook 5 minutes.

Mix flour in an ounce or two of cold water, mix well until there are no lumps and then blend the mixture into the simmering skillet, cooking and stirring constantly for 2 minutes.

Pour in stock gradually and cook uncovered over low heat for 20 minutes, stirring occasionally.

Stir in green onion and parsley and cook 3 minutes.

Take off heat and stir in optional cream for additional thickening and flavor.

Serve over your choice of spinach pasta, white rice, brown rice, wild rice, grits, or cooked cauliflower.
Recipe Notes
Substitute 2 Tbl banana flour for the grain flour to thicken if desired. I don't recommend arrowroot powder, as this grain free thickener generally doesn't work well when cooked.
Nutrition Facts
Authentic Crawfish Etouffee Recipe
Amount Per Serving
Calories 723
Calories from Fat 531
% Daily Value*
Fat 59g91%
Cholesterol 284mg95%
Sodium 187mg8%
Potassium 919mg26%
Carbohydrates 12g4%
Protein 21g42%
Vitamin A 450IU9%
Vitamin C 67.7mg82%
Calcium 130mg13%
Iron 1.4mg8%
* Percent Daily Values are based on a 2000 calorie diet.
Sarah, The Healthy Home Economist