How to bake both cold and warm water lobster tails in the oven for the perfect taste and texture every time.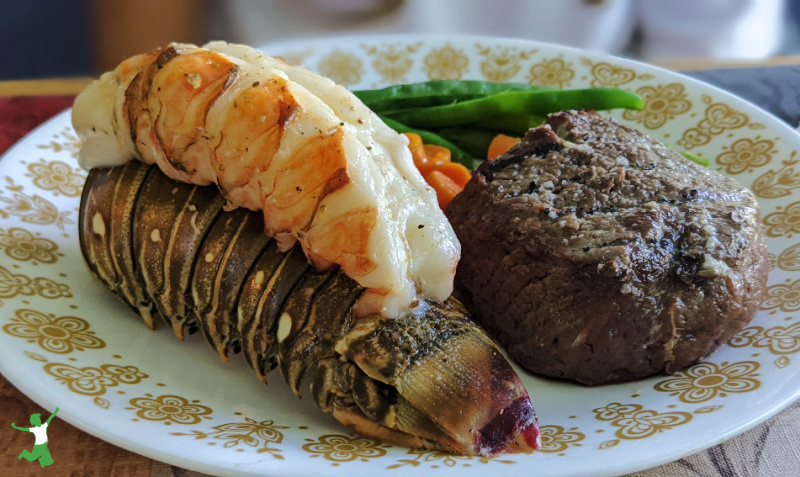 Our family prefers a surf & turf menu for celebratory dinners such as birthdays, graduations, and so on.
Since we are sometimes fortunate to have some tails in the freezer from lobster mini-season in the Keys, that is the usual choice for the surf.
Since many folks shy away from cooking lobster tails at home because it is an expensive mistake to mess them up (which is fairly easy to do, unfortunately), I thought I would share my method for baking them in the oven so they turn out perfectly every time.
This recipe works well for Maine, South African, or Florida lobster tails. It probably also works for Brazilian tails, but as of this writing, I have not tried those.
We like to pair the tails with a grassfed filet mignon baked in the oven as well. We get them freshly cut from our local butcher.
This surf & turf doesn't even require the grill if you prefer to stay indoors due to inclement weather!
While this may seem like an expensive meal, it costs a fraction of what you would pay in a restaurant and is better to boot as you can serve with local grassfed butter and your choice of organic vegetable medley.
Then, finish off the meal with a healthy homemade dessert (or two!) that won't have you down with a headache later.
Even the best steakhouses can't match that!
Be sure to save those tail shells after dinner to make a quick and easy pot of lobster stock!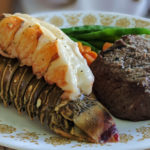 Baked Lobster Tails
How to bake both cold and warm water lobster tails in the oven for the perfect taste and texture every time.
Instructions
Preheat the oven to 400 F/ 204 C.

Melt butter in a small saucepan on the stovetop. Stir in crushed garlic cloves. Set aside.

Trim off underside flaps of shell from each lobster tail using kitchen shears.

Using kitchen shears, cut lengthwise down the entire top side of each tail. Gently pry open the two halves of the cut tail shell to expose the lobster meat. This 30 second video has a good demonstration. https://www.youtube.com/watch?v=N_pTfZh9Rjg

Season the exposed, butterflied meat with coarse sea salt and pepper.

Brush half the melted garlic butter set on the seasoned lobster meat (top and underside). The remaining butter will be used at the table for dipping the cooked meat.

Place the buttered and butterflied tails evenly on the baking sheet.

Remove from oven and serve immediately. Save shells for making lobster broth.
Nutrition Facts
Baked Lobster Tails
Amount Per Serving (8 oz tail meat)
Calories 223
Calories from Fat 113
% Daily Value*
Fat 12.5g19%
Cholesterol 121mg40%
Sodium 875mg36%
Potassium 436mg12%
Carbohydrates 2g1%
Protein 25.5g51%
Vitamin A 700IU14%
Calcium 76mg8%
Iron 0.49mg3%
* Percent Daily Values are based on a 2000 calorie diet.