This easy, family-style crawfish boil recipe is cooked on the stovetop using either fresh or frozen (thawed) uncooked crawfish. Spices may be adjusted based on personal preference.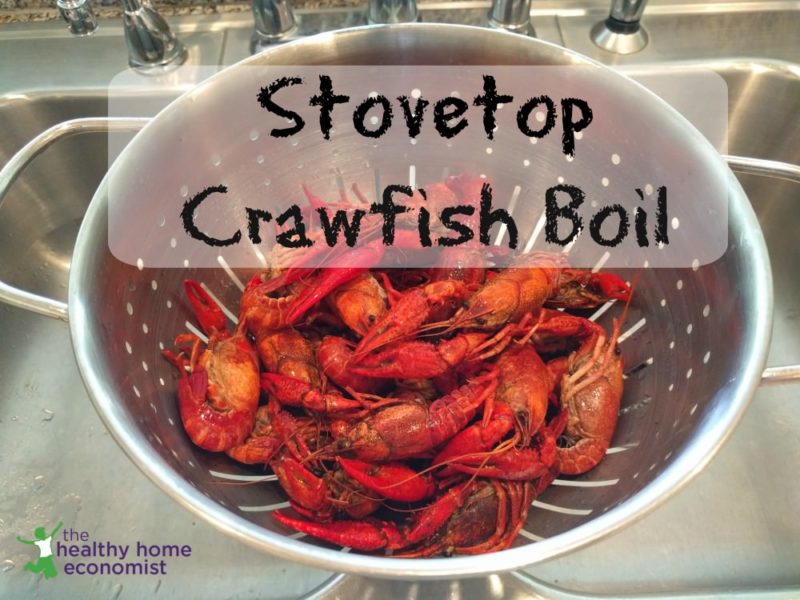 A crawfish boil is typically a backyard affair that involves several dozen pounds of live crayfish cooked on a huge pot over an outdoor propane stove.
What if you just need a pound or so of tail meat for a dish like crawfish etouffee? Is it possible to scale a crawfish boil down to a family affair that is easily cooked on the stovetop using fresh or even frozen crawfish?
Yes, it is quite easy to boil crawfish indoors for a single-family dinner. It's not that complicated, you just need to know how to navigate a few obstacles.
How Much Crawfish to Buy
The first order of business is purchasing the right amount of crawfish for your family size. Each crawfish consists of approximately 15% meat. So, if you need one pound of tail meat to make a Cajun or Creole dish, then between 6 and 7 pounds of whole crawfish will do the job.
I don't recommend going the easy route and purchasing a pound of frozen tail meat because it is usually from Chinese crawfish, which are a far lower quality and potentially toxic choice. Going with domestic whole crawfish from the Southeast USA is the way to go!
Crawfish Boil Spices
Choosing the spices to use for boiling your crawfish is the next important decision that impacts the quality of the final dish. Most recipes call for crab and shrimp boil spice mix. However, choosing these off the shelf at the supermarket is not recommended.
The liquid crab and shrimp boil concentrates are perhaps the worst choice. The ingredients contain extracts of herbs (rather than the whole herb) combined with a synthetic emulsifier and artificial flavors!
Here's what one of the more popular brands contains. Note that polysorbate 80 is a risk for organ toxicity according to the Environmental Working Group. (1) The "artificial spice flavors" is code for a stew of chemicals whose synergistic toxicity is completely unknown.
WATER, POLYSORBATE 80, EXTRACTIVES OF: RED PEPPER, BAY, CLOVE, BLACK PEPPER, THYME, MARJORAM AND ARTIFICIAL SPICE FLAVORS.
Why to Use Organic Spices for Boiling Crawfish
Ground spice mixes are a better choice, but still not optimal. Here's what one popular brand of ground crab and shrimp boil spice mix contains:
MUSTARD SEED, DILL SEED, BAY LEAVES, RED PEPPER, BLACK PEPPER, AND CORIANDER SEED.
Whole herbs are used. Check.
No synthetic additives or artificial ingredients. Check.
Then why isn't this choice the best? The reason is that non-organic herbs are usually irradiated for long shelf life.
Organic crab and shrimp boil spice mixes are not irradiated and aren't that much more expensive than non-organic. This is really the way to go if you prefer the convenience route.
If you prefer to mix your own organic spice mix, all the better! Blend based on what flavors you enjoy. This is very important as the best spices to use for boiling crawfish is highly subjective.
A good crawfish boil blend will include many of the following spices.
bay leaves
coriander seeds
dill seeds
black peppercorns
allspice
dry mustard
red pepper flakes
cayenne pepper
cloves
1 – 1.5 cups sea salt
Boiled crawfish are typically served with corn on the cob and boiled potatoes cooked in the same pot. While these are delicious, I prefer to mix it up with fermented coleslaw or sauerkraut and homemade french fries.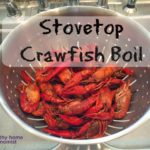 Stovetop Crawfish Boil Recipe
Family-style crawfish boil recipe cooked on the stovetop. May be used with fresh or frozen (thawed) uncooked crawfish.
Instructions
Bring 1 1/2 gallons water to a boil in a 19-quart stockpot over high heat. Add onions, garlic and spices to water. Stir. Return to a rolling boil.

Reduce heat to medium, and cook, uncovered, 30 minutes.

Add crawfish. Return the water to a rolling boil over high heat; cook 5 minutes.

Promptly remove stockpot from heat; let stand 30 minutes. (For spicier crawfish, let stand 45 minutes.)

Drain the water, and serve the crawfish whole in a large bowl at the table.

Only the tail meat is consumed, but don't throw out all those discarded shells! Be sure to use them to make delicious crawfish stock.
Nutrition Facts
Stovetop Crawfish Boil Recipe
Amount Per Serving (1 pound)
Calories 368
Calories from Fat 53
% Daily Value*
Fat 5.9g9%
Cholesterol 619mg206%
Sodium 437mg18%
Potassium 1077mg31%
Protein 80g160%
Calcium 210mg21%
Iron 3.8mg21%
* Percent Daily Values are based on a 2000 calorie diet.