How to make crispy, delicious grassfed corned beef hash in a healthy manner by avoiding toxic acrylamides from cooking the starchy potatoes on high heat in a frying pan.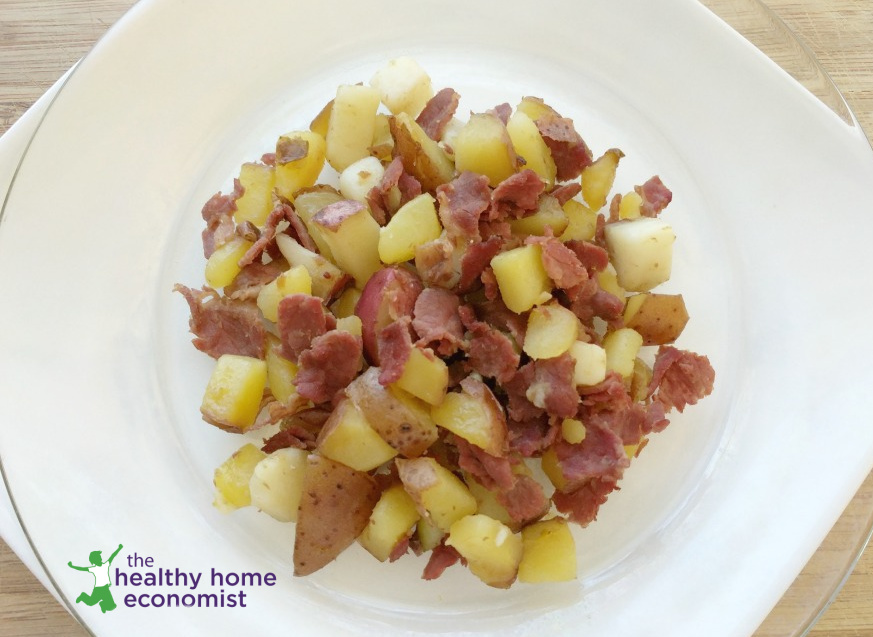 If you scan through the corned beef hash recipes online, you will quickly notice one thing. Frying is the primary method for making it!
While very tasty, the trouble with this method is that it produces an enormous amount of toxic acrylamides from cooking a starchy food like potatoes on high heat. This occurs even if you ignore the directions to use processed vegetable oil and opt for a traditionally healthy cooking fat instead such as ghee, butter, or pastured tallow.
Another problem with commercial versions of this dish is that conventional corned beef is used. This adds the additional issue of glyphosate residue in the meat from GMO-fed cattle.
The recipe I developed for making grassfed corned beef hash below eliminates these issues! So, if you love corned beef hash, you can enjoy it regularly.
The potatoes are either scalded (good) or boiled (best) to reduce or eliminate, respectively, the issue of acrylamides.
The corned beef recommended is grassfed and uncured, which ensures a more nutritious dish that is free of Roundup residues and MSG to keep your beneficial gut bacteria happy and healthy. ?
Many healthfood stores carry this healthier type of corned beef in the deli section. Another option for sourcing is contacting local beef farms to see if they carry it.
Enjoy it for breakfast or even as the main entree for dinner. I suggest pairing it with your choice of seasonal vegetable medley.

Grassfed Corned Beef Hash
Easy and fast recipe for corned beef hash that uses grassfed meat and prepares the potatoes in a way to minimize or eliminate acrylamides.
Ingredients
8

ounces

grassfed corned beef

preferably uncured

2

small

russet potatoes

preferably organic

2

small

red potatoes

preferably organic

2

small

Yukon Gold potatoes

preferably organic

3

Tbl

butter

preferably grassfed

sea salt

to taste

pepper

to taste
Instructions
Clean potatoes, removing any sprouted or bruised areas. Dice on a cutting board, making sure to leave the skin on.

Place potato pieces in a large pot and add filtered water to cover.

Bring to a medium boil and continue to cook uncovered (about 6 minutes).

While potatoes are boiling, chop the corned beef into pieces roughly the same size as the diced potatoes.

Remove pot from heat and drain water thoroughly from potatoes as soon as the texture is slightly soft when pierced with a fork.

Melt butter in a large skillet on the stovetop. Immediately add potatoes and corned beef.

Cook on medium, stirring frequently with a wooden spoon for about 3-4 minutes or until slightly crispy and hot.

Remove from heat, add sea salt and pepper to taste, and serve immediately.

After cooling to room temperature, refrigerate in a sealed container for up to four days.
Nutrition Facts
Grassfed Corned Beef Hash
Amount Per Serving (0.75 cup)
Calories 278
Calories from Fat 117
% Daily Value*
Fat 13g20%
Carbohydrates 30g10%
Protein 10g20%
* Percent Daily Values are based on a 2000 calorie diet.