How to make overnight oats using bone broth for a savory breakfast that is even more filling and nutritious.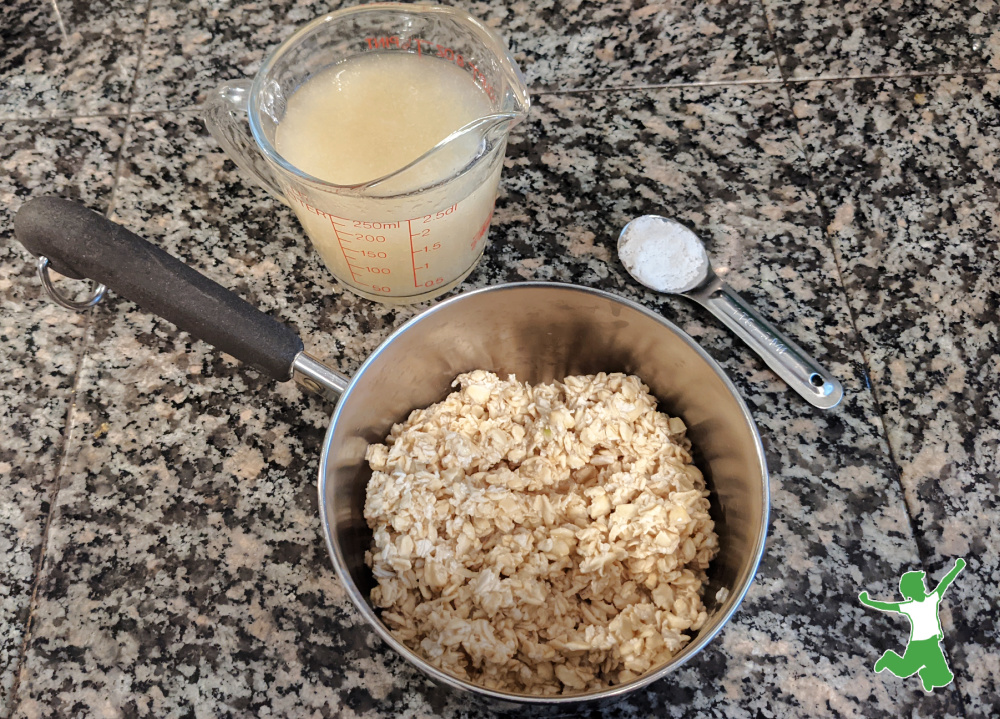 One easy way to seriously upgrade your morning bowl of soaked oatmeal is to make it using bone broth.
Most oatmeal fans I talk to rarely consider this option because, after all, oatmeal is supposed to be a sweet breakfast.
Once you realize that overnight oats are amazing as a savory breakfast too, then you will likely be game to try this creative alternative.
I was first turned on to the idea of bone broth for breakfast by Craig Fear NTP.
He is the author of Fearless Broths and Soups: Ditch the Boxes and Cans with 60 Simple Recipes for Real People on Real Budgets among several other excellent cookbooks.
I was hooked!
You simply must try this next time you put a pot of rolled or steel-cut oats on to soak.
Types of Broth to Use
If you are out of homemade bone broth temporarily, feel free to use commercial brands in a pinch.
However, be sure to never buy buy broth in tetra-paks.
Refrigerated, frozen, or shelf-stable in glass are the only acceptable packaging options for bone broth.
These are the bone broth brands I buy when needed.
If you are sensitive to the natural glutamate in long-simmering broths, you can still enjoy savory oatmeal. Just use short-simmered meat stock instead.
You may also use a vegetable-based stock such as potassium broth made with carrots, celery, parsley, and potatoes.
More Protein, Lower Carbs
The savory oatmeal method is an especially helpful idea if you are cutting back on sugar, but leaving out sweeteners makes for too bland a bowl of oatmeal.
This approach also adds an additional 4 grams of protein to each serving of the carb-heavy sweet oatmeal versions.
Here's the basic recipe. Adjust to suit your particular preferences!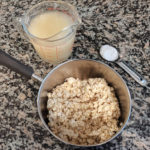 Savory Soaked Oatmeal using Bone Broth
How to make overnight oats using bone broth for a savory breakfast that is even more filling and nutritious.
Total Time
8
hours
10
minutes
Instructions
Mix oats, filtered water, and lemon juice in a pot.

Stir, cover, and leave for 8 hours or overnight.

Drain water and add 1-1.5 cups bone broth, sea salt, and optional chopped garlic clove.

Bring to a boil, turn down the heat and simmer for five minutes or until the texture suits your preference.

Season to taste with additional sea salt, properly fermented soy sauce and any type of traditional hot sauce you enjoy.

To add even more protein and healthy fat, add optional hard-boiled or fried egg atop each bowl of savory oatmeal.
Recipe Notes
You may substitute liquid whey or apple cider vinegar for the lemon juice. However, I recommend lemon juice for the best-tasting savory oatmeal.
Nutrition Facts
Savory Soaked Oatmeal using Bone Broth
Amount Per Serving (0.5 cup)
Calories 94
Calories from Fat 11
% Daily Value*
Fat 1.25g2%
Polyunsaturated Fat 0.75g
Sodium 438mg18%
Potassium 140mg4%
Carbohydrates 13.75g5%
Protein 6.5g13%
Iron 0.85mg5%
* Percent Daily Values are based on a 2000 calorie diet.