Table of Contents

[Hide]

[Show]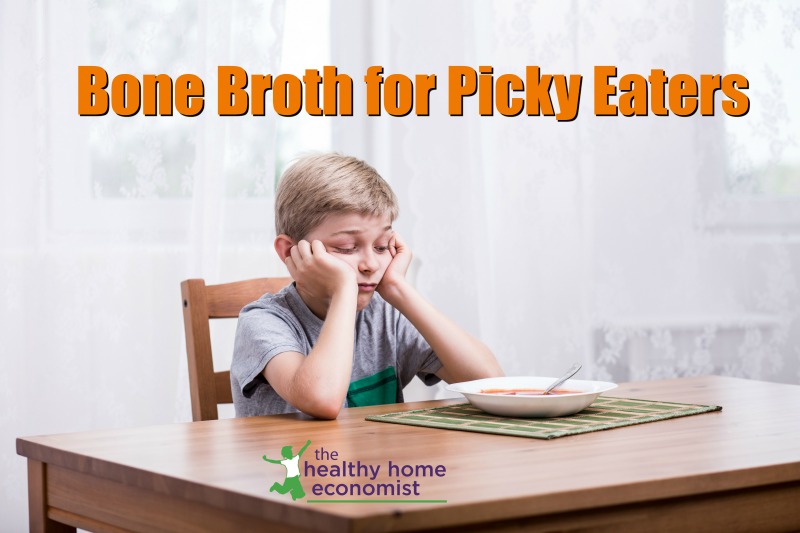 In my 20+ years of experience, under the radar cooking skills are an important part of an effective approach to implementing traditional diet at home. In other words, it's good to have a few tricks up your sleeve! Getting nourishing foods such as homemade broth into the menu can sometimes be tricky, but I have a few suggestions that can help even if you have a picky eater or two.
While soups and sauces are the most logical foods for incorporating bone broth into the menu, if one or more family members don't like to mix foods and/or the texture of soups is unappealing, a different strategy becomes necessary.
Fortunately, there are a number of foods that tend to be much more acceptable to picky eaters that can easily be modified to contain a bone broth component.
In general, these foods tend to be carbohydrate foods. Since carb-heavy foods tend to be the least nourishing, it is a good idea to figure out ways to dial up the nutrients if this is what your family most enjoys on the menu.
Quinoa
Quinoa makes a wonderful side dish that many people enjoy tremendously due to the mild taste and soft texture. This pseudo-cereal grain is also one of the most nutrient-rich carbohydrate foods with a healthy dose of protein too.
Quinoa must be rinsed (not soaked) thoroughly for a minute or two in filtered water before cooking. This removes the soapy aquafaba-like saponins that can cause digestive distress and aggravate gastrointestinal issues.
After rinsing, simply cook up the quinoa as directed on the package with one important caveat. Substitute bone broth for the water either partially or in full.
The ratio you use depends on how much you think you can get away with without your family complaining about a change in taste.
In my experience, thoroughly clarified chicken broth works the best by far.
Rice
Whether you choose brown rice or white rice, bone broth makes a great stand-in for water during cooking!
Unlike quinoa, rice should be thoroughly soaked before cooking. Not only does this step remove anti-nutrients like phytates, but it also considerably reduces toxins like arsenic that is a world-wide problem for rice crops.
I find that I can easily substitute all the cooking water with bone broth when cooking rice especially for seasoned dishes such as Spanish yellow rice or saffron rice.
Clarified chicken broth works best. If you want to test the waters first to see how your family will respond to the change, start with 25% bone broth and work your way up from there.
Instant Potatoes
Most instant potato brands are not worth buying due to a shocking number of unnecessary additives. However, this brand contains only dehydrated potatoes and is a good one for the emergency pantry.
If I'm in a time crunch and making a dish like grassfed Shepherd's Pie for dinner, I sometimes substitute dehydrated potatoes instead of making mashed potatoes from scratch.
If this is the case, clear beef stock works wonderfully well as a substitute for the water when mixing up the dehydrated potatoes. It adds extra flavor and nutrition that your family will love. Most importantly, there won't be any complaints!
Pasta
Many people do not realize that you can absolutely cook pasta in bone broth instead of water!
The trick is that the cooking water should be incorporated into the dish such as this Mexican-style mac and cheese. This is so that you don't discard all that valuable broth when draining the pasta.
I also recommend using a pasta that is low in phytates like cassava so that incorporating the cooking water into the dish does not inadvertently add anti-nutrients.
Oatmeal

Oatmeal is another dish where you can easily use some bone broth instead of water when cooking it up.
If you plan to do this, I recommend using sprouted oats as they do not need to be soaked overnight. Then you can substitute about half the water with bone broth. Chicken broth definitely works the best, by the way. Once you add butter, cream, and a whole sweetener, you likely won't taste it at all.
If you soak your rolled or steel-cut oats overnight first, I recommend using filtered water. However, in the morning when you add another cup or so of liquid to cook them up, use bone broth instead of water either partially or in full. Again, you be the judge based on your family's taste buds!
Will You Try it?
In summary, there are a number of carb-based foods that can be cooked in bone broth instead of water to add valuable nutrition to a meal. Chicken broth that is defatted and strained works the best with the exception of beef broth for dehydrated potatoes.
Have you tried any of these substitutions before, and if not, will you give it a go with your family? What other tricks do you use to get more broth into the picky eaters in your family?
If you are not able to use bone broth for cooking carbohydrate foods, at the very least, use clean water filtered on the countertop or at the faucet and never tap!