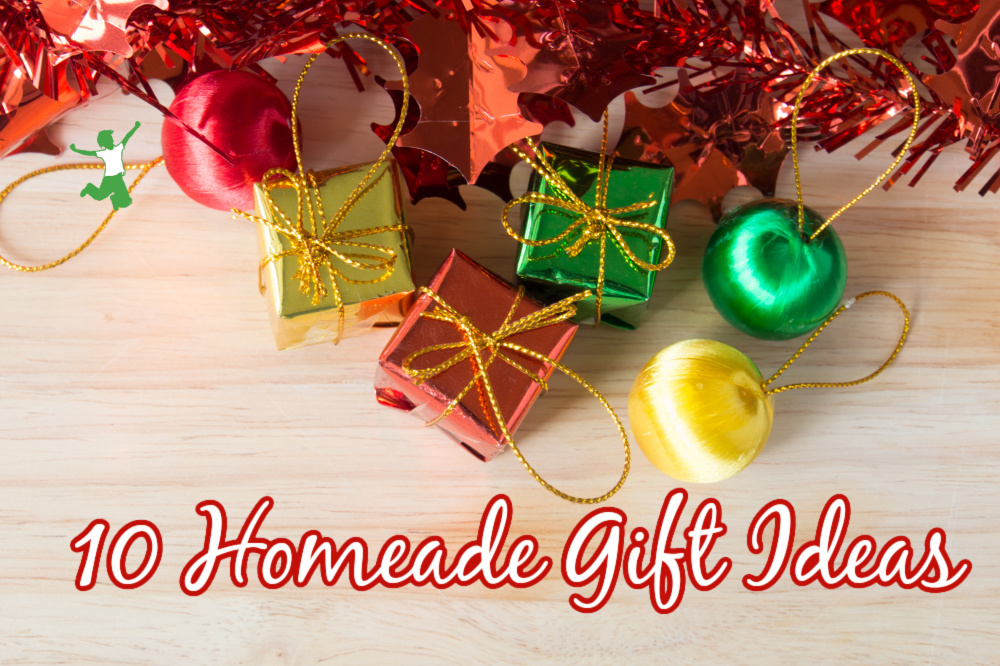 With only days to go before Christmas, the chances are very good that many of you reading this still have at least one person on your list that you haven't gotten a gift for yet.
Chances are also good that the reason you haven't gotten a gift for these people is perhaps because they are tricky to buy for or aren't really a "gift person" if you know what I mean.
If that is the case, I would suggest considering a thoughtful, classy, homemade gift instead.
Below are ten ideas that you can put together with minimal effort and reasonable cost. They also say "I love and appreciate you" loudly and clearly 🙂
Have you ever gifted any of these ideas before? If so, share your individual method below or tips for making it even more special in presentation.
Homemade Body Lotion
When packaged in lovely amber jars, homemade vanilla body lotion is a luxurious gift for the ladies in your life.
Skip the toxic commercial versions with hormone-disrupting fragrances that are hawked in body and bath stores during the holidays, and opt for a truly safe and natural solution for skin dryness.
The secret to the non-greasy formula in this DIY recipe is jojoba oil and mango butter, which absorb quickly without the slick feel to the skin common with many homemade lotion recipes.
Solé Water
Solé water is a super-saturated solution of filtered water and mineral-rich sea salt.
5-10 drops under the tongue first thing in the morning and just before bed can help alleviate lurking deficiencies of ultra-trace minerals that even the best whole food diet is missing.
It also helps with deep sleep, fatigue, muscle cramping and replenishment of electrolytes.
Alternatively, a teaspoon diluted in a fresh glass of filtered water works more conveniently for some people.
Make a quart-sized jar of solé and then decant into a dozen or more small eyedropper bottles to give as a gifts. People love it!
Homemade Seasoning Salt
A basic homemade seasoning salt recipe is made by blending together a base of high-quality sea salt with a carefully chosen selection of herbs and spices. The linked recipe suggests the herbs I use in my own mixture.
Once blended, the mix is then packaged in beautiful small glass jars with a ribbon tied around the rim of the lid to gift to family or friends.
Vanilla Extract
While homemade vanilla extract takes a couple of months to brew, if you don't have this much time before gift-giving season begins, you can easily compensate.
Simply place two vanilla beans (cut in half if necessary so they fit) in 4 oz amber bottles, top up with gluten-free potato vodka, and screw on the lid.
When you gift each bottle of extract, include a card with instructions to leave the bottle brewing in the cabinet for at least six weeks before using.
Homemade Bug Spray
This homemade formulation for safe, effective bug spray is the absolute best I've ever tried…commercial brands or otherwise. Lab tests show that it is 100% effective for at least one hour.
Your chemical-avoiding friends will l0ve it! It smells divine too (made with specially distilled cinnamon oil).
I use it most nights when I watch the sunset from the front porch at dusk. No mozzies bother me!
Sprouted Almond Flour
A jar of sprouted and freshly ground homemade almond flour is something that you cannot buy! It is very valuable to a person who eats keto or otherwise avoids grains in baked goods.
If you have a coffee grinder, that is all you need!
Simply grind sprouted almonds in a coffee grinder about a half cup at a time until you have the amount of almond flour you need.
Package in a pint-size mason jar and you are done!
Sprouted Avocado Pit
Most people do not know how to grow an avocado tree from a pit. The linked article tells you how, and once you've started the process, you can give the jar with the sprouted pit as a gift!
Ideally, a thoughtful card with directions for replanting would be included, which is perfect for the foodies or gardeners on your list!
Homemade Banana Flour
If the sprouted almond flour idea above doesn't work because the person on your list is also nut-free, consider homemade banana flour instead.
A scoop of banana flour is a nutritious addition to those on your list that love smoothies. It is loaded with resistant starch which is belly-shrinking and promotes good gut health.
Nontoxic Bath Bombs
During the holidays, bath bombs are a popular gift idea. However, commercially made ones (even at Whole Foods) are quite toxic.
For those of us sensitive to fake fragrances, it is best to avoid them.
It is quite easy to make a batch of nontoxic bath bombs yourself, however, if someone on your list would enjoy this type of gift. The linked recipe tells you how with a video of how they react in bathwater.
Mineral-Rich Powdered Sugar
The powdered sugar available at the store is always the white, refined kind even if organic.
Did you know you can make homemade powdered sugar from brown sugar (ideally from sucanat) in your food processor?
The better your blender or food processor, the more finely the powdered sugar will turn out.
This healthier type of powdered sugar with all the minerals still intact is sure to delight the bakers on your Christmas list!
All-Purpose Herbal Salve
A batch of homemade herbal salve packaged in small tins makes a lovely gift!
The linked recipe makes about 2 cups of herbal salve or about four 5-oz tins. Be sure to fill about a half-inch below the rim).
The salve lasts for a few years and is good for all things skin-related. This includes bug bites, sunburn, kitchen burns, rashes, or even simple moisturizing of very dry skin.
Master Tonic
In the past, I've given a quart-size mason jar of homemade master tonic to those on my list that are immuno-compromised or elderly.
While you can now buy master tonic commercially (also called fire cider), homemade is far more potent in my experience.
This gift does take quite a bit of time to make as you have to chop all the vegetables fresh…a few of them like the hot peppers require gloves!
If you decide to do this, my suggestion is to go all in and make a lot at one time. It lasts forever even in the cabinet (I keep mine in the fridge as I live in a warm climate).
Homemade Elderberry Syrup
Many small vendors are making elderberry syrup these days.
However, it tends to be quite expensive this way. Thus, making a batch of homemade elderberry syrup yourself is still the way to go in my view.
This effective, safe and tasty remedy is great for prevention as well as a remedy for those who are already sick with coughs, colds, or flu.
I even used it over 15 years ago when my three young children all had pertussis at the same time. They recovered quickly without any lingering issues with hardly any "whoops".
Some of my friends give a teaspoon every morning to their children before school to keep them from catching whatever is going around.