How to make bath bombs at home that are luxurious and smell amazing with all-natural detox ingredients for a safe and relaxing bath experience.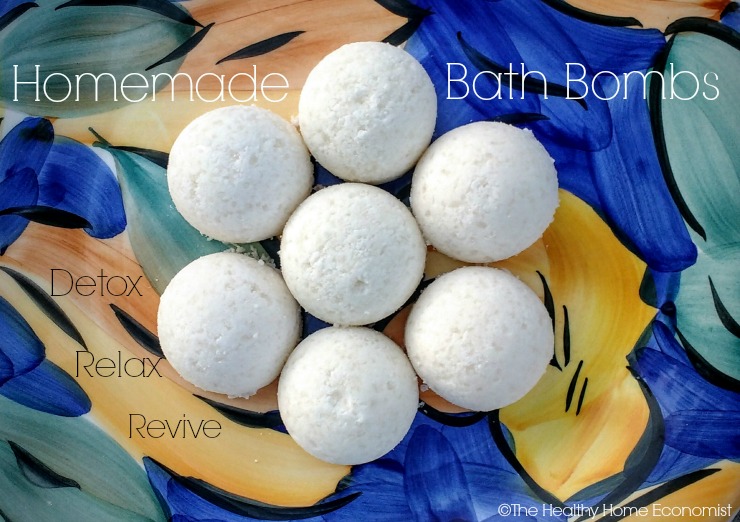 Bath bombs are a popular and fun way to add pizzazz to the regular bathtime routine. If made with therapeutic ingredients such as EpsomF salts, they can be detoxifying and facilitate healing as well.
Young children love bath bombs because they add pleasing scents and color to the bathwater. The best part is that they fizz and pop when dropped into the tub which adds even more drama and excitement to the experience.
Grownups love them too for the simple reason that they take the mundane task of bathing which normally involves only one of the senses (touch) and incorporates three other senses too – sight, sound, and smell.
Bath Bombs to Avoid
The major drawback of commercially produced bath bombs is the cocktail of chemicals and toxins they contain.
What good is getting your outside parts clean in the bath if you are dirtying up your inside parts at the same time?
Not a good trade-off to me!
The biggest bugaboo is the artificial fragrances in these bath products that are hormone-disrupting and allergy triggering. Synthetic fragrances contain chemicals called phthalates that Environmental Working Group (EWG) lists in their dirty dozen of the worst endocrine-disrupting chemicals (1):
… studies have shown that chemicals called phthalates can trigger what's known as "death-inducing signaling" in testicular cells, making them die earlier than they should. Yep, that's cell death – in your man parts. If that's not enough, studies have linked phthalates to hormone changes, lower sperm count, less mobile sperm, birth defects in the male reproductive system, obesity, diabetes and thyroid irregularities.
It's not just boys that are at risk either. Phthalates have been implicated in triggering early puberty in young girls which raises the risk of obesity and female cancers. The journal Environmental International published a study in 2015 that suggested phthalate metabolites are associated with speedup in breast development progression and earlier menarche onset in girls (2).
As concerned parents, it is very important for us to be proactive in protecting our children from a hormone-disrupting chemical onslaught during their growing years as the greening of industry to remove these dangerous chemicals from personal care products (and food!) is not adequately keeping pace with the science that demonstrates their toxicity.
Nontoxic Bath Bombs
Because of the risk of hormone disruption from phthalate exposure particularly for young children, I don't buy any personal care products including bath bombs that contain synthetic fragrances.
I also go so far as to avoid shopping or even browsing at bed and bath stores that pump artificial fragrances through the air conditioning so that you are forced to breathe those chemicals the entire time you are shopping. I literally get a headache within a minute or two or walking into these establishments, and I don't even consider myself chemically sensitive!
Does the problem of toxins mean that the fun of bath bombs can't be enjoyed in a home environment that excludes chemicals?
Absolutely not!
As it turns out, bath bombs are very easily made at home, and it's a fun project to undertake with your kids. This enjoyable together time can also be used to open a casual discussion on why Mom and/or Dad choose not to buy these types of products at the store. You can also discuss the benefits of a detoxifying bath using baking soda and Epsom salts and how aromatherapy works to calm or energize as needed when specific essential oils are used.
My daughter and I made a batch of bath bombs the other day, and I wanted to share with you the recipe we came up with that worked great. If you've made bath bombs before and have a different approach, please share in the comments section.
Relaxing Bath Bombs Recipe
Makes about 8-10 bath bombs
Ingredients
2 teaspoons olive oil
1 teaspoon filtered water
1 cup of baking soda
1/2 cup nonGMO corn starch or arrowroot powder. Learn more about arrowroot powder in this article.
1/2 cup of food grade, nonGMO citric acid
1/2 cup epsom salts
1-2 tsp essential oils of choice (jasmine, orange, grapefruit, or lemon work great!)
Few drops of nontoxic food coloring, optional (source)
Plastic Easter egg containers for shaping, optional
Instructions
Mix the baking soda, corn starch, citric acid and epsom salts together in a large bowl. Add olive oil, water and desired essential oils and mix well with a hand mixer or wire whisk.
Once blended, the bath bomb mixture will have the consistency of sand.
Pack the bottom half of several plastic Easter eggs tightly with the bath bombs mixture. After shaping in the Easter egg shell, carefully remove onto a plate or decorative bowl. Repeat until the entire mixture is used and an attractive group of bath bombs is created to display in the bathroom. See the picture above to get an idea.
Alternatively, put the bath bombs mixture in an unbreakable container with a tight lid (to keep it from drying out) to keep by the side of the tub.
When you are ready to use your bath bombs, simply drop one or two into a warm bath. If you chose not to shape them, just grab a handful of the mixture from the container. Watch it fizz, smell the aroma, relax and enjoy! Below is a video vignette (vine) of my daughter dropping two bath bombs into the tub.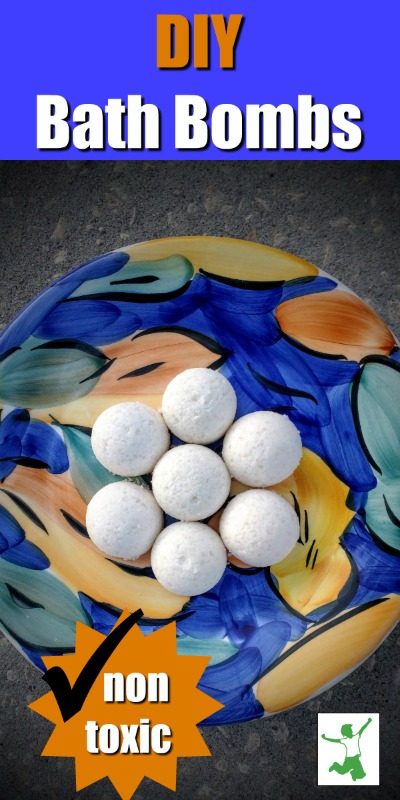 DIY Bath Bombs Video
Have fun!