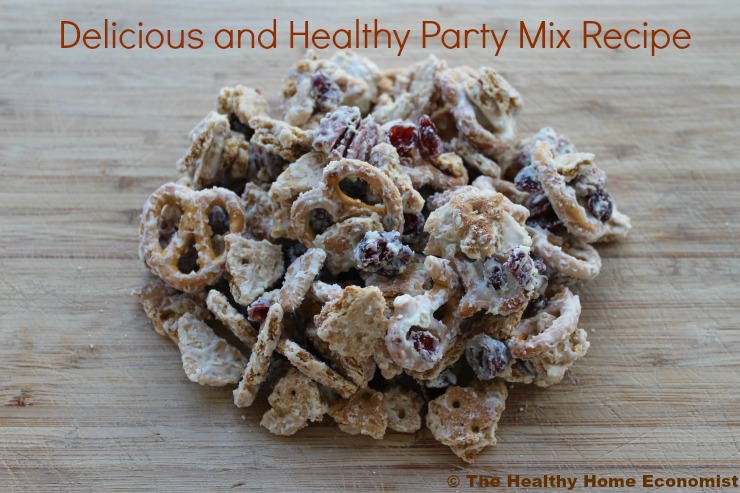 If it's happened to me once, it's happened to me a hundred times ….
I try this snack or dish that I absolutely LOVE, only to investigate the ingredients and discover that this is something I would never, ever make for my family at home.
This happened to me last year when I tried a popular party mix for the very first time at one of my kid's school events. It was to die for. This particular party mix recipe is made in vast quantities by over a dozen Moms and served every year at a large and well attended function.
This party mix was so good that I ate it (more than I should have!). This even though the ingredients were such that I knew I was going to seriously pay the piper the next day (or two, or three).
The next year, I did the unthinkable.
I volunteered to be one of the Moms who made this party mix for the masses. I dutifully read the recipe, hurried through Super Target buying the ingredients (and hoping no one would see what was in my cart), went home and mixed it up to deliver to the school the next day.
About halfway through the process of mixing up the party mix, the lightbulb went off.
This party mix could actually be healthy if every single ingredient was replaced with healthier versions. Why didn't I think of this before?
What I came up with is incredibly easy and simple … and delicious! I'm happy to say that this healthy version tastes just as good as the original junk food version.
The best part is that you don't go into "overeating zone" with this healthy version like you do with the one made with mostly junk food. You eat a few handfuls and are full and satisfied instead of eating and eating compulsively likely due to all the unlabeled, purposely addictive chemicals that are added to conventional cereals and snack foods to encourage consumers to overeat.
Yes, food manufacturers really do this! They want you to be addicted to their products! In this study, oreos were found to be as addictive than cocaine. According to Dr. Mercola:
Indeed, scientific research into the addictive nature of certain foods, combined with shocking "insider" exposés, tells us that Americans are not necessarily lacking in self control when it comes to their food consumption. Rather, food companies have perfected food concoctions that are addictive. And they know it.
After making this healthy party mix version, I ended up kicking myself that I didn't make it for the school function instead of the original recipe. I always feel best about what I prepare for large group functions if it is of the same quality that I prepare for my own family, even if those being served don't know (or maybe even care).
Oh well, there's always next year! I can make it then.
Below are the original ingredients plus the healthier versions I chose as substitutes.
I hope you find this party mix as delicious as my family does. It makes a great snack to take to any function where you need to please a very diverse group of palates.
What NOT to Use for a Snack Mix
Original Addictive Ingredients (DO NOT USE THESE!)
Golden Grahams 1 (12 oz) Box (Whole Grain Wheat, Sugar (GMO), Corn Meal (GMO), Brown Sugar Syrup, Modified Corn Starch (GMO), Canola Oil (GMO), Honey, Salt, Nonfat Milk, Calcium Carbonate, Baking Soda, Dextrose (GMO), Trisodium Phosphate, Zinc and Iron, Vitamin C (GMO), niacinamide (synthetic), Artificial Flavor
Mini Pretzel Twists (8 oz) (enriched flour (wheat flour, niacin (synthetic), reduced iron, thiamine mononitrate (synthetic), riboflavin (synthetic), folic acid (synthetic)), water, salt, malt, dextrose (GMO), canola oil (GMO), yeast, soda.
Craisins (10 oz) (cranberries, soluble corn fiber (GMO), sugar (GMO), glycerin (GMO), sucralose (artificial sweetener)
Pecans (6-8 oz) coarsely chopped
Wilton Candy Melts – White, 1 (12oz) bag (sugar (GMO), partially hydrogenated palm oil, reduced mineral whey powder, milk powder, milk solids, soy lecithin (GMO), salt)
White Chocolate Chips (11 oz) (Hershey's: sugar (GMO), nonfat milk, partially hydrogenated vegetable oil (transfat), palm kernel oil, contains 2% or less of: cornstarch (GMO), artificial flavor, salt, hydrogenated palm oil, soy lecithin (GMO).
Note: incredible that the white chocolate chips don't even have any cocoa butter in them! Completely and utterly artificial. Shameful that Hershey's is even allowed to label them white chocolate anything.
From Unhealthy to Healthy (tasting virtually the same!)
The picture below shows the healthy substitutions for the horrific ingredients above. The end result tastes virtually the same without all the additives, chemicals, and GMOs too.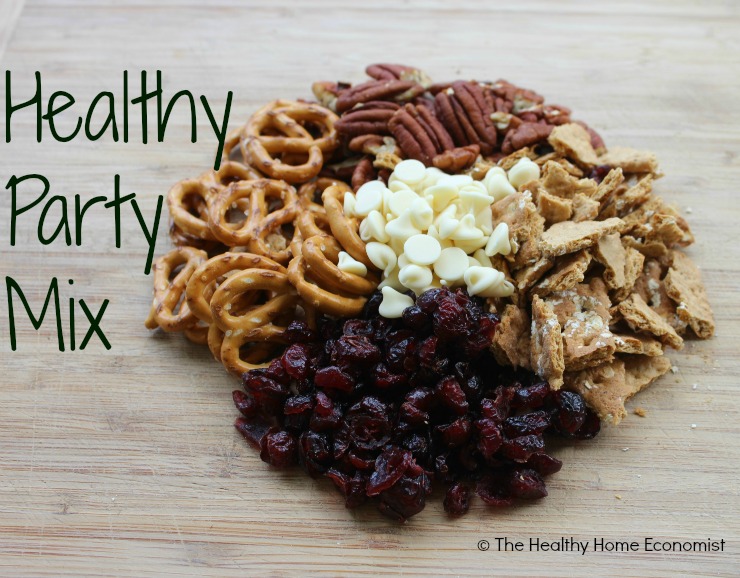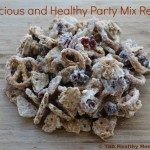 Healthy Snack and Party Mix Recipe
This healthy recipe for party mix that is great for snacks at home too will delight both your junk food and healthfood eating friends and family. Fun to make too and perfect for lunchboxes!
Instructions
Break graham crackers into small pieces about 1/2 inch square.

Mix graham crackers, pretzels, dried cranberries, and chopped pecans in a very large bowl.

Melt white chocolate chips gently on low heat in a double boiler on the stovetop. Don't overheat or chocolate will seize.

When the white chocolate is melted, pour over mix. Work quickly to incorporate on all the snack pieces. Pour onto lined baking sheet or countertop covered with unbleached parchment paper.

Let cool. This step may take an hour.

When cooled, break up gently with butter knife. Store in airtight containers in the refrigerator or in a cool pantry.
Recipe Notes
A better choice than even the organic spelt pretzels are sprouted pretzel splits (source). Unfortunately, using sprouted pretzels changes the recipe taste a bit, so only use them if you are unable to tolerate small amounts of spelt that isn't traditionally prepared.
References and More Information
We are Eating What?
Oreos as Addictive as Cocaine
Is Soy Lecithin Really So Unhealthy?