A homemade body lotion that is easy to make, luxurious, and non-greasy yet deeply moisturizing with a hint of vanilla scent from natural essential oil.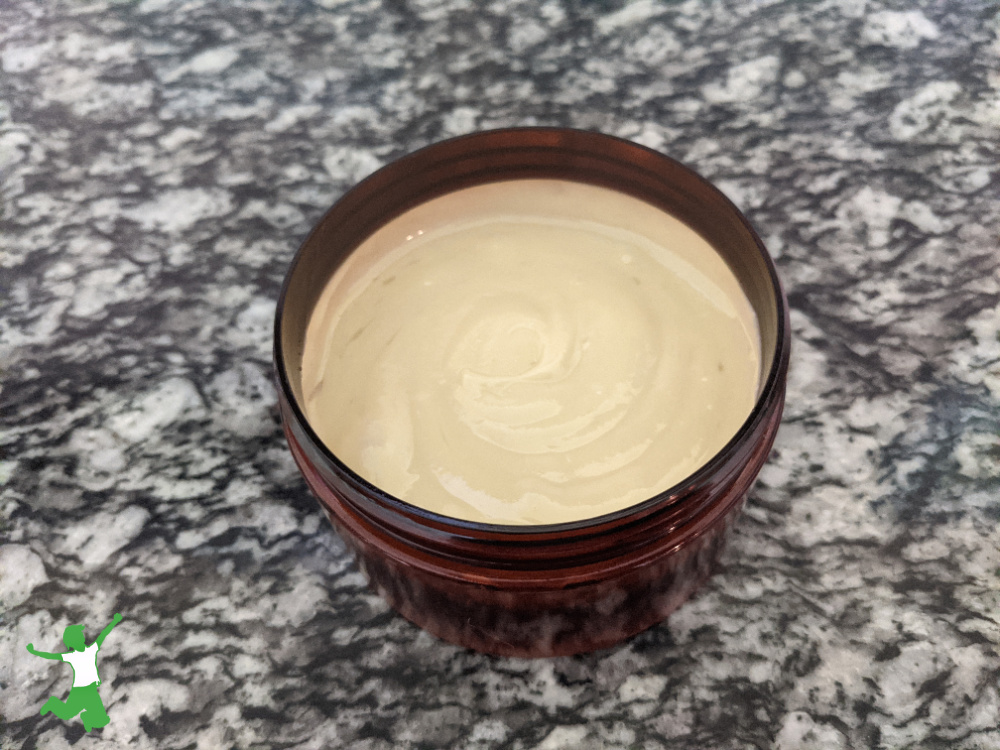 Body lotion is, without a doubt, one of the hardest personal care products to find in a non-toxic formulation.
Sadly, nearly all organic brands I've examined are a no-go from a safety issue. The most common offending ingredient is synthetic fragrance, a risk for hormone disruption.
Consider yourself warned.
"Organic" is VERY lax when it comes to personal care products!
Skin Absorbs Two-Thirds of Contaminants
You do not want to be slathering anything with hormone-disrupting chemicals on your body.
It is guaranteed that a good portion of it will absolutely end up in the bloodstream.
A study published in the American Journal of Public Health looked into the skin's absorption rates of chemicals. It demonstrated that the skin absorbs an average of 64% of total contaminants. (1)
Not surprisingly, the "profits over safety" personal care industry has responded by "fact-checking" this study as a myth. 🤡
However, considering that many medications are based on skin patches, the largest organ of the body … the skin … as a porous vehicle for toxins to get into the blood is a fully accurate portrayal.
Truly Safe Commercial Lotion Is Costly
Once you realize the dangers of skin lotions with even a single chemical ingredient, switching over to the few nontoxic creams and lotions on the market poses another challenge.
They are, for the most part, quite pricey, typically costing around $3-5 per ounce!
The solution, in my view, is to make it yourself.
And, it is quite easy to do, as it turns out!
I really think you will be delighted with the results.
Secrets of the Best Homemade Lotion
The secret to my favorite method for a DIY deeply moisturizing yet non-greasy homemade body lotion is using mango butter and jojoba oil.
The fats you choose to make your homemade lotions and creams make a big difference to how it feels on your skin.
In addition, the mixture I use below includes chamomile herbal tea. This improves skin absorption rate and provides extra skin emollient benefits.
By comparison, substituting the mango butter with shea makes for a far greasier lotion.
Substituting the jojoba oil (my favorite) with coconut oil or olive oil produces a similar slickness to the skin.
Homemade lotions that do not include water or herbal tea in the ingredients are also quite greasy. The thick texture is more reminiscent of a moisturizing salve than a lotion!
Where I live in humid Florida, quick absorbability and non-greasy feel on the skin is a must.
I hope you enjoy this formulation for homemade body lotion.
I tried a number of different variations before settling on this one as my favorite for the best combination of moisturizing effect, non-greasiness, enjoyable scent, high absorbability, and overall feel on the skin.
If you absolutely have no interest in making your own, this vanilla body cream is the closest thing to it that you can buy.
Hint: This makes a thoughtful and classy homemade gift!
Homemade Vanilla Body Lotion
A homemade body lotion that is as easy to make as it is luxurious and deeply moisturizing with a hint of vanilla scent from natural essential oil.
Instructions
Combine the beeswax, jojoba oil, and mango butter in a double boiler or medium sized stainless steel bowl set inside a large pot with hot water.

Melt the beeswax and mango butter in the oil until just melted. Remove from the heat and set aside.

While the oils are slightly cooling, steep 1 chamomile teabag in 2/3 cup of hot filtered water for 5 minutes.

Remove the tea bag and pour the chamomile tea water into a one pint, wide mouth mason jar.

Pour the warm oils into the mason jar with the tea water. Add the vanilla essential oil.

Using a handheld blender, emulsify the oils and water together. This is best done by placing the immersion blender on the bottom of the jar and blending constantly for 30 seconds. Then, slowly raise the blender through the mixture while it is still blending (be sure to hold the jar with the other hand!).

When you reach the top of the mixture, turn it off. Repeat every 5 minutes until the mixture is cooled and turns white. I usually do this 3-4 times total. Hint: It's a bit like making homemade mayo!

Spoon the lotion into amber colored lotion containers. I use these (glass is best, but for safety in the bathroom with ceramic tile, I use plastic).

This lotion is shelf-stable at room temperature and lasts for months.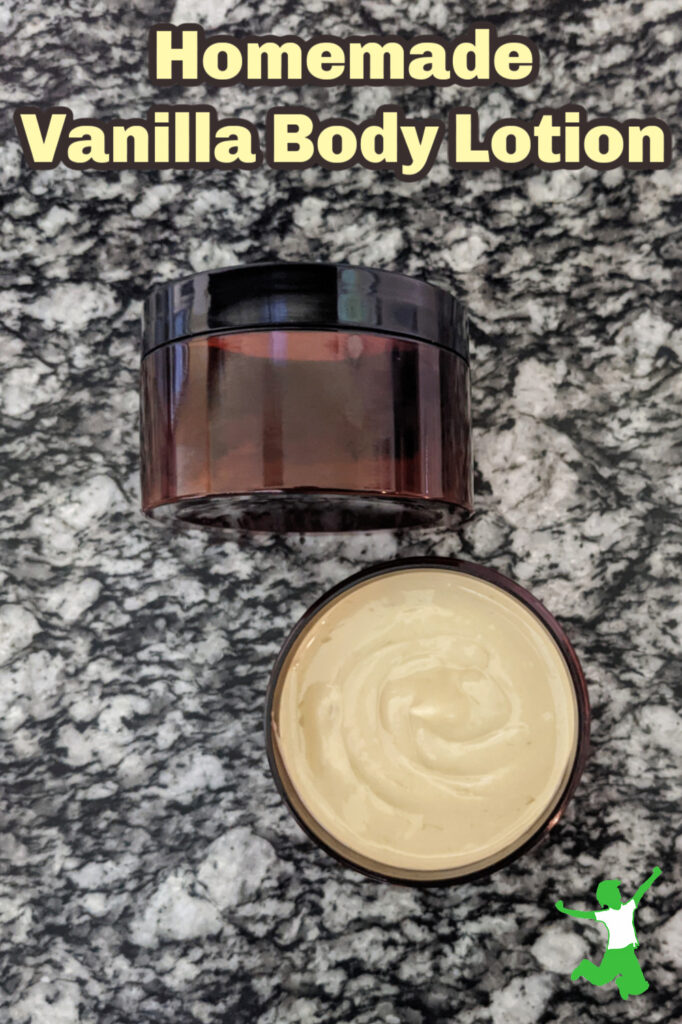 (1) Your Skin: It Absorbs!