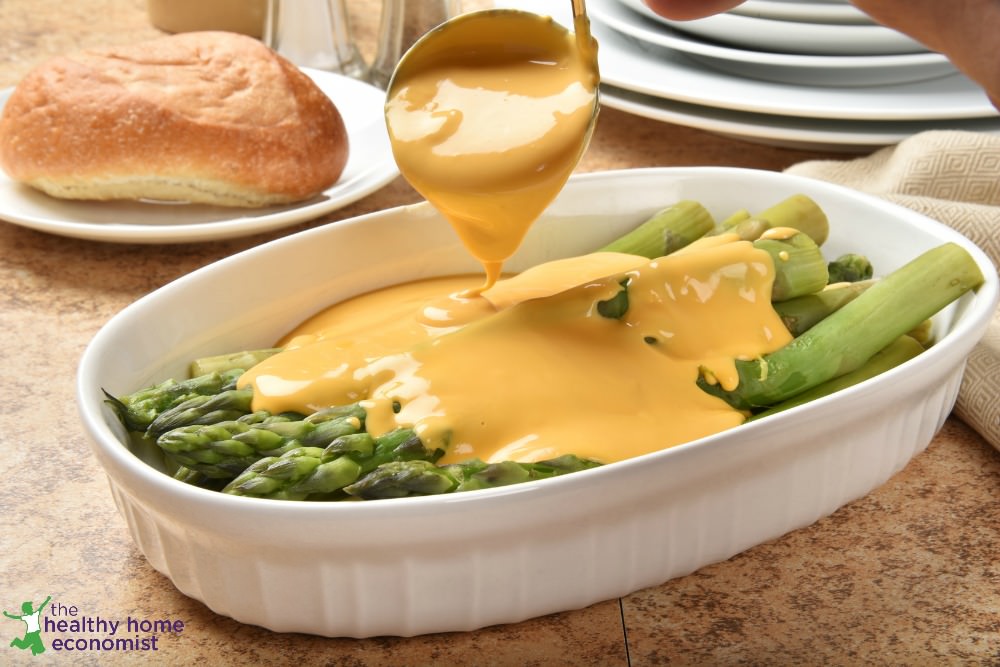 My husband is from Australia but both his parents were born and raised in Wales in the UK.
You can imagine his delight then, when I made Welsh Rarebit as a surprise dinner for him a number of years ago.
Welsh Rarebit is of course a traditional Welsh dish although its true roots are all over Britain dating as far back as 1725.
It is a comparable dish to cheese fondue which has its origins in Continental Europe.
A slightly spicy, savory cheese sauce, Welsh Rarebit is traditionally served hot over toast. The British certainly love their toast (tea anyone?) and enjoy serving it up a variety of ways!
Homemade Welsh Rarebit
If you are grain free, you can easily serve Welsh Rarebit over chicken or vegetables instead. See the picture above – it is wonderful on roasted asparagus!
Ladling some Welsh Rarebit sauce over soaked pasta for a healthy mac & cheese type dish is wonderful too.
We like to serve Welsh Rarebit in our home over sourdough bread fried up in pastured lard or coconut oil. The crispiness of the fried sourdough adds much tactile delight to the dish. You can add sliced tomato or bacon over the top of the cheese sauce on toast if you like as well.
The variations are endless!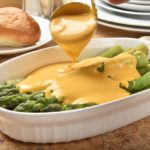 Classic Welsh Rarebit Recipe
This traditional recipe for Welsh Rarebit is comparable to cheese fondue and will please your family and your budget. A truly fast meal made with only whole food ingredients.
Instructions
Melt the butter in a medium sized glass bowl set inside a pan of simmering water.

Add the cheese and stir until melted. Stir in seasonings.

Slowly add the cream stirring constantly and continue to stir until the mixture is hot.

Remove the glass bowl from the water. Let cool slightly and beat in the egg yolks.

Serve ladled over toasted or fried sourdough bread or chicken and vegetables if you are grain free.

Cool. Refrigerate leftovers.
Source:  Adapted from Breakfast, Lunch and Dinner by Sally Fallon Morell, Wise Traditions Conference 2004