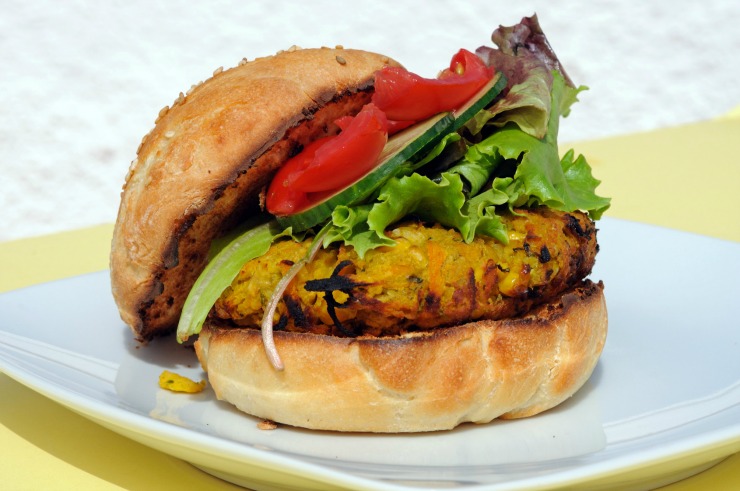 Back in my lowfat eating days, I used to eat a lot of veggie burgers to limit the amount of red meat in my diet. Thankfully, those days are but a distant memory!
I now know, of course, that grassfed beef is one of the healthiest meats you can possibly consume and I usually eat it several times a week.  Saturated fat is not the villain of heart and health that the conventional medical establishment makes it out to be.  Rather, saturated fat is good for you, is no danger to cardiovascular health and should be consumed liberally in the diet!
Despite my regular consumption of grassfed burgers, I must admit that I still have a bit of a penchant for a good quality veggie burger. 
I don't ever buy them at the store, however, as processed veggie burgers are typically made with soy as the meat replacement and MSG is used to give the tasteless burgers a synthetic meaty flavor. Soy and MSG together are a powerful one-two punch to the hormone system and are guaranteed to mess things up in a hurry.  It will probably give you a nasty headache too!
Therefore, when you get a hankering for veggie burgers, avoid the seitan and products containing it and make some yourself.
The good news is that you can make a bunch of them at one time. Then, freeze them so that you have them handy for quick meals when necessary.
Homemade Veggie Burgers (no soy or MSG!)
Below is the recipe I use for homemade veggie burgers which is based on the Middle Eastern recipe known as falafel or chickpea patties. You will love it! It was inspired by Nourishing Traditions Cookbook, p. 506.
Sprouting or soaking legumes like chickpeas before cooking greatly improves their digestibility, so this is the traditional method I recommend. Please do not use the chickpea cooking water though as practiced by some espousing a plant based diet. It is laced with anti-nutrients and quite damaging to health. It can even encourage the development of leaky gut.
If the real food budget is tight, homemade veggie burgers can be frequently used as a meat replacement with no compromise to health if and only if liberal amounts of homemade stock and organ meats are being consumed on a regular basis. With plenty of homemade stocks and broth in the diet, meat can be consumed only once or twice a week and good health maintained.
In other words, nose to tail eating like what was practiced by healthy traditional societies is what is necessary if muscle meat is limited in the diet either due to lifestyle or budget. This detailed article describes why eating excessive amounts of muscle meats or in isolation can lead to dietary imbalances over time and why organ meats and gelatin rich bone broths must be included for optimal health.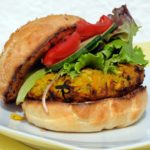 Homemade Veggie Burgers Recipe
Homemade veggie burgers that actually taste good and are made traditionally with no soy or MSG that can serve as a budget friendly replacement for meat on a regular basis.
Instructions
Place dried chickpeas in a large pot and cover with boiling water. Stir in lemon juice, cover and leave on the counter for 12 hours or overnight. Drain, recover the chickpeas with more boiling water and stir in 2 more TBL lemon juice. Leave on the counter for another 12 hours. Drain and rinse chickpeas.


The chickpeas are traditionally soaked in this manner to eliminate anti-nutrients that cause digestive distress and maximize absorption of the nutrients in the chickpeas.

* If using sprouted chickpeas, proceed directly to the step below.

Process chickpeas in batches depending on the size of your food processor with the remaining ingredients until a coarse paste is formed that holds together.

Cover and refrigerate chickpea paste for at least 1 hour.

After refrigerating, form chickpea paste into patties and saute in coconut oil or avocado oil until lightly browned on both sides.

Serve on a sourdough bun with sliced tomatoes, cucumbers, avocado and homemade sauces of choice.
Sarah, The Healthy Home Economist