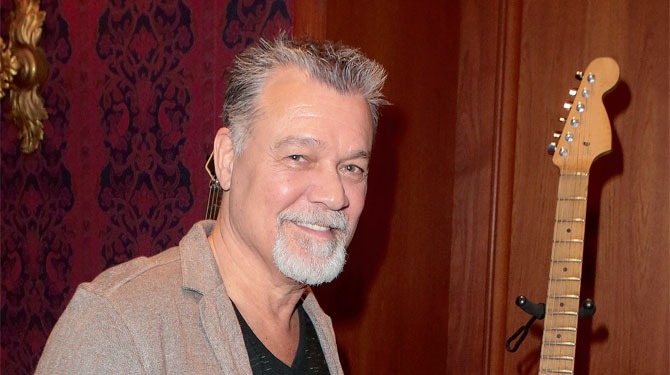 Eddie Van Halen's son Wolfgang announced today on Twitter that his famous Dad had lost his arduous, years-long battle with cancer.
TMZ reports that Van Halen passed away at a Santa Monica hospital with his two sons and wife Janie by his side. Actress Valerie Bertinelli, Van Halen's ex-wife, shared their son's heartbreaking message on her own account. The two were married for 20 years. (1)
In 2015, Van Halen revealed in a Billboard magazine interview that the cancer started in his tongue. (2)
Treatment for the condition required surgery, which removed one-third of the tongue. Tragically, the cancer continued to slowly spread, later metastasizing to his esophagus.
Though a heavy smoker for many years, Van Halen surprisingly did not blame cigarettes because his lungs were totally free of cancer.
Instead, he believed it was the metal picks that he held in his mouth while playing music for hours at a time, day after day, in EMF saturated recording studios.
Van Halen thought that these metal picks served to concentrate the EMF-heavy environment in which he worked to the exact spot on his tongue where the cancer started.
I used metal picks — they're brass and copper — which I always held in my mouth, in the exact place where I got the tongue cancer.

Plus, I basically live in a recording studio that's filled with electromagnetic energy. So that's one theory.

I mean, I was smoking and doing a lot of drugs and a lot of everything. But at the same time, my lungs are totally clear. This is just my own theory, but the doctors say it's possible. (3)
While shocking, Van Halen's theory is not so far fetched. Even his doctors admitted that it was plausible.
With most urban areas awash in electromagnetic radiation 24/7, a growing number of functional physicians are expressing concern that metal in a person's mouth can attract and concentrate this energy in very vulnerable areas of the body, effectively causing a person's head to attract radiation like a cell phone antenna.
Metal in the mouth was never a health risk before the advent of cellular, Wifi, and on the horizon, more powerful 5G technologies.
Savvy biological dentists have been counseling their patients for some time to avoid any type of metal in or around the head area. This includes:
Metal braces
Permanent wire retainers
Silver fillings
Inert materials such as ceramic, rubber, silicone, and others are becoming more popular and widely available to avoid the suspected risks.
This list of 25 ways to reduce EMF exposure at home highlights other ways of self protection.
Studies on EMFs and Cancer
It's important to note that it isn't the metal itself in the mouth that is the problem. It is the metal combined with heavy exposure to EMFs. Two studies thus far have linked proximity to EMFs and cancer. Metal in the mouth would serve to heighten the exposure.
In a German study, doctors examined close to 1000 patients to see if living at the same address close to a cell tower for 10 years affected cancer risk.
They discovered that the proportion of newly developed cancer cases was three times higher for those living within 1300 feet (a quarter of a mile) of a cellular transmitter compared to those living further away. In addition, they found that the patients became ill with cancer on average 8 years earlier.
A distance of 1300 feet (400m) is of particular importance. This is because computer simulation and measurements used in the study indicated that the radiation at that distance or less (the "inner area") is 100 times greater than emissions beyond that distance (the "outer area").
Another important observation from the research is that for the first 5 years of living near a cell phone tower, the risks were no different than someone living far away from one. However, in years 6-10, the cancer risks jumped more than threefold for those living a quarter of a mile or less from a mobile tower.
Israeli research conducted by Tel Aviv University confirms a similar pattern. In this study, 622 people living 1148 feet (350m) or less from a cell phone transmission station for 3-7 years were compared to 1222 controls living further away.
Out of the high exposure group, 8 cases of cancer were diagnosed within just one year. 3 cases of breast cancer and 1 case each of ovarian, lung, bone, kidney and lymphatic cancer.
In the control group, only 2 cases of cancer occurred even though the control group was roughly twice as large as the highly exposed group.
Based on these results, the researchers calculated the relative risk of cancer to be over four times higher for those living 350m or less (about one-fifth of a mile) from a cell phone antenna or tower.
Was Eddie Van Halen Right?
Was Eddie Van Halen's hunch about the cause of his cancer accurate?
Was it caused by his many years of holding metal against his tongue in EMF-saturated recording studios?
While we likely won't ever find out the answer to this question, his words are certainly a cautionary tale in this world where it is virtually impossible anymore to avoid 24/7 exposure to EMFs of all kinds including cell phone towers, antennas, smart meters, personal health devices like fitbits, dirty electricity, and Wifi…with more to come.
Heeding the advice of forward-thinking physicians and dentists by avoiding any type of metal appliances in the mouth seems to be a commonsense move at least until more research on the subject is done.
References
(1) Van Halen Dies of Cancer at 65
(2) Van Halen on Surviving Addiction
(3) Eddie Van Halen, Legendary Rock Guitarist, Dead at 65
(4) Eddie Van Halen photo credit