How to make your own simple syrup at home with an unrefined, whole sweetener to preserve important minerals and nutrients with no loss of flavor and sweetness!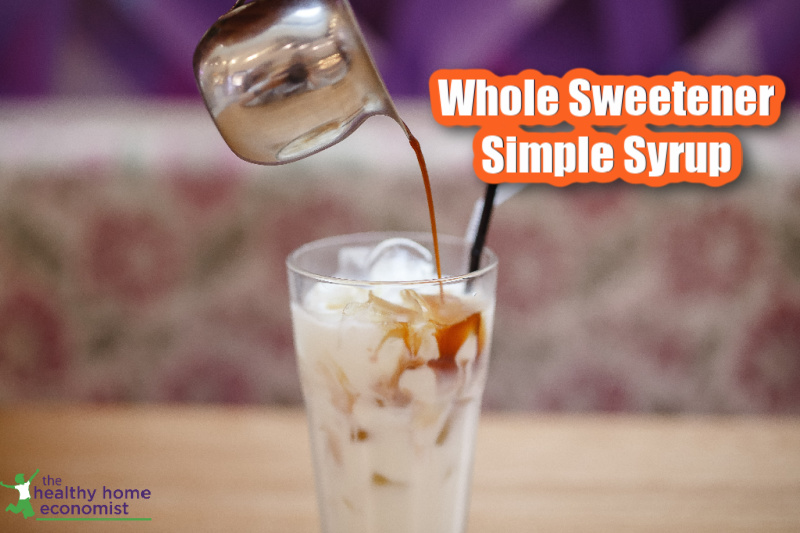 If you make your own cocktails at home or other cold drinks like sweetened iced tea, coffee, or lemonade, simple syrup makes the blending process much easier.
The trouble is, commercial simple syrups use refined sweeteners and a plethora of additives! Even organic brands use refined sweeteners labeled as "unbleached". Translation: it's still refined sugar!
Why not try your hand at making your own simple syrup? It's quite easy to do. Simply dissolve the whole sweetener of your choice in filtered water and reduce to the desired thickness and consistency.
I like to use jaggery, a traditional sweetener from India and South America. The process of making it involves evaporating raw sugarcane or coconut nectar juice without separating any nutrients from the crystals. This preserves important minerals such as iron and calcium.
Choose coconut or cane jaggery based on your personal preference and dietary philosophy. For example, coconut palm jaggery is permitted on the Paleo diet, but cane jaggery is not.
Once you've made homemade simple syrup for the first time, I would venture to suggest that you will never buy commercial brands again!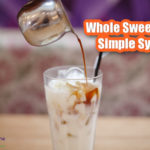 Unrefined Simple Syrup Recipe
Simple syrup recipe made with an unrefined, mineral-rich whole sweetener for homemade cocktails, iced tea or even drizzling on pancakes, waffles, or ice cream.
Instructions
Mix water and jaggery in a small pot and turn the heat on to medium-high.

Stir as the mixture warms until all the jaggery is dissolved. You will have about 1 and 1/2 cups of liquid at this point.

Bring mixture to a boil, then turn the heat down to low to simmer until the jaggery syrup is thickened to the consistency of blackstrap molasses. Reducing by about one-half is a good rule of thumb.

Remove from heat. Stir in optional vanilla. Cool to room temperature. Store in a small mason jar in the pantry or refrigerator.  
Recipe Notes
The jaggery syrup will thicken as it cools. If it becomes too solidified for your liking if you store in the refrigerator, simply warm on the stove and it will re-liquefy.
Nutrition Facts
Unrefined Simple Syrup Recipe
Amount Per Serving (0.25 ounce)
Calories 25
% Daily Value*
Carbohydrates 6g2%
Calcium 22.5mg2%
Iron 0.42mg2%
* Percent Daily Values are based on a 2000 calorie diet.