Recipe for a creamy turmeric latte aka golden milk that is dairy-free and ready in only one step! Appropriate for your sipping enjoyment either morning or evening.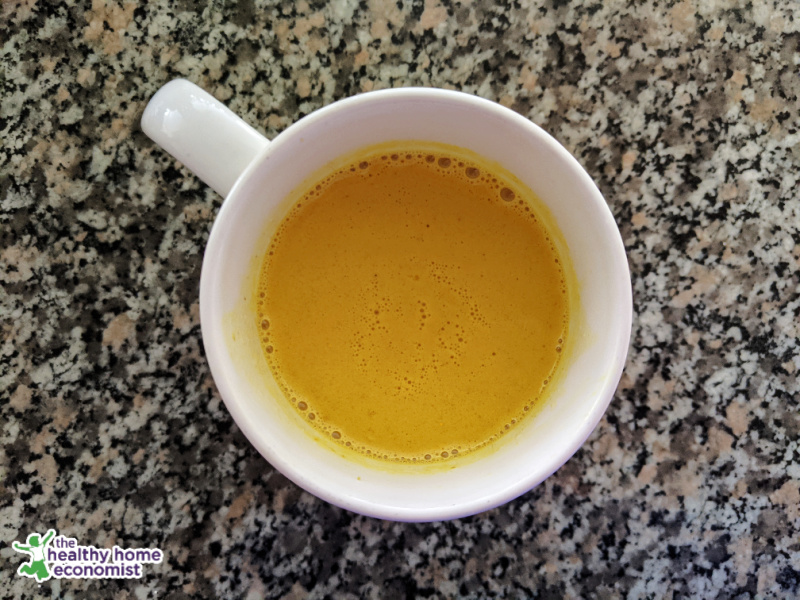 Like many people, I enjoy hot beverages in the morning. Usually, my drink of choice is a creamy latte. I have a stable of healthy latte recipes I rotate through, and this turmeric version is my latest creation!
This turmeric latte, which some people call "golden milk", is traditionally made with dairy. My version uses whole coconut milk powder instead.
Thus, it is the fastest latte you can make. Just place the ingredients in a mug, add hot water, and you are done!
Turmeric is a powerful anti-inflammatory, mood boosting spice that is increasingly prominent in the medical literature.
The ginger adds an energizing effect. Thus, it is best to include this herb only if you are enjoying it in the morning or early afternoon. Leave it out if sipping in the evening before slumber.
Note that I've included a bit of optional coconut sugar in the ingredients. Leave it out if desired. The pure monk fruit extract and coconut milk powder provide enough sweetness in my opinion. However, I realize some of you may be transitioning off sugar, and thus may require a bit more sweetness as your taste buds gradually adjust to fewer carbs in the diet.
If you prefer dairy to coconut milk, I do not recommend using dairy milk powder because the higher protein content is denatured during processing. Hence, if you substitute dairy milk, I would warm it gently on the stove before mixing it with the dry ingredients.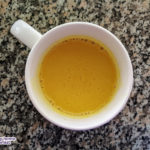 Turmeric Latte
Recipe for a creamy turmeric latte or golden milk that is dairy-free and enjoyable for both morning and evening sipping. Ready in minutes!
Instructions
Place all dry ingredients in a large mug.

Add 8 ounces (1 cup) of hot filtered water.
Recipe Notes
Use optional ginger only if enjoying this beverage in the morning or afternoon as this ingredient is quite energizing.
.5 smidgen is equivalent to 1/64 teaspoon. These specialty measuring spoons are what I use for tiny amounts like this!
Substitute 2-4 drops of stevia extract instead of the monk fruit extract if desired.
Nutrition Facts
Turmeric Latte
Amount Per Serving (1 cup)
Calories 100
Calories from Fat 81
% Daily Value*
Fat 9g14%
Sodium 5mg0%
Potassium 110mg3%
Carbohydrates 4g1%
Protein 1g2%
* Percent Daily Values are based on a 2000 calorie diet.