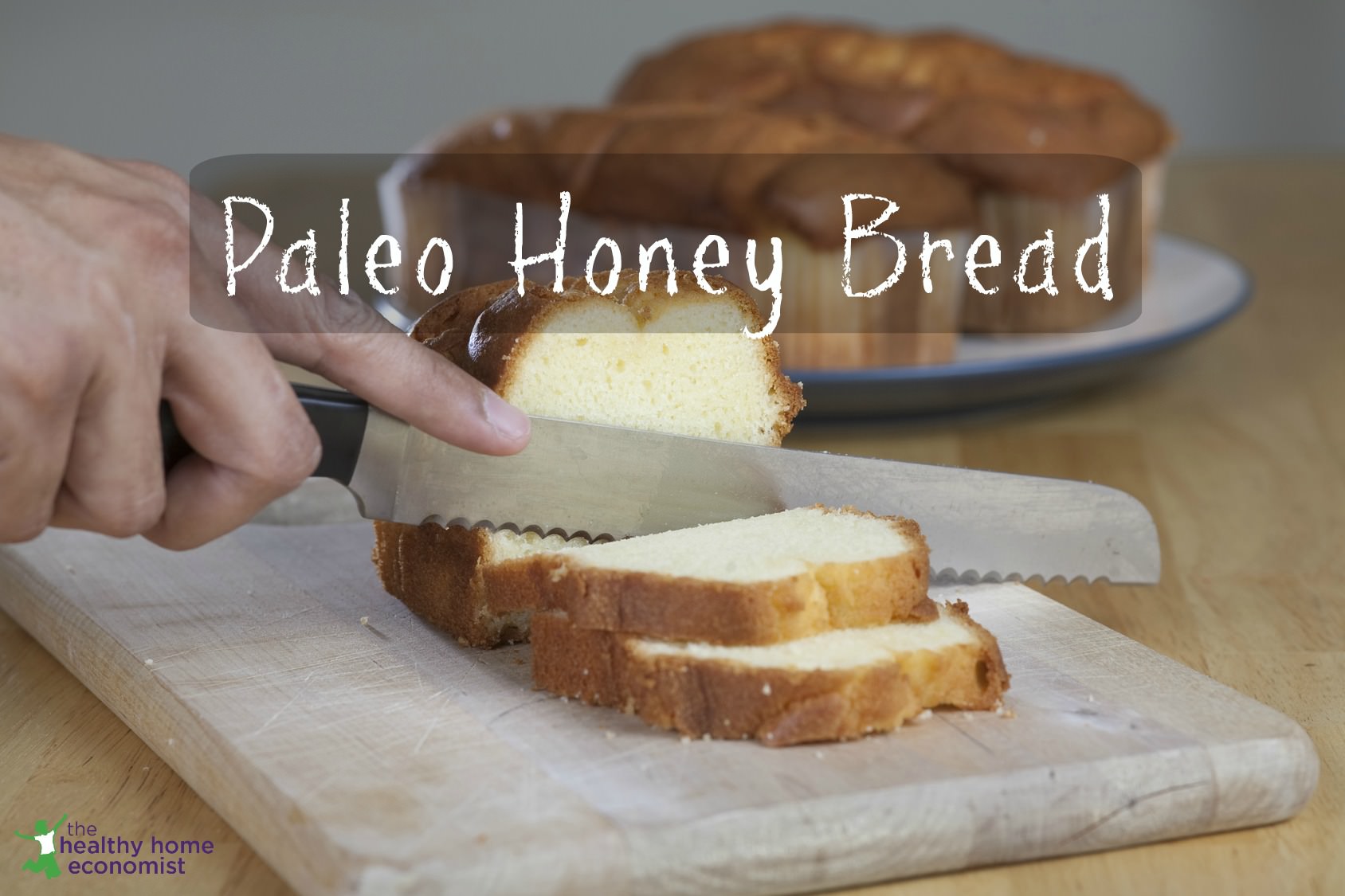 The recent recipe for Paleo muffins proved to be very popular, so I am posting another no grain recipe I use frequently in our home! This particular honey bread recipe that is also Paleo friendly features coconut flour instead of nut or bean flours.
Using coconut flour to make baked goods results in a consistency similar to Sara Lee pound cake. When I was in grade school, my breakfast was sometimes a slice of Sara Lee pound cake topped with peanut butter. Not an ideal healthy breakfast, by any means. But, I do have a soft spot for the soft, spongy texture of pound cake even to this day! 
If you love pound cake as I do, chances are you will like this honey bread. It is a wonderful alternative to the typical wheat based pound cakes. This honey bread recipe does have a hint of coconut flavor, but it is not overwhelming and does not detract from complete enjoyment of the texture and overall flavor of the bread.
This honey bread does not get completely brown on top like wheat based pound cake, but the texture is quite similar. This bread is also very low carb and unbelievably filling for those of you who are limiting them for health or weight reasons. It's amazing how just one slice fills you up.
Note that when I originally created and published this recipe, I used honey as the sweetener. Since that time back in 2010, I've learned via research that it is not ideal nor is it traditional to use honey for cooking or baking. However, after retesting, I found that honey still makes for the tastiest loaf. If you make this bread a lot, I recommend using date syrup instead which is Paleo and also allowed on the GAPS, AIP or Specific Carbohydrate healing diets. If you are not on one of these diets, then maple syrup makes a wonderful substitute too. It does slightly change the taste of the loaf, however.
I LOVE a slice of this honey bread with some healthy peanut butter on top (this is our favorite brand). My husband and kids like a slice with a big slab of butter and a bit of raw honey.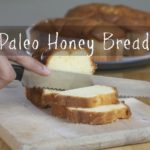 Paleo Honey Bread Recipe
Easy recipe for grain free, Paleo honey bread that tastes just like Sara Lee pound cake without all the carbs and sugar.
Instructions
Whisk together eggs, butter, coconut milk, honey, sea salt, vanilla, and stevia.

Mix coconut flour and baking powder in a separate bowl and then sprinkle this dry mixture in with the wet ingredients a bit at a time.

Once everything is mixed, keep whisking until the batter is very smooth with no lumps. This may take a few minutes.

Pour into a glass loaf pan and bake at 400 F/204 C for 20-25 minutes or until loaf starts to slightly brown on top.

This recipe makes 1 medium honey bread loaf, 12 muffins, or 24 mini muffins. Cover leftovers on the counter and refrigerate what you won't eat in 2 days in a sealed container.
Recipe Notes
Use date syrup instead of honey if you wish to refrain from cooking with honey, which is not an ideal practice.
Sarah, The Healthy Home Economist