How to make your own fabric softener or sheets using simple, safe, and inexpensive ingredients that won't leave toxic residues on clothes that can harm health.
I've written before about the health dangers of commercial fabric softeners. This includes dryer sheets, liquids, and the newfangled "pods".
It is also wise to avoid all-in-one detergents with built-in fabric softener. They aren't any safer!
These chemicals have no place in the home, especially with growing children who are particularly susceptible to the hormone-disrupting effects.
I don't care much for so-called green brands of fabric softener either.
Check out the ingredients of the most popular "green" fabric softener that is marketed as nontoxic (Seventh Generation):
water, dihydrogenated palmoylethyl hydroxyethylmonium methosulfate, dipropylene glycol, calcium chloride, eucalyptus globulus, lavandula angustifolia, lavandula hybrida, pinus sylvestris, benzisothiazolinone, methylisothiazolinone (synthetic preservative) and sodium carbonate.
Now, don't get me wrong. This product is certainly better than supermarket brands like Downy. It uses natural herbal fragrances instead of synthetic ones. That is a big improvement!
However, it is certainly NOT nontoxic!
It still contains three dodgy ingredients that may leave residues that can get into the bloodstream, especially on garments like underwear that contact the very thin skin of the genital area.
The first unpronounceable ingredient (dihydrogenated palmoylethyl hydroxyethylmonium methosulfate) is listed as "not so good" in all categories for ingredient safety. (1,2)
In addition, two of the other ingredients are listed as a 6 and a 7 out of 10 on the toxicity scale by the Skin Deep database maintained by the Environmental Working Group. (3, 4)
What about Natural Value dryer sheets with real lavender fragrance? Well, they are certainly better than Bounce, but they still contain Di-palm carboxyethyl hydroxyethyl methylammonium methyl sulfates which gets a grade of "D" by the Environmental Working Group. (5)
The Best Fabric Softener Is Homemade
To date, I have not found a single brand of fabric softener that I personally would buy and use.
Sad, but true ?
If you know of one available in your area, please post about it in the comments!
So, what did Grandma do before fabric softener was bottled and sold at the supermarket?
She mixed her own or did without. Grandma also made her own homemade laundry powder!
Besides being safer, DIY fabric softener is far cheaper and just as effective too.
Combined with organic wool balls (or hypoallergenic dryer balls for those that are sensitive), homemade fabric softener (instructions below) covers all the bases of what commercial fabric softeners and sheets have to offer:
Softness
Light fragrance (that isn't hormone-disrupting)
Reduces wrinkles
Anti-static
In my view, there simply is no reason to use commercial fabric softeners ever again.
Give it a try!
Homemade Liquid Fabric Softener Ingredients
All you need to make your own fabric softener is the following.
1 and one-half quarts nonGMO white vinegar
2 cups of filtered water
20 drops of essential oil (optional)
Do not use any other type of vinegar except white vinegar, or, in a pinch, white rice vinegar.
Apple cider vinegar or wine vinegar may stain your clothes.
My essential oil favorites for fabric softener are lavender, lemon, or lemongrass.
There are many others to consider that you might like better. This article lists over two dozen to consider that are appropriate for laundry use.
Mixing Instructions
Combine all ingredients in a suitably sized container with a tight-fitting lid.
I use an empty vinegar jug (that I've used for cleaning) from the supermarket. This works very well (see picture above).
Add one cup of this mixture to the rinse cycle of each laundry load. For small loads, use one-half cup.
That's it! Your clothes will be soft, fresh smelling, and best of all SAFE to wear!
Don't forget to add wool or hypoallergenic balls to the dryer to add the benefits of static reduction and reduced wrinkling.
DIY Dryer Sheets
If you are like me and always miss the rinse cycle on your washer (or don't use the automatic dispenser), then try making dryer sheets instead.
Dampen a clean washcloth with the homemade fabric softener mixture that you made in the above steps.
Then, simply throw the washcloth in the dryer with your clean clothes. Remember to add dryer balls for additional anti-static and low wrinkle effects.
Use a fresh washcloth dampened with the homemade fabric softener for each load.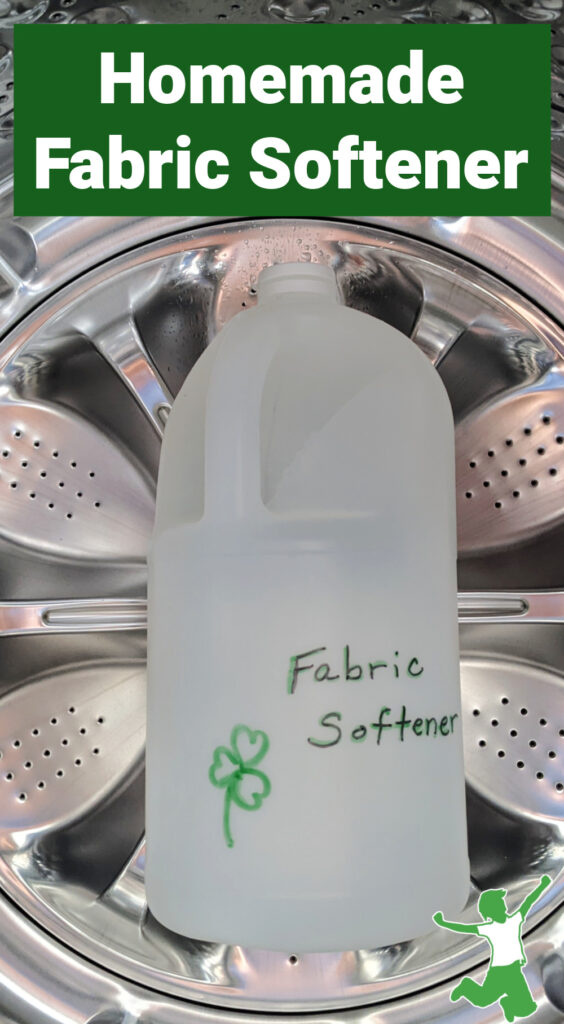 (1) Dihydrogenated palmoylethyl hydroxyethylmonium methosulfate surfactant
(2) Dihydrogenated palmoylethyl hydroxyethylmonium methosulfate
(3) Methylisothiazolinone
(4) Benzisothiazolinone
(5) Di-Palm Carboxyethyl
(6) 27 Essential Oils for Laundry Use