How to make a homemade deer fly trap with a few simple and inexpensive materials for easy, nontoxic prevention of their painful, bloodsucking bites.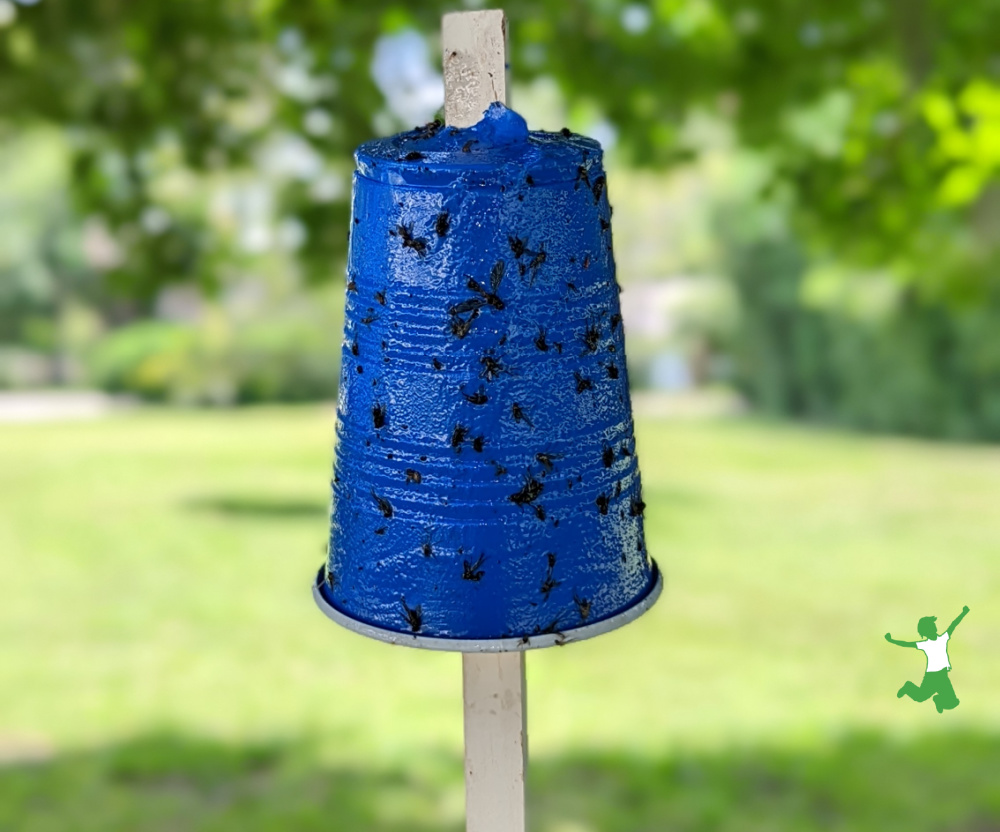 Building a deer fly trap is often a necessity during warm weather. Quite a bit different from a DIY house fly trap or homemade fly repellent, successfully clearing an area from deer flies involves nothing more than a sticky coating on an object of attractive color.
What are Deer Flies?
Deer flies are insects in the horse fly family Tabanidae.
There are roughly 4300 species in the world. Three hundred of these are in North America with at least two commonly recognized by people: horse flies and deer flies (sometimes called "yellow" or "pine" flies).
These insects suck blood and are primary nuisance pests of people, livestock, and wildlife.
Painful, Itchy Bites
As bloodsuckers, the deer fly bite can be very painful, often leaving large, itchy welts that last for a week or even longer.
When I get bitten, I use this garlic gel ointment for fast relief.
Other natural bug bite remedies for deer flies include tea tree oil and raw ACV applied with a cotton pad.
If you like to make things yourself, this homemade herbal salve recipe works very well too.
Allergic Reactions
Some people develop allergic reactions to deer fly bites.
They can then often swell and be prone to infection. A trip to the doctor may then be necessary.
Disease Risk
Different deer fly species occur at different times during the year and often are found in high populations in inhabited areas.
When this is a backyard or favorite fishing spot, deer flies can become a real health issue for people and pets.
This is because deer flies, like any bloodsucking insect, can spread diseases like Lyme although the research is mixed on how high the risk actually is. (1)
How to Make a Deer Fly Trap
If the painful bites that may cause illness have you wanting to keep these critters from your outdoor spaces, you will be happy to know that making a deer fly trap yourself is quite easy and very inexpensive.
In four easy steps, you can build a simple but very effective trap for deer flies in less than 5 minutes!
Poke a hole in the top of a large BLUE plastic drinking cup. Blue attracts them the best according to University of Florida researchers. Note that red and black also work to a lesser extent. (2)
Cut a small 1″ hole in the top of the cup.
Push a stick or pole of some kind that is about 4′ long through the cup hole.
Paint this sticky coating all over the outside of the cup. If you get some of it on your hands, a nontoxic orange oil all-purpose cleaner that contains D-limonene (a component in citrus peel) will easily remove it.
You are ready to go!
How to Use
Deer flies are attracted to slow movement and are "ambush" predators.
They also seem to be attracted to the sound of flowing water. For example, I tend to have the most problems when I am watering my garden!
Hence, the most effective way to clear your property of these nuisance insects is to walk slowly around your yard holding the trap near foliage where they hide.
You can also attach the trap to a lawn mower, tractor or car. Drive slowly around your property to cover larger areas.
Dawn or dusk are the best times of the day. However, any time during the morning or late afternoon also works at least in my neck of the woods here in Central Florida.
The pole should be roughly 5-6 feet off the ground … about the same height as your head.
Watch the trap work like magic as you "troll for deer flies".
Note that this trap also works if you simply leave a few poles strategically placed around your property. While not quite as effective, the trap still works while stationary to catch many flies!
I'm currently keeping a pole about 30 feet from a porch area and it's working wonderfully to keep deer flies from attacking me while sitting outside. I replace the cup whenever it is mostly covered with flies. In my area, that is about once a week.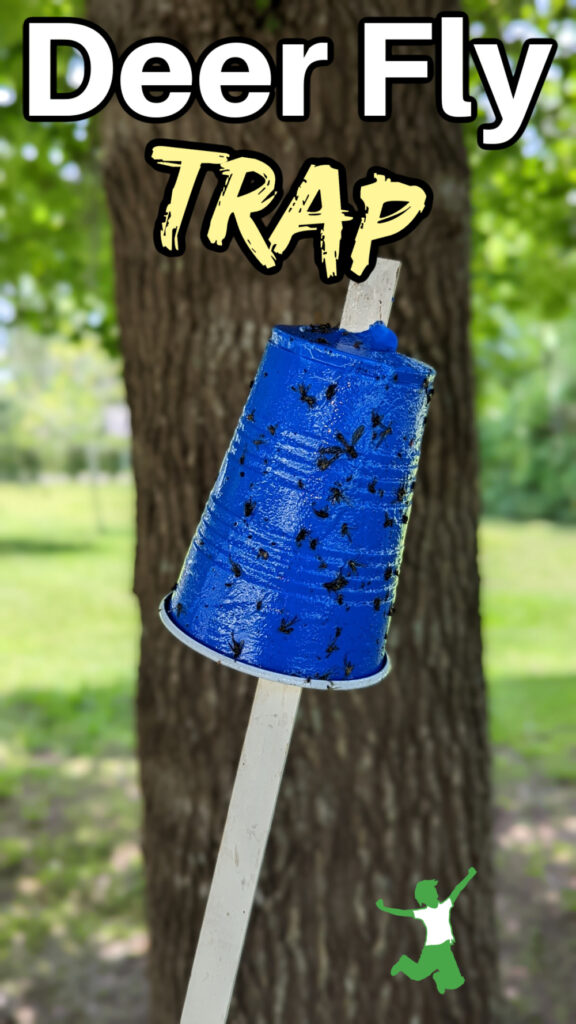 (1) The "Trolling" Deer Fly Trap (University of Florida Research and Education Center)
(2) Can Lyme disease be transmitted to humans by mosquitoes, horse flies, and deer flies?