Table of Contents

[Hide]

[Show]
Four healthy and delicious gluten-free cereal grains that make a very tasty hot porridge when the run-of-the-mill bowl of oatmeal starts to get old and tired.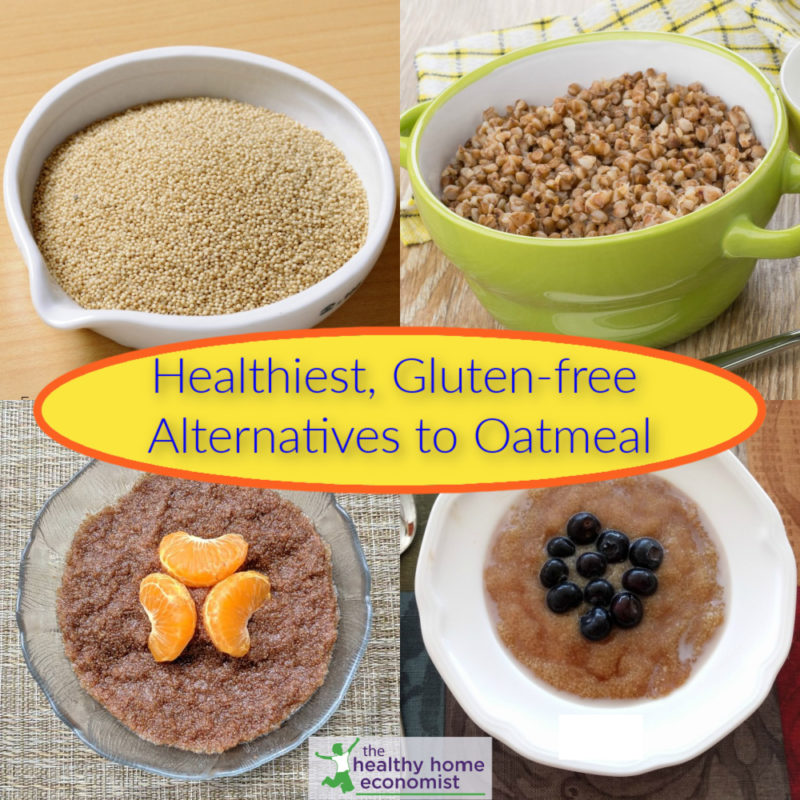 When it comes to breakfast porridge, oatmeal seems to get all of the attention…at least here in North America. Just look at the size of the selection of the various types of oats in the grocery or health food stores.
Rolled oats
Steel-cut oats
Oat groats
Scottish oats
Quick oats
Sprouted oats (both rolled or steel-cut)
Instant oatmeal
While oatmeal, especially if soaked overnight, is wonderful, the truth is there are several other gluten-free grains that make an excellent hot cereal!
Mixing it up in the morning where porridge is concerned is a smart way to go because each cereal grain has a different vitamin/mineral profile. Enjoying them all on a rotational basis makes it more likely that all your nutritional bases are covered. This is especially important in this era of heavily depleted soils.
With that, let me suggest my picks for the best gluten-free cereal grains that make an excellent mix-up to your basic bowl of oatmeal. Which one is your favorite?
Millet
Pearl millet porridge has a slightly nutty flavor with an appealing texture.
An ancient grain popular as a staple food on the African continent, millet is best consumed in moderation by those living in Western societies where powerful thyroid stresses such as fluoridated water are common. This is because millet is a goitrogenic food, and as such, can inhibit the function of this delicate gland in the neck if eaten too often or in excessive amounts.
Those who want to enjoy millet regularly should also ensure that they get adequate iodine in their diet which is supportive of a strong thyroid. Grassfed butter is an excellent source, so be sure to top your bowl of millet with a generous amount!
Millet is best enjoyed after a thorough rinse, overnight soak, and cook on the stovetop to fully deactivate anti-nutrients and ensure optimal digestion.
Cream of Buckwheat
A bowl of cream of buckwheat is smooth and satisfying and is perhaps my personal favorite alternative to oatmeal.
Despite its name, buckwheat is not a form of wheat at all! Its closest relatives are the perennial herb sorrel as well as rhubarb and knotweed.
The edible parts of the plant are the seeds, which are quite high in the anti-nutrient phytic acid. This substance can cause gastric distress and block mineral absorption.
Hence, it is important to take the time to soak the ground buckwheat groats overnight first before cooking on the stovetop.
Amaranth
Amaranth seeds require a rinse and overnight soak due to high amounts of anti-nutrients like tannins and saponins. I use a soaking medium of filtered water and a small amount of sea salt instead of lemon juice, ACV, or whey. This is because amaranth is more of a seed than a true grain.
After soaking, thorough cooking renders amaranth hot breakfast cereal to be fully digestible, slightly nutty in flavor, and totally delicious. Most notably, your digestion will more fully metabolize the excellent protein profile when following careful preparation methods. Dress it up in a bowl with your favorite healthy fat, whole sweetener or fruit, and other toppings.
Teff
Teff breakfast porridge has the strongest flavor of all the gluten-free grains, according to my taste buds. However, the flavor is unique and delightful, so don't let this put you off from trying it!
Like millet, teff has ancestral roots on the continent of Africa where injera or teff bread is an Ethiopian staple. Teff will grow at a variety of altitudes – from sea level to nearly 10,000 feet (300 meters). This hardiness has resulted in cultivation in diverse areas around the world including mountainous Idaho, dry Australia, and low lying, wet areas of India.
Teff is lower in anti-nutrients than other gluten-free grains, hence I do not tend to soak it overnight before cooking. I simply put the tiny teff grains briefly in a hot skillet until they begin to pop. Then, I add water, sea salt, butter, and a pinch or two of ground cloves… cooking until the water is absorbed (about 8-10 minutes). A ratio of 1:3 teff to water is optimal in my experience.
Rice or Quinoa?
What about rice or quinoa? Wouldn't these gluten-free grains make a good choice for a hot breakfast?
The reason I've not included rice cereal is due to its poorer nutrient profile compared to buckwheat, millet, amaranth, and teff. In addition, brown rice cereal risks exposure to unhealthy levels of arsenic, so unless you are very sure of your source, I would recommend one of the other gluten-free cereals listed above instead.
Cooked quinoa could perhaps be a good choice for a hot breakfast depending on your personal taste. From my perspective, I don't find that it works well served with typical porridge toppings like fruit, nuts, and a whole sweetener. In our home, I reserve quinoa as a savory dish for later in the day.