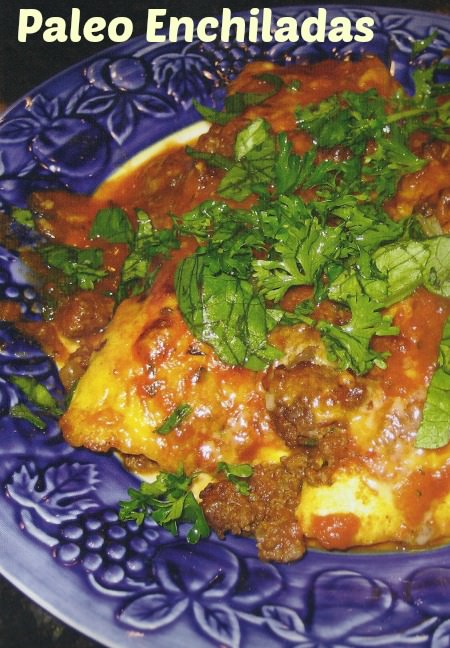 Before I reveal this very creative Paleo enchiladas recipe, let me tell you a little about the recipe creator, Tara Rayburn.
I first met Tara, author of the cookbook Essential Gluten-Free Recipes, in yoga class about 10 years ago.  She was pregnant at the time and we struck up a conversation about Labor of Love, a local birthing center in Tampa that offers women a fantastic natural birth experience as well as holistic prenatal care (this is where I delivered all 3 of my children).
A natural opportunity to talk to Tara about traditional cooking and the travels and teachings of Dr. Weston A. Price presented itself when her child began to experience a challenge with food allergies.
One time, I brought some homemade chicken broth to her house when a tummy bug was making the rounds.  Tara has been hooked on traditional cooking ever since witnessing firsthand the healing power of traditional bone broth, and in the ensuing years has become a successful speaker and writer known in alternative circles as the Healthy Habit Coach.
Gluten and Grain Free Enchiladas
I've been re-reading through Tara's awesome new gluten-free cookbook in recent days (the pictures are amazing!) and found this wonderful recipe for Paleo enchiladas to share with you.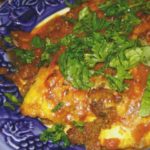 Paleo Enchiladas Recipe (w/ dairy free option)
Easy recipe for gluten and grain free Paleo enchiladas for those who love Mexican food but avoid the corn. With dairy free option.
Instructions
Saute garlic and onions in a bit of cooking fat until golden.

Add ground meat and brown. Add chopped veggies of choice if desired.

To prepare the Paleo tortillas, heat a small skillet and add cooking fat. In a bowl, beat the eggs well. Pour a very thin layer of egg into the skillet and cover briefly. In less than a minute, remove egg tortilla and place on a covered dish. Repeat until all the egg is used up and you have 2-4 tortillas ready.

Wrap the ground meat mixture in the egg tortillas and top with chopped greens, cheese or shredded carrots, salsa, and a dollop of sour cream or coconut yogurt.

Serve your delicious creation of Paleo enchiladas and enjoy!

Refrigerate leftovers and re-heat as needed.
Recipe Notes
Substitute coconut yogurt for sour cream and grated carrot for grated cheese if desired. 
Sarah, The Healthy Home Economist
Source:  Essential Gluten-Free Recipes, p. 83