by Sarah TheHealthyHomeEconomist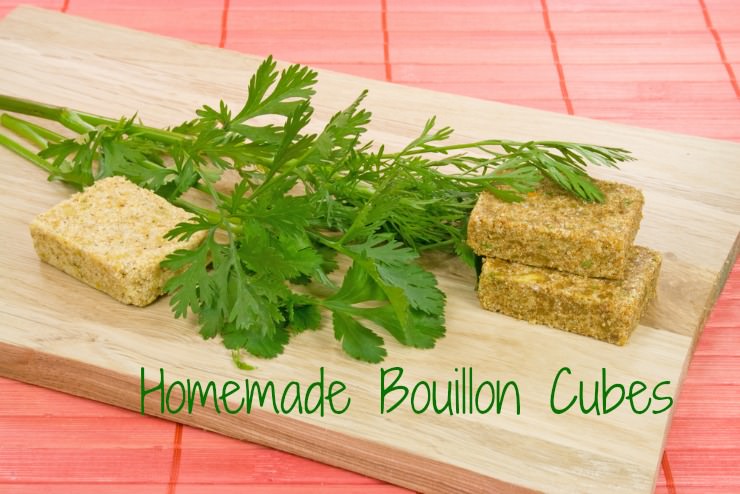 People new to traditional cooking are frequently surprised to learn that bouillon cubes from the store are a heavily processed food that without exception contain large amounts of neurotoxic MSG.  Even organic bouillon cubes or stock cubes should be avoided!
Take a look at the ingredients of this popular brand of organic chicken bouillon cubes from the healthfood store that falsely proclaims "No MSG Added" on the label:
Organic Chicken Bouillon Cube Ingredients:
yeast extract, corn starch*, non hydrogenated palm oil*, mineral salt, natural chicken and rosemary flavouring, chicken fat*, lovage*, turmeric*, parsley*, chicken meat powder*. *organic
What's the very first ingredient?
Yeast extract which is just another name for MSG. Note that there are dozens of aliases for neurotoxic MSG (1) used in food labeling that while misleading, is completely legal. It is essentially a cat and mouse game food manufacturers play with consumers. As soon as consumers wise up to one name, they change to another then another.
Note that avoidance of MSG in processed foods is important not only to keep frequent headaches at bay, but also to maintain a healthy weight. MSG damages and kills neurons in the hypothalamus in the brain stem and can contribute to obesity over time by damaging metabolism (2).
How companies get away with these labeling shenanigans is shocking. As a consumer, you really need to be on your toes to keep from falling for these processed food scams.
The good news is that it is simple to make your own healthy bouillon cubes to liven up the flavor of homemade broth or to add to filtered water along with some veggies, legumes or meat to make a super fast soup in a pinch.
14 Comments