by Sarah TheHealthyHomeEconomist
May 14, 2011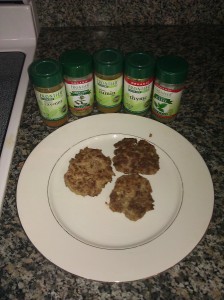 I've written in the past how we go "grain free" in our household a day or two each week, usually on the weekend.  The practice really isn't necessary as no one is gluten sensitive or has allergies in our home, but my husband and I have been practicing this since last summer when we both came off a few months on GAPS.   During those few months, we realized just how heavy in grains the Western diet truly is and how beneficial it is to take a regular and frequent digestive break from them.
The kids generally dislike this practice as they all really enjoy toast for breakfast.  Lately, though, they've warmed to the idea as they've been getting homemade breakfast sausage and they really love it!
My husband actually came up with the idea.  Our favorite sausage from a local farm was backordered and we were desperate for a breakfast sausage fix.   So, hubby decided to try his hand at making his own with some excellent quality pastured ground pork and five different spices.
It turned out fantastic!  In fact, the majority vote in the house is that Dad's breakfast sausage is the yummiest they've tasted yet!
Perfectly Delicious Breakfast Sausage
Ingredients
1 pound pastured ground pork (substitute ground turkey if desired)
1 large pastured egg, lightly beaten
2 TBL softened butter or ghee (sources)
1/4 tsp cumin, oregano, and cayenne pepper (sources)
1/2 tsp dried basil and thyme (sources)
2 tsp good quality sea salt (sources)
Instructions
Mix all ingredients including the butter together and chill.   Form into small patties and fry until cooked through.
Time saving tip:  Make a bunch of patties ahead of time to freeze for quick breakfasts on the go!  Separate patties in the storage container using parchment paper.
Sarah, The Healthy Home Economist