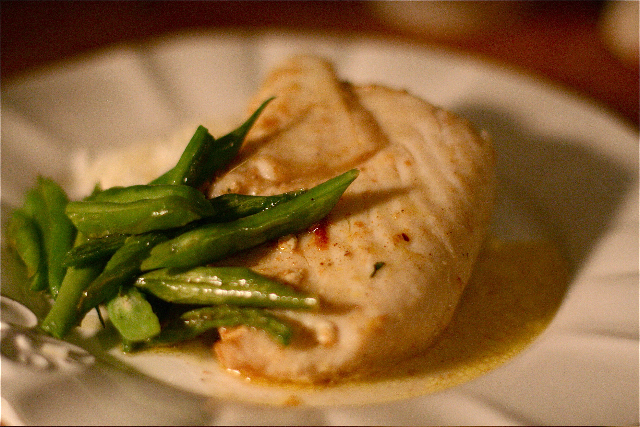 Back by popular demand. Chef Emily Duff of New York City shares another one of her amazing recipes.
This time, she is sharing a pan fried halibut recipe that is sure to please and entice your entire family.Fish is one of the easiest meats to cook, yet I find that some folks are afraid to take the plunge in their own kitchens even when they would gladly order it in a restaurant and savor every single bite!
Perhaps this gourmet halibut dish from Chef Emily will change that if you are a restaurant only fish lover!

How to Cook Halibut
Bathing halibut in butter requires a low, slow flame and constant attention. The final product is a tasty piece of heaven that is well worth the effort:  perfect, silky, buttery, fragrant fish to delight the senses.
This pan fried halibut recipe is gratifying in that the spice blend works with the butter to enhance the flavor profile of the fish even further, imparting a perfume that allows you to "taste" the dish before you even have it in your mouth. The combination of the butter and fresh vanilla is love at first bite. The lemon and coriander finish with a zing to bring it all together.
I like Alaskan halibut for its clean flavor and "meatiness" but it can be pricey. Feel free to substitute other fish that would better suit your budget such as cod, monk, scrod, flounder, striped bass, grouper, snapper, salmon, etc.
Note:  If you are using halibut with the skin on, please make sure you score the skin and press the fillet, skin side down, when you put it in the pan to prevent the fillet from curling up.
Enjoy with an unwooded chardonnay to bring out the butter and vanilla or a reliable new zealand sauvignon blanc to enhance the lemon and coriander. Either way, the key word is enjoy!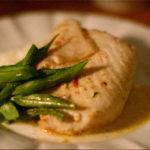 Pan Fried Halibut in Spiced Butter with Blistered Beans
An easy pan fried halibut recipe seasoned with vanilla spiced brown butter and served with blistered green beans. Delicious and satisfying with no carbs.
Ingredients
To Make the Spice Blend (this can be made ahead of time)
Instructions
Combine all ingredients for the spice blend above and leave out on a paper towel to air dry all day. It will be ready for the halibut dinner in the late afternoon/evening!

Season the halibut liberally with sea salt & cracked white pepper.

On a low to medium flame, warm a saute pan.


Add 4 tablespoons butter to pan and melt.

When butter stops foaming, add fish (scored skin side down and press if it has skin) to pan.

After a few minutes, tilt pan toward you to collect butter and, using a large spoon, bathe the fish with the butter.

Continue bathing until the fish turns translucent.

Add 3 more tablespoons butter to pan and a 2 teaspoons of the spice blend and continue bathing fish until it is cooked through.

Remove fish and continue to brown the butter to achieve a nutty flavor.

To prepare beans, heat a saute pan over moderate to high heat. Add 2 tablespoons butter or olive oil to pan.

Add washed and cut beans and allow to cook until them "jump." They will jump because they blister. Saute beans till they are blistered on all sides, add sea salt and cracked pepper.

Spoon butter over pan fried halibut and serve with blistered green beans.
Recipe Notes
Spice/Herb Blend Variations for Pan Fried Halibut
coriander seed, ginger and turmeric.
fennel seed, orange zest and fresh tarragon leaves.
cardamom, garam masala & dill.
Key to Success
low & slow.
More Healthy Seafood Recipes
Love this recipe for squid salad ?  Try these other healthy seafood dishes inspired by Traditional Diet: