How to make healthy, homemade mayonnaise using just a few whole food ingredients in your blender or food processor that is tastier and healthier than anything from the store.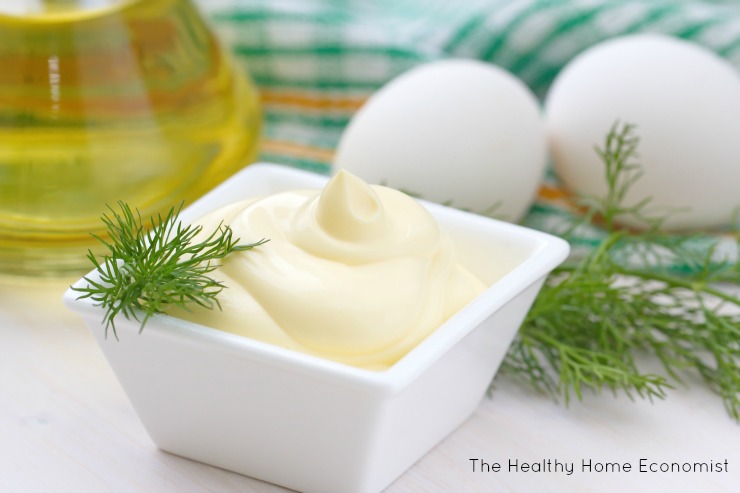 The topic covered in this article is how to make REAL homemade mayonnaise. No junky ingredients like soy or canola oil in this recipe (do some people STILL think canola is a healthy oil? Have they been living under a rock or something?).
I'm certainly no pro in front of the camera and this clip could have used some serious professional editing, but perhaps the amateur nature of this video gives everyone struggling to cook traditionally in their home some hope.
Homemade Mayonnaise Beats Top Chef
REAL people are the ones making REAL food these days and it is in REAL kitchens, not factories or BRAVO's Top Chef Show. Recent Top Chef winner Michael Voltaggio might be able to cook, but he is clueless about oil nutrition. He uses canola oil to fry gnocchi (Food & Wine, April 2010).
How horrible! Michael, give me a call buddy. You need a kitchen intervention.
Big Food can keep their snazzy commercials, flashy packaging, and catchy marketing hype because that's all they've got. The foods they produce are completely worthless from a nutritional point of view.
This homemade mayonnaise is absolutely delicious, full of enzymes and nutrition. You won't believe how you got by for so many years on the franken-mayo from the store after tasting this!
Wondering what oils are healthy for mayo? Check out the linked article for the best alternatives to consider.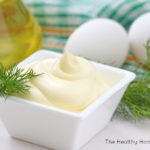 Healthy Homemade Mayonnaise Recipe
This recipe for real homemade mayonnaise is easy and fast to make so that you won't ever have to buy store brands again which use unhealthy oils, additives and chemicals.
Instructions
Wash eggs, preferably locally produced and free range (organic store eggs ok in a pinch but do not use regular store eggs) in warm soapy water and dry well.

Crack and place raw, washed egg and egg yolk in a food processor. Add dijon mustard, lemon juice, salt, and whey.

Add dijon mustard, lemon juice, salt, and whey. Close the lid and pulse a few times to mix.

Stream the oil of choice into the food processor via the small holes in the lid all the while pulsing the food processor to emulsify the oil with the other ingredients.

When all the oil has been emulsified, taste and add more lemon juice and sea salt if desired. Pulse once or twice to mix.

Use the mayo plain or add organic onion powder to taste to make a healthy ranch dressing!

The mayo will last about 4 days in the fridge and 2-4 weeks if raw whey is added as a probiotic preservative. The mayo becomes firmer over time in the refrigerator.
Recipe Video
Recipe Notes
Do not use powdered whey from the store. It is a denatured food and will not extend the life of the homemade mayo like probiotic rich liquid whey will.
Nutrition Facts
Healthy Homemade Mayonnaise Recipe
Amount Per Serving (1 Tbl)
Calories 130
* Percent Daily Values are based on a 2000 calorie diet.
Prefer to Buy?
If making your own mayo still seems like a daunting task even after watching this video, know that healthy mayo is finally available for purchase. I always keep a jar in the pantry in case I am out of homemade mayo, but need some right away.
This brand uses the exact same ingredients as the recipe above, and it taste delicious! The only drawback is that it uses pasteurized eggs and not raw eggs like the homemade version. Check it out here.
Egg-free Option
If making mayo with eggs is a problem for you due to allergies, try this recipe for egg free mayo instead. Alternatively, you could use cultured cream which is simple to make using heavy cream and a couple of tablespoons of cultured dairy such as buttermilk or kefir.