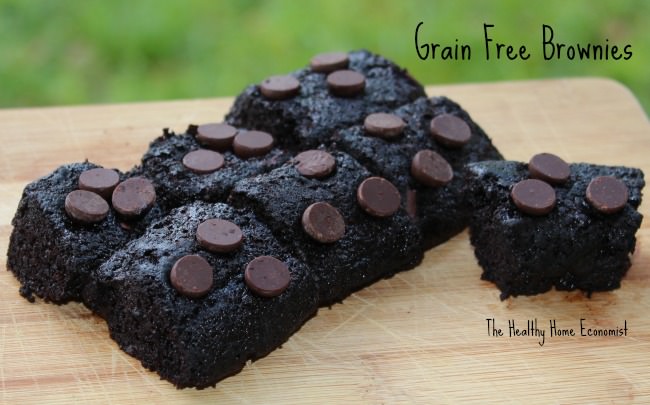 In my opinion, the brownie is hands down the most important American contribution to the world of pastries. I typically make sprouted flour brownies for my family, but I have gotten into the routine of making them grain free with whatever sprouted nut butter I have on hand of late.
These grain free brownies are crazy good and I am in full anticipation of a lot of email love floating into my inbox from those of you who try them! 
Homemade Nut Butter Brownies (grain free)
The key to the amazing taste of these grain free brownies is the quality of the nut butter you select. Our favorite is macadamia nut butter followed by hazelnut butter although you can certainly use any nut butter you want.
For this particular grain free brownies recipe, the best nut butter to choose is one that has been made from soaked/sprouted raw nuts. The reason is because raw nuts are seeds and as such, their hulls contain many enzyme inhibitors that can prevent all that wonderful nutrition from being digested thoroughly.  These inhibitors can also cause digestive distress if many raw nuts are consumed.  For some people, even a few raw nuts cause digestive problems or a rash around the mouth.
Deactivation of these enzyme inhibitors can be accomplished through sprouting and/or soaking the raw nuts in salt water for a few hours and then drying in a warm (not hot) oven or dehydrator. According to Nourishing Traditions Cookbook, soaking and drying of raw nuts mimics the careful and wise practice of the Aztecs, who soaked seeds in salt water and then dried them in the sun before grinding into flour or eating them whole.
While I used to sprout or soak raw nuts myself before making nut butter in the past, there is now an excellent brand of properly prepared nut butters for you to choose from so you don't have to engage in this time consuming practice if you don't want to.
This brand is Better Than Roasted (click here for a list of sprouted/soaked nut butters).
The big plus of using sprouted/soaked nut butter in this recipe is that you will find these grain free brownies surprisingly filling. The more digestible and nourishing a food, the less you eat while still feeling satisfied. This is particularly important with a treat such as brownies. You don't want to be eating half the pan!  Eating just one or two of these small brownies will be plenty satisfying when a quality nut butter is used.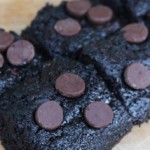 Grain Free Nut Butter Brownies Recipe
This grain free brownies recipe made with the nut butter of your choice is perfect for those who are gluten free or Paleo. So rich you will likely be full eating just one!
Instructions
Blend nut butter of choice, eggs, and maple syrup by pulsing in a food processor (I like this one).

Add vanilla, cocoa or carob powder, sea salt, baking soda, and optional chocolate extract and pulse a few more times to mix thoroughly.

Pour batter into a 9x13 glass baking pan (I like this one) and stir in chocolate chips.

Bake at 350F/177 C for 20-30 minutes or until a knife inserted in the center comes out clean. Cool, cut into squares and serve.
Recipe Notes
Substitute an equal amount of carob powder if you prefer to use instead of cocoa powder. If using carob powder, add 2 tsp chocolate extract to the batter. Also substitute carob chips for the optional chocolate chips.
Enjoy!   You can thank me later 🙂
Sarah, The Healthy Home Economist