Fermented coleslaw is a simple way to add probiotics and additional vitamins and enzymes to this delicious side dish that works well with most sandwiches. The culturing process reduces the chances of gas and burping too!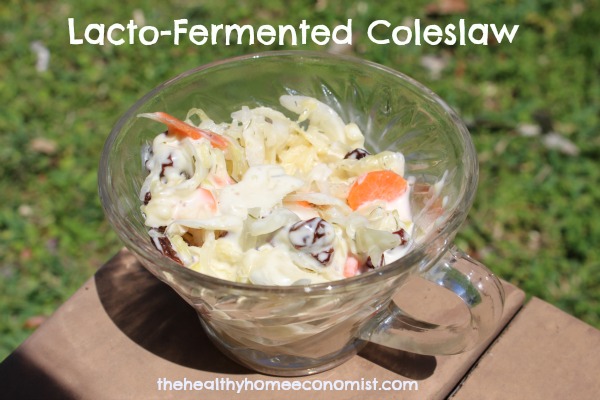 I just love coleslaw, or slawwww as we say in the South.
Basic slaw, German slaw, Asian slaw – you name it. It's all yummy to me.
The primary ingredient of coleslaw is shredded raw cabbage. Unfortunately, as any woman who has breastfed knows, for those first few months, cabbage is a no-no for Mom to eat as it frequently produces a lot of gas in a breastfed infant particularly if the cabbage is raw.
Cabbage is part of the cruciferous family of vegetables which also includes broccoli (always cook it!), cauliflower, and bok choy among others.
I really missed eating coleslaw for the first 6 months breastfeeding my first child. Fortunately, after that, his digestion was mature enough to handle my consumption of crucifers, so I happily devoured my coleslaw from that point forward.
Then I discovered the wonders of Traditional Diet and fermented foods!
Knowledge is power isn't it gals? With my next two children, I was able to consume traditionally prepared sauerkraut and kimchi in small amounts even during the first few months of lactation after the baby was born.
Something about the fermentation process seems to significantly reduce the gassiness of the raw cabbage at least to a point where I could consume it in small amounts without a problem for baby.
But I still missed my coleslaw!
As it turns out, I didn't need to avoid my beloved coleslaw even while breastfeeding because it is so easy to make a fermented coleslaw yourself using traditionally prepared sauerkraut and healthy mayo.
These days when I'm eating coleslaw at home, it is always fermented. This is the case even though I'm no longer breastfeeding. Why not add improved digestibility, enzymes, and probiotics to the delicious mix?
This fermented coleslaw is ideal pared with homemade fish and chips, grassfed burgers, or a simple grilled cheese sandwich (toasted up in grassfed butter of course!).
Lacto Fermented Coleslaw
The recipe below makes about 1 cup of probiotic-rich coleslaw. Due to the super rawness of the cabbage in the coleslaw, you may find that this condiment works very well as a natural reflux remedy. This approach is suggested by Dr. Natasha Campbell McBride in her bestselling book on resolving gut imbalance.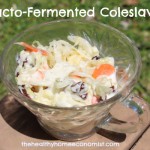 Fermented Coleslaw Recipe
Easy recipe for fermented coleslaw that is a great substitute for sauerkraut as a beneficial condiment to promote full digestion of a meal.
Instructions
Mix all the ingredients together and eat immediately.

Refrigerate any fermented coleslaw leftovers.
Recipe Notes
The best sauerkraut is always homemade. This tutorial on how to make sauerkraut includes recipe and how-to videos.  
If you choose to buy sauerkraut, you must buy a healthy brand in the refrigerated section of the healthfood store. It must be perishable to have value! Shelf stable sauerkraut is not raw and contains no probiotic value.
Wondering about which mayo to use? This recipe plus video shows you how to make mayo. This is the best option. Need it made without eggs and/or dairy? This recipe plus video shows you how to make egg free mayo.
If you choose to buy this ingredient, be sure the mayo is made with healthy oils!