Table of Contents

[Hide]

[Show]
Healthy recipe for homemade peanut butter cookie cereal, deliciously perfect in a bowl with milk or stirred into yogurt. No sugar added!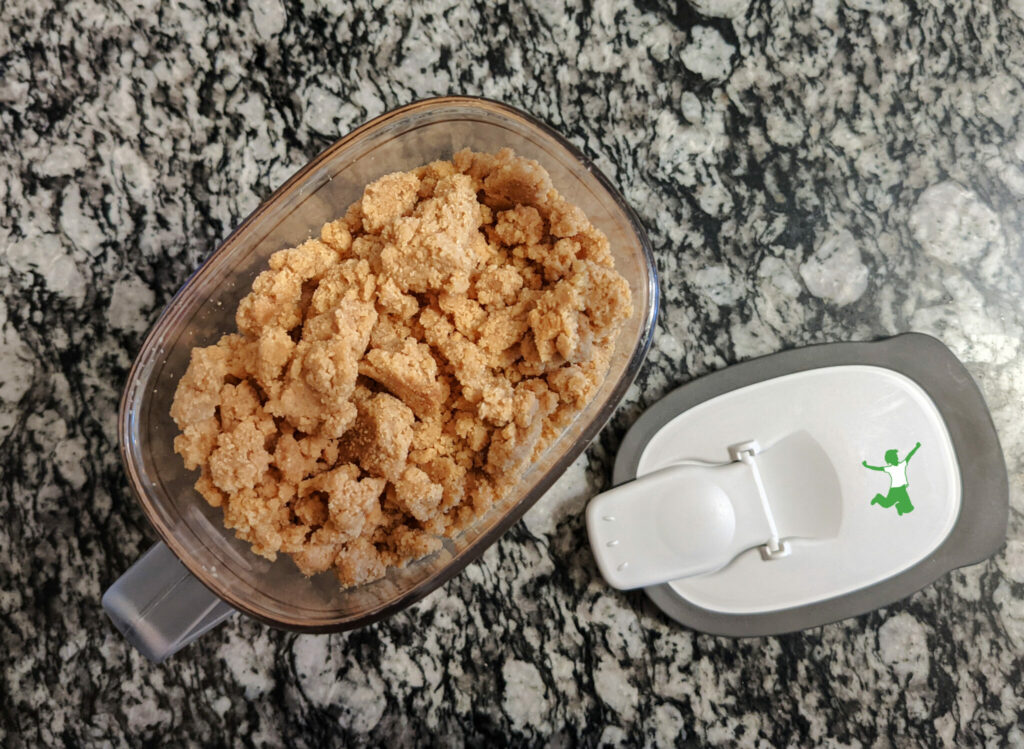 Grain-free boxed breakfast cereal is becoming very popular at the health food store.
Possibly the most popular brand is Catalina Crunch. However, the ingredients are far from desirable.
I bought it one time to try. It was an impulse buy without careful inspection of the ingredients first, which is almost always a bad move!
Shortly after eating a bowl, I was doubled over in digestive pain! I think it was the massive amount of fiber and denatured pea protein that were the culprits.
Natural flavors are listed as well, which can literally hide almost everything including MSG from prying consumer eyes.
If you need a grain-free option for cold cereal in the morning, try this recipe for peanut butter cookie crunch instead!
Serving Suggestions
While you can include an optional whole sweetener to this recipe to mimic store brands (if you are weaning off them), feel free to leave it out if you are watching your carbs and prefer to avoid any added sugar.
I typically opt for a drizzle of raw honey at the table instead of adding sugar to the recipe itself.
The small amount of coconut flour adds sufficient sweetness to my taste buds.
With regard to the type of grain-free flour, I highly recommend the simple process of making almond flour fresh. It goes stale very fast and possibly rancid sitting on the shelf at the store.
You can really taste the difference. I mill sprouted almonds in an inexpensive herb grinder.
Tip: This cereal is deliciously crunchy mixed with yogurt instead of unhealthy grain-based granola.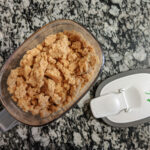 Peanut Butter Cookie Cereal
Healthy recipe for homemade peanut butter cookie cereal, deliciously perfect with milk or stirred into yogurt.
Instructions
Mix almond flour and coconut flour in a large glass bowl. Mix in yogurt until well blended.

Cover and soak overnight. If using sprouted almond flour, skip this step.

Blend in all the remaining ingredients to flour/yogurt mixture to form the cereal batter.

Pour batter evenly into a 9 x13 pan greased with coconut oil.

Bake for 30 minutes at 350 °F/177 °C or until a toothpick comes out clean.

Let cool and then crumble the baked cereal cake in the pan.

Spread the crumbled cereal thinly on two large baking sheets greased with coconut oil and dehydrate at 200 °F/ 93 °C for 4-6 hours. Turn cereal once or twice to dry evenly. Take care to not over-dry, which makes the cereal too hard.

Remove from oven and cool. Store in an airtight container in the fridge.
Nutrition Facts
Peanut Butter Cookie Cereal
Amount Per Serving (0.5 cup)
Calories 306
Calories from Fat 207
% Daily Value*
Fat 23g35%
Carbohydrates 13.5g5%
Protein 11.3g23%
* Percent Daily Values are based on a 2000 calorie diet.