---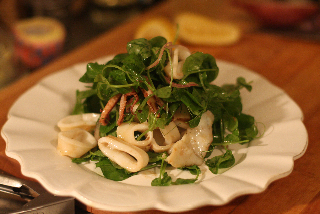 Every Saturday morning, my 5 year old daughter Sylvia and I have "girl time." We don't play dress up, do our nails or visit a beauty salon. For us,  "girl time" means getting out of the house at 8am, jumping on a crosstown bus and heading straight to the Union Square Farmers Market to visit our favorite farmers and buy what looks fresh and delicious.
I rely on Sylvia to help create our family menus as she has a keen eye for freshness, a real energy for flavor combinations and has inherited my need to chat with neighbors about food.
The farmers let her jump behind their stands and sell us our food; weighing it, bagging it and making our change. A few have even promised her a job when she is old enough which makes me very proud. For the past three weeks Sylvia has been obsessed with eating squid.
This Saturday she wanted me to create a squid salad that could also be a sandwich because, "You love salads and daddy loves sandwiches. Everyone can get what they want." How could I resist?
The following recipe for squid salad can stand alone as an appetizer or be served as a bruschetta.
I love this idea of creating dishes that possess an inherent versatility or mutability, able to please many different people all using the same basic ingredients. Not only does this premise keep food cost to a minimum but it also inspires the cook to look further, seeing the potential for future recipes based on what is already available. Plus it calls for fresh pineapple caramelized in bacon fat, probably one of the best flavor combinations ever!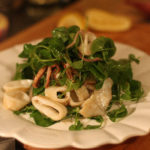 Squid Salad with Caramelized Pineapple Recipe (Bruschetta)
Squid salad served as a delicious flavor combination with caramelized pineapple. The perfect lunch or light dinner for those who love calamari.
Instructions
Place squid in a bowl with 3 crushed and roughly chopped cloves of garlic, 1/4 cup roughly chopped cilantro and 1/4 cup extra virgin olive oil to marinate. Cover and refrigerate for at least 4 hours and up to 8 hours.

In a cast iron skillet on med - low flame, add 1.5 TBS bacon fat and toast bread slices on both sides till golden.

In another pan, add 1.5 TBS of bacon fat and saute diced pineapple till caramelized. remove and hold.

Salt and pepper squid, on medium flame, saute in the same cast iron skillet in batches until done (approximately 3 - 4 minutes on each side for squid bodies and 3 minutes for tentacles).

Chop squid bodies into rings and place in bowl with pineapple. Add tentacles whole.

Add sliced onion, 1/4 cup chopped cilantro leaves, and arugula.

Mix all together, salt and pepper to taste.

Spoon squid salad and vinaigrette on top of toasts and serve or serve as a salad without bread. If serving as a bruschetta, make sure you spoon enough vinaigrette to soak the toasts. Feel free to add extra olive oil over the top for presentation.
 More Seafood Recipes
Love this recipe for squid salad ?  Try these other healthy seafood dishes inspired by Traditional Diet: