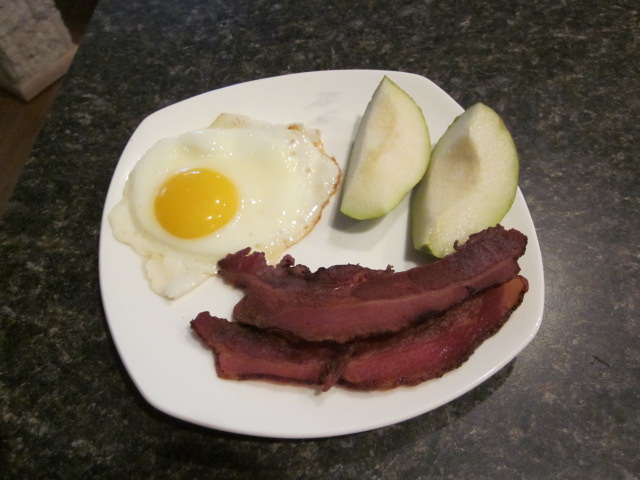 The correct way to break a fast after eating no solid food whatsoever for 10 days is gently and slowly with foods that are very easy to digest like homemade soup or perhaps eggs and fruit and maybe a slice or two of bacon as shown in the picture above.
So what do Paula and I do after completion of 10 days of The Milk Cure?
We throw caution to the wind and get us some Boss Hog, that's what!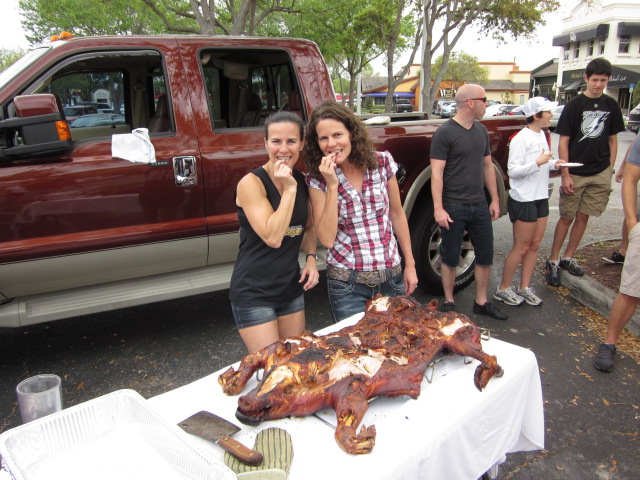 The Break the Fast festivities began about noontime this past Saturday at the annual Fitness Challenge Celebration for Paula's gym – Jaguar Fitness.
A Primal Feast fit for a king complete with pig roast was the order of the day. We both sampled all the amazing dishes offered including veggies/guacamole, almond flour biscuits, and cornbread, sweet potato salad, etc. . .  and of course Boss Hog.
As my contribution, I brought a large pan of artichoke dip at Paula's request. We both got full very easily and did not eat the rest of the afternoon.
The Boss Hog was prepared the traditional Cuban way by marinating in orange juice the night before. The pastured pork was mouth-watering and quite possibly the best I've ever tasted.
After the Primal Party, Paula went out to dinner with friends. From about 6 to 9 pm, she enjoyed bacon-wrapped scallops, cheese stuffed mushrooms, prime rib, salad, twice baked potatoes, and eek – even a piece of bread slathered with butter (don't tell anyone). Beyond stuffed, Paula passed on dessert. However, other than being overly full, she suffered no ill effects.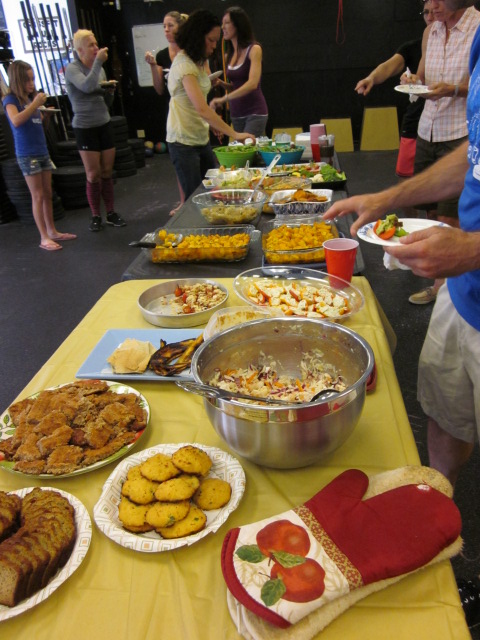 As for Richard and me, we attended my daughter's birthday skating party after the Primal Fest and ate the delicious birthday cake I had baked the day before. I even had a slice of (gasp) skating rink pizza.
What was I thinking?
Despite eating a wide and wild variety of foods on the fast-breaking day, I felt fine and suffered no ill effects. My digestion was clearly in tip-top shape after drinking nothing but grassfed raw milk for 10 days.
Richard and I are seriously considering drinking nothing but raw milk for one or maybe even two days a week from now on based on our positive experience. I did not drop any significant weight (started at 123.5 and ended at 123) which was my goal.  I also definitely detoxed and feel nothing short of amazing for the experience.
Paula's final weight after the fast was 117 – A decrease of 1.6 pounds.  Her calorie intake over the 10 day period ranged from 1863 to 2663 for an average of 2375.  Macronutrient ratios of milk were 55% fat, 25% carbs, and 20% protein.
Many thanks to all of you who joined us on this adventure!
We all plan on doing this again next year, so mark your calendars for Spring and source out your supply of raw grassfed milk from jersey cows with lots of cream if you don't already have one so that you can be sure to participate with us!