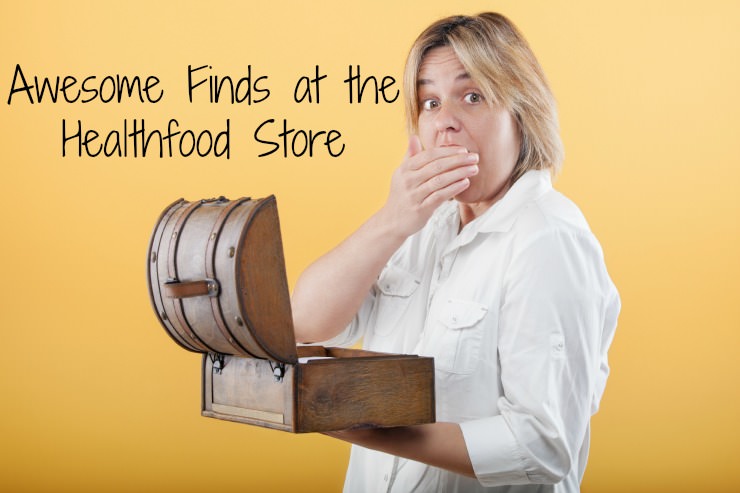 One activity I really enjoy is browsing the aisles of healthfood or specialty food stores, checking labels and searching for quality products. I especially like to do this when I'm out of town to compare brands that are on the shelves in my community.
It's almost like a treasure hunt … most items get a thumbs down, but it is always exciting to find that one off, awesome item with a list of carefully considered, quality ingredients that you can feel good serving your family and will save you some time in the kitchen too!
I've found several really good products in recent weeks, and I thought I'd share them with you in case they aren't on your radar yet.
Please note that the price of these items will likely be a lot cheaper in the store than they are listed online. Better yet, try to get them through a bulk food club in your community and you will save even more.
The great thing about seeing the product online first, though, is that it makes finding it in the store much easier as you know exactly what the product packaging looks like.
If your healthfood store doesn't carry some of these items, simply note the brand information and maybe print off a picture and take it to the manager. In my experience, most healthfood store managers will gladly order whatever item you want because chances are, there are a lot of other people who would like it too.
Have you tried any of these products yet? If so, what do you like (or don't like) about them?
No Grain Pasta
Yes, it's true. You're not dreaming.
Even those on a grain free or low carb diet can now enjoy a bowl of pasta and experience the satisfying pasta-like texture too (unlike sweet potato pasta or zoodles). I was totally thrilled to find this no grain penne pasta made out of red lentils recently. Lentils are ok on the GAPS Diet, so even those on a strict regimen to heal the gut can enjoy pasta on occasion (just don't overdo as these lentils are not sprouted or soaked). This red lentil pasta is delicious and easy to cook. Best of all, one ingredient: organic red lentils. Click here to check it out.
Cheese Crackers
Don't you get frustrated with the ingredients of most organic cheese crackers on the market? They are full of additives and MSG (usually disguised with the alias "yeast extract") and have a list of ingredients a mile long.
You can imagine my relief and excitement to finally find a quality brand of cheese crackers to pack in my kids' lunches. They taste amazing and are even gluten free. Check out the quality ingredients: rice flour, sharp cheddar cheese, potato starch, tapioca starch, annatto seed (for natural color), cultured buttermilk, sea salt, guar gum, cream of tartar, baking soda.
That's it! Can you believe it? These are, far and away, the best cheese crackers I've ever seen in a store. The only thing I don't like about them is that my healthfood store stocks them in little individual snack pack boxes, which to me is a wasteful way of packaging. I would prefer just a big box or better yet, a recyclable, resealable bag. The company now offers a bag, so I am going to ask the store manager to stock this instead of the snack pouches. Click here to check out the packaging so you know what you are looking for.
Sprouted Grain Cookies
Love, love, LOVE these cookies. I've been buying the sprouted lentils and sprouted quinoa from Tru-Roots for awhile, but now they've come out with a line of sprouted cookies too!
Check out this list of ingredients for the orange ginger flavor: organic flour (made of amaranth, brown rice, sprouted adzuki, and sprouted quinoa), palm fruit oil (yay, a healthy fat!), organic apple puree, organic coconut sugar, organic brown sugar, organic ginger, organic tapioca flour, organic orange peel, vanilla extract, sea salt, organic cinnamon, organic ginger powder, xanthan gum, organic nutmeg, organic allspice.
Other sprouted cookie flavors include classic vanilla and chocolate chip. Click here to check out the whole line.
Dairy Free Shortening
Need a dairy free, neutral flavored shortening for baking cookies, biscuits, pie crusts etc?
This healthy shortening made from a budget friendly blend of coconut oil and red palm oil is perfect for all your baking needs as well as a stir fry dish when your vegan friends come to dinner.
I keep a tub in my fridge for just such a purpose. I've actually started using it for baking cookies for parties and bake sales too, as this blend of healthy fats works for just about anyone regardless of allergy status. Check out the packaging here so you know what you're looking for at the store.
Healthy Sunflower Oil
Sunflower oil has a bad rap these days as most brands on the market are high in omega 6 fats. While essential, the Western diet contains far too much omega 6 fat which contributes greatly to inflammation issues.
If you love the very mild taste of sunflower oil like I do (making it the perfect oil for homemade mayo, in my opinion), click here to check out this high oleic sunflower oil made from a special variety of sunflower seed made by a 130 year old family farm in Wisconsin. I just discovered this oil at the recent Wise Traditions Conference, and I love it!
High oleic oils mean that the predominant fat is omega 9 or monounsaturated fat (like olive oil). This sunflower oil gives you the mild flavor without the excessive omega 6 fats.
Wholesome Pie Crusts
I actually did not make my own pie crusts this Thanksgiving for the first time ever! This is because my husband found this amazing quality traditional pie crust at the healthfood store with fantastic ingredients: organic wheat flour, organic palm oil, water, organic cane sugar, sea salt.
It really is such a relief to have companies coming out with quality products so we stressed out Moms can buy a few things here and there instead of having to make everything all the time which, after many years doing this (speaking from experience here), gets really exhausting!
Do you have some awesome healthfood store finds to share? Please let us know what they are in the comments section!
Sarah, The Healthy Home Economist
More Information
Coconut Sugar: A Healthy and Sustainable Sweetener