Almond butter energy balls recipe made with whole ingredients for a healthy boost with no added sugar or artificial sweetener.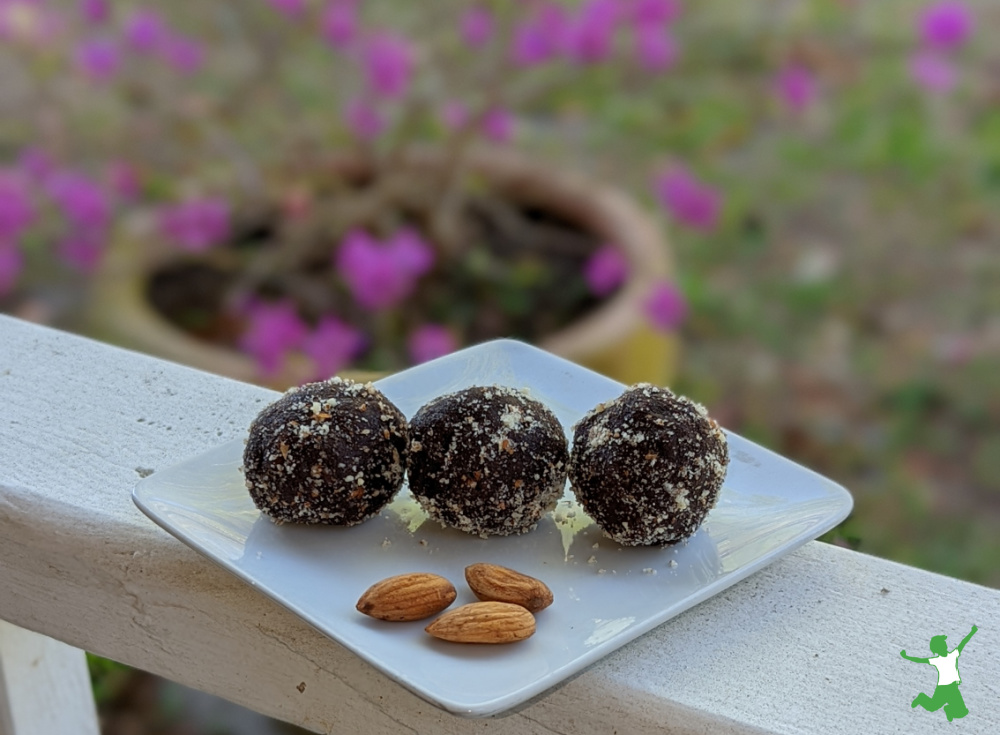 Last year, I posted this recipe for fruit-sweetened energy bites. Since then, I've received a number of requests for a variation that uses almond butter instead of peanuts.
After a bit of experimenting, I came up with this alternative version below.
It uses almond butter (either roasted or sprouted) for a seriously tasty snack. I enjoy one or two mid-morning or mid-afternoon (if made with carob) for a quick pick-me-up.
Enjoying them while sipping a homemade fermented beverage is a true luxury worth the effort to experience!
I recommend using sprouted or soaked almond butter because it is the easiest for your digestion. You can really feel the difference in your stomach!
In a pinch, you can use roasted almond butter instead. Roasting reduces the anti-nutrients in almonds, but not as much as soaking or sprouting.
It is important to avoid raw almond butter as it is far too high in anti-nutrients like phytates and oxalic acid!
The enzymes you lose by roasting the almonds are more than offset by the improvement in digestibility.
This is why soaked or sprouted almond butter is the best choice. It preserves the raw benefits of the almonds while significantly reducing the anti-nutrient load.
When it comes to cocoa, raw cacao, or carob powder, choose whichever traditional food suits your needs best. Roasted cocoa powder makes for the tastiest combination that is lower in oxalic acid than raw cacao.
However, those sensitive to caffeine should definitely use carob. The sweetness of the dates hides the bitterness very well.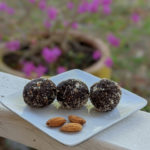 Almond Butter Energy Balls
Almond butter cocoa snack recipe made with only 5 whole food ingredients for a boost with no added sugar or artificial sweetener.
Instructions
Mix all of the ingredients together in a large glass bowl. I like to lightly oil my hands with coconut oil and knead the ingredients together by hand instead of using a mixer.

Roll the batter into small balls of about 1 inch thickness. Tip: to make the balls very quickly, take a small amount of the batter and roll it around in your palms … each ball only takes a few seconds and they are perfectly round!

Lightly roll each ball in almond flour which adds an enjoyable texture experience to each bite. You can either use blanched almond flour from the store or pulse 4-5 sprouted or roasted almonds in a coffee grinder to it make fresh.

Store in the the refrigerator in a covered container. They last for several weeks.
Nutrition Facts
Almond Butter Energy Balls
Amount Per Serving (1 ball)
Calories 105
Calories from Fat 57
% Daily Value*
Fat 6.3g10%
Carbohydrates 10g3%
Protein 2g4%
* Percent Daily Values are based on a 2000 calorie diet.