Table of Contents

[Hide]

[Show]
Recipe for homemade buffalo chili that is a simple and delicious twist on an old fave that your family will love. Ready in only 15 minutes using traditionally prepared beans.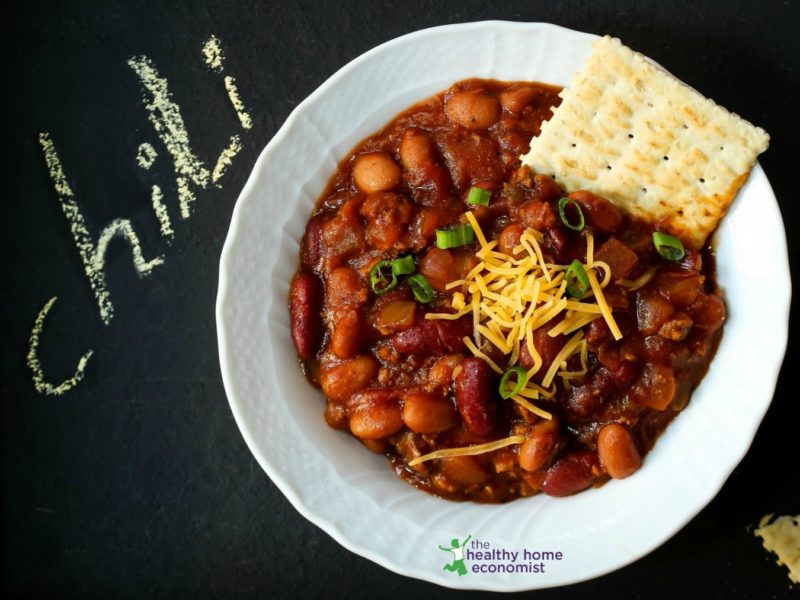 I am always thrilled when my husband arrives home from our local meat pickup with some ground bison meat. Score!
When this happens, the menu plan immediately shifts from keto chili or white bean chili to our favorite buffalo version!
Ground buffalo is nothing short of sensational in chili. It gives it a slightly different taste from regular chili made with ground beef, pastured ground pork, or a blend of the two.
I make a lot of chili in our home as it is something that the entire family enjoys and which is suitable for quick meals in the convection or toaster oven (no microwaves please!) before sports practice or even an afternoon snack after school.
The key to really good chili, buffalo chili or not besides quality meat is the beans. You must soak beans overnight before cooking to ensure that they are fully digestible and won't cause any gas or discomfort.
If this traditional cooking concept is new to you, learning how to soak legumes is an important step for improving digestibility and maximize nutrition. As a bonus, the tendency for bloating and gas is greatly diminished and you get full with smaller portions too.
I keep large containers full of presoaked and precooked beans in the freezer at all times so that a huge pot of amazing chili is only minutes away. Alternatively, you can buy these glass jars of beans that have been traditionally prepared for convenient use right out of the pantry.
I prefer at least half white kidney beans (cannellini beans) and the rest red kidney beans for chili. The little bit of color variation is appealing in the dish I think. Visual appeal is a big part of relishing the overall food experience.
Eating is not just about nutrition, after all. It is also about enjoyment, community, and family time well spent together at the dinner table.
Homemade Chili Made with Ground Buffalo
The chili recipe below only takes about 15 minutes to make from start to finish. This assumes you have wisely soaked dried beans ahead of time for fast meals. Do not use the water from the cooked beans as part of the chili or for any other dish as it contains potent anti-nutrients.
We like tons of beans in our chili, so feel free to reduce the amount in the recipe below if you prefer less.
If you are on a low carb or keto diet, use navy beans instead of kidney beans. This unusual legume is very low starch and even permitted on the GAPS diet protocol.
If you have any leftovers, this fast and easy chili and cheese dip with only 4 ingredients is a delicious one to try.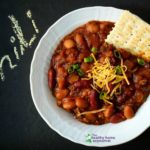 Homemade Buffalo Chili Recipe
Recipe for homemade buffalo chili that is a simple and delicious twist on an old fave that your family will love. Made in only 15 minutes using traditionally prepared beans.
Instructions
Brown the buffalo meat in a large pot.

When just browned, add strained tomatoes and beans.

Simmer until thoroughly hot for about 10 minutes.

Slowly stir in 1-3 tablespoons of chili powder, tasting as you go to ensure you achieve the right level of spiciness for your taste.

Serve buffalo chili immediately with shredded cheese of choice and a dollop of sour cream on top if desired.

Be sure to refrigerate any buffalo chili leftovers if you have any!
Nutrition Facts
Homemade Buffalo Chili Recipe
Amount Per Serving
Calories 402
* Percent Daily Values are based on a 2000 calorie diet.
Sally Fallon Morell, President of the Weston A. Price Foundation really enjoyed this exact buffalo chili recipe when she came to dinner at my home.
Love chili? Try this other variation on an old fave: fermented Sloppy Joe.