Table of Contents

[Hide]

[Show]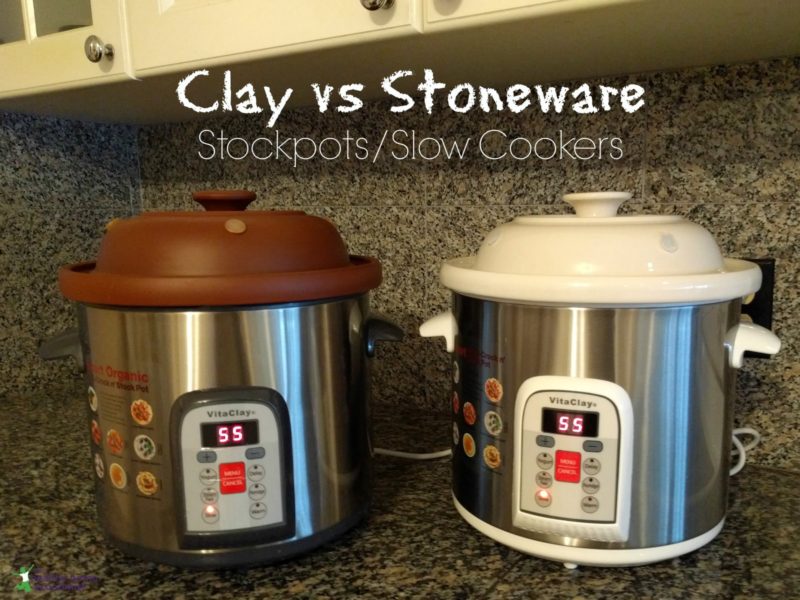 There is no doubt in my mind that bone broth you make yourself is nutritionally superior to commercial brands. If you still aren't sure, try this easy test. Buy any of the popular brands and put a container in the refrigerator. Notice how it remains liquid and doesn't transform into a familiar gelatinous blob like a mason jar full of homemade bone broth. Add to this the risks from toxic packaging (unless in glass), and there isn't any contest. Broth made at home wins hands-down.
After realizing that a weekly pot of bone broth is one of the most important (and simple) tasks for keeping your family (and yourself!) healthy, the next question is this … what type of stockpot is best?
While stainless steel stockpots, crockpots or pressure cookers like Instapot might seem to be a good idea, it is really best to steer clear. The safest bone broth is actually made in clay or enamel pots (lead-free and tested for purity of course).
These materials are superior due to the high risk of carcinogenic nickel and excessive chromium leeching from the stainless steel during cooking. The dangers are particularly acute for long simmering bone broth, which is slightly acidic from the addition of small amounts of vinegar. Even quick cooking meat stock simmers for an hour or two. Now don't worry that you need to replace all your stainless steel cookware! The risk is primarily from cooking acidic foods, not other types of dishes!
VitaClay Stockpots
These concerns led me to switch to a VitaClay stockpot/slow cooker a few years ago once I dug into the alarming research of cooking acidic foods in stainless steel.
If you make a lot of bone broth at home like I do and want to make the switch too, the next question is … what type of stockpot is optimal. Glazed stoneware or clay?
As you can see from the picture above, I have both types of stockpots on my kitchen counter. I've been comparing the two to try and help answer this question for myself.
Let me share what I've learned so it can perhaps help you sort through the options as well.
Clay Stockpot vs Stoneware Stockpots
When comparing a clay stockpot vs a stoneware stockpot from a functional standpoint, there is little difference.
Similarities
Both models accomplish all of the following very well:
Cook in about half the time of a crockpot.
Delayed timer so that you can soak oatmeal AND cook in one step instead of two.
Energy saver green appliance using up to 60% less energy.
Rice cooker (soaks AND cooks in one step using the delay timer feature).
Makes both regular and Greek yogurt.
Easy clean-up.
Nontoxic, lead-free and tested for purity.
Attractive on the kitchen counter.
Differences
From a practical and aesthetic standpoint, here are the few differences I've noted.
The clay stockpot is more fragile than the stoneware. Although I've had no problems with chipping, cracking, or breakage in the years I've used one, I can see where some people might experience problems. Stone is inherently more durable than clay. The good news is that Vitaclay does offer replacement pots if necessary if you prefer the clay model.
The stoneware stockpot simply because it doesn't require topping up with water. Stoneware doesn't breathe like clay does, hence the broth doesn't simmer down as quickly. On the other hand, if you like to make homemade bouillon cubes, reduction sauces, or homemade sweetened condensed milk, the clay stockpot would be a better choice.
If you plan to keep the stockpot on your kitchen counter, the clay or the stoneware model might look better depending on your color scheme. My kitchen is black and white so the stoneware model is more striking.
Slow-cooked food tastes a bit better cooked in the clay stockpot/slow cooker. This is due to the breathability of the clay. My husband doesn't really notice a difference in taste between the two, but I think the clay model produces tastier results.
Which is Best?
In conclusion, it is ultimately up to you to decide which Vitaclay bone broth/slow cooker is best based on your intended usage pattern. The similarities and differences itemized above can hopefully prove helpful to your decision!
By the way, if you intend to try one of these wonderful appliances for yourself, use coupon code WISE25 to get 10% off the model of your choice.