Method for taking a seaweed bath with either powdered or dried kelp and why this is optimal for improving skin health, systemic detoxification, and relief from atopic dermatitis.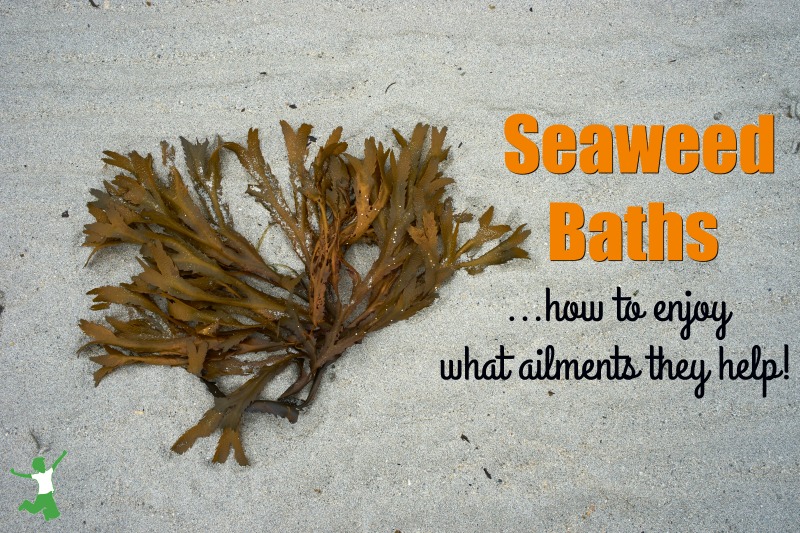 Many people are familiar with seaweed or kelp wraps offered on cruises and at luxury spas for relaxation and detoxification. While possible to do at home, this treatment can be a bit tricky to pull off on your own in a bathtub especially if you aren't that flexible.
In those instances, a seaweed bath can prove more practical to enjoy the benefits of kelp applied to the skin.
Seaweed and the Skin

Dr. Lawrence Wilson MD recommends skin-based seaweed treatments as a natural therapy to help resolve mineral deficiencies. This is a particularly helpful approach if a person suffers from a digestive problem that prevents optimal nutrient absorption from food.
He also states that seaweed applied to the skin assists with the removal of heavy metals such as mercury and copper via the skin. (1)
Nutrients in, heavy metals out!
From a purely aesthetic standpoint, a seaweed wrap benefits the appearance of the skin due to sea salt, amino acids, and other nutrients in the kelp. Some people report that their skin has tightened and fine lines and small wrinkles have diminished.
Kelp Baths for Eczema and Psoriasis

Dr. Thomas Cowan MD recommends seaweed baths to soothe and nourish the skin and provide another avenue for detoxification via the body's largest organ.
He specifically suggests this specialized type of detoxification bath as a natural treatment for eczema as it stops the itch, moisturizes, and gently exfoliates the skin, allowing regenerate healthy skin tissue more quickly.
Those suffering from psoriasis can find relief from a regular regimen of warm kelp baths as well.
Does Seaweed Bathing Help Cellulite?
Some sources claim that kelp baths can help reduce the appearance and concentration of cellulite.
While this may be true with some powerful anecdotal stories in support of seaweed baths for this purpose, solid science seems to be lacking at this point.
Bathing in a tub with added seaweed for relief of eczema and psoriasis, however, is a medically supported therapy. (2)
What about Spirulina Baths?

Like kelp, spirulina is a type of algae that also grows in the sea.
That is where the differences basically end, however.
Kelp is a brown seaweed and can grow in ocean forests with each organism as large as a tree. It is typically found in very cold waters such as off the coast of Maine and Ireland. Spirulina, on the other hand, is a microscopic blue-green algae that grows in warm waters in regions with mild climates. (3)
While kelp is higher in iodine, spirulina is richer in nutrients like calcium, potassium, phosphorus, and natural B vitamins (neither contains usable B12). It is also higher in protein. (4)
Thus, while you can definitely use it for bathing, spirulina powder free of heavy metals is more suitable as a nutritional supplement. Another downside of using spirulina instead of kelp in the bath is that it can stain the bathtub due to its intense blue-black pigment.
Hence, when you are considering seaweed for hygienic and detoxification purposes or for atopic dermatitis, kelp is the more preferable as well as practical type of algae to choose.
How to take a Seaweed Bath
Kelp for use as a seaweed bath comes in two forms: powdered and dried.
The benefit of using the dried kelp pieces is that they are reusable for 3-4 baths or one week, whichever comes first. After that, you can mash them up in a mortar and pestle or cut into small pieces with scissors and distribute on your garden as fertilizer.
By comparison, powdered seaweed is only usable once and it goes down the drain when you are finished bathing.
Thus, using dried kelp is more budget-friendly.
Be sure to always use chlorine-free water for all types of detoxification baths, seaweed-based or otherwise! This article on how to inexpensively filter bathwater shares easy tips for accomplishing this.
Using Dried Kelp for Bathing

To use dried seaweed as a therapeutic bath, take 6 tablespoons of dried kelp pieces and place inside a small cotton mesh bag.
This brand and this brand are both excellent.
Attach the bag if possible to the bath spigot so the running water is in contact with it as it fills the tub. Otherwise, simply tighten the drawstrings on the mesh bag and place it on the bottom of the tub as it fills. Use warm, not hot, water.
Once the tub is filled with water (5 minutes), squeeze the kelp-filled bag to release more minerals and nutrients into the water. Leave the bag in the water as you soak for 20-30 minutes, relaxing all the way to the top of the neck if possible.
For children, use only 3 tablespoons of dried kelp added to the mesh bag. Never leave children unattended in a bath.
When finished, do not rinse. This keeps the beneficial and transparent seaweed residue on the skin as a natural protectant. Pat dry with a clean towel.
Powdered Seaweed in a Bath

Add 2 heaped tablespoons of powdered seaweed into a lukewarm bath. This brand and this brand are both excellent.
It is important that the water not be too hot so as not to exacerbate any existing skin inflammation. Relax all the way up to the top of the neck if possible for 20-30 minutes.
For children, use only 1 heaped tablespoon. Never leave children unattended in a bath.
When finished, do not rinse. This keeps the invisible seaweed residue on the skin as a natural protectant. Pat dry with a clean towel.
How Often?
A seaweed soak is safe to enjoy every day. If you are using this therapy to manage and heal from symptoms of atopic dermatitis (eczema or psoriasis), try to use these baths instead of showers to speed healing.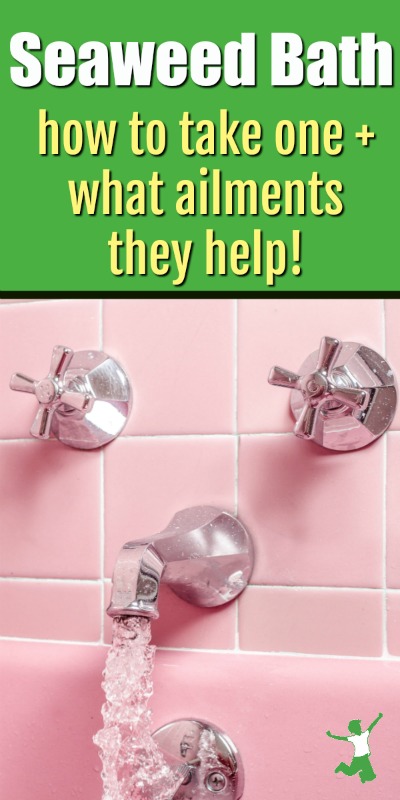 References
(1) Lawrence Wilson MD on Kelp Wraps
(2) Kelp vs Spirulina
(3-4) Anti-Atopic Dermatitis Effect of Seaweed Fulvescens Extract via Inhibiting the STAT1 Pathway