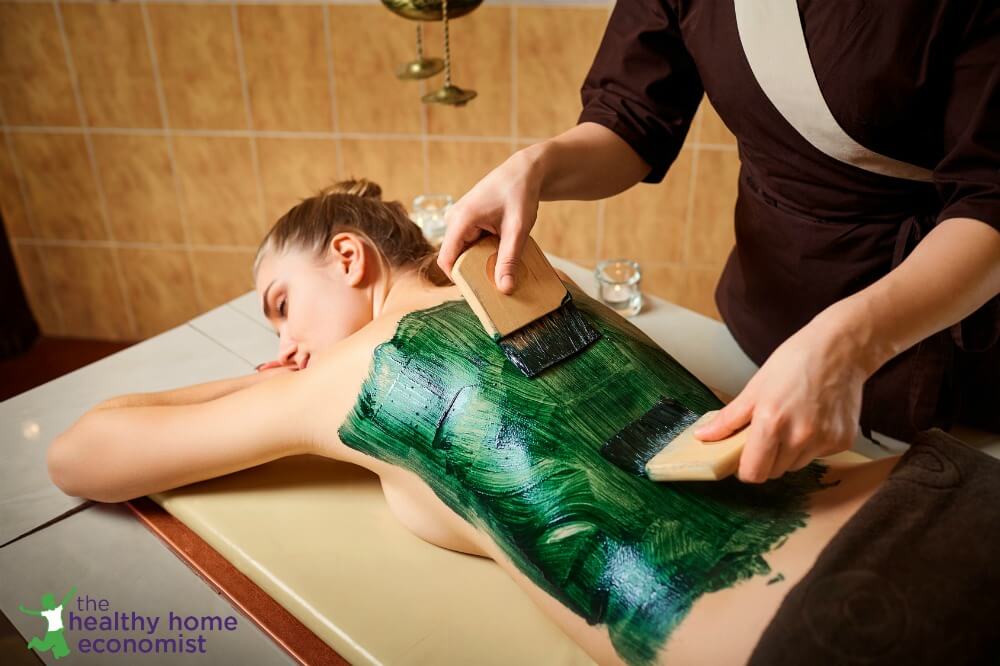 Many luxury spas and cruise ships offer a seaweed wrap to clients as part of their relaxation and detoxification package. These services are usually very expensive and a bit inconvenient, requiring time off work or while on vacation.
What if you could make your own seaweed wrap at home … anytime you wanted for pennies per treatment and all the convenience of using your own shower afterward?
Dr. Lawrence Wilson MD recommends seaweed wraps, also called kelp wraps, for his patients as they help individuals absorb more minerals particularly if there is a digestive problem involved that is preventing proper nutrient absorption.
According to Dr. Wilson, a seaweed wrap is not just nutritive in nature. It also assists with removal of heavy metals such as mercury and copper via the skin. He states that women seem to benefit from seaweed wraps more than men do although current research has not yet revealed the reasons why. Perhaps this is one reason seaweed wraps are such a favorite on luxury spa menus!
From a purely aesthetic standpoint, a seaweed wrap benefits the appearance of the skin due to sea salt, amino acids and other nutrients in the kelp. Some people report that their skin has tightened and fine lines and small wrinkles have diminished. While there is no research to support this that I can find, anecdotal observations of some aestheticians report that the heat generated from the wrap redistributes fat deposits over time reducing the appearance of cellulite. This is a much better and safer way to address this common cosmetic problem than using a fascia blaster, I can tell you!
Ultimately, however, a seaweed wrap is performed primarily to improve internal health with increased nutrients and reduced toxin load of the body organs via the largest organ itself – the skin!
Does a Seaweed Wrap Have to Involve the Whole Body?
While an entire seaweed body wrap can be made for optimal results, if inconvenient and movement is required while the wrap is in place, just the feet and legs can be wrapped when necessary. Partial seaweed wraps are not quite as effective, but are certainly better than no wrap at all.
What You Will Need to Make Your Seaweed Wrap
Only a few items are needed to make a homemade seaweed wrap.
Kelp
A single wrap will require approximately 1 pound of powdered kelp, a large brown seaweed that typically has a long, tough stalk with a broad frond divided into strips.
Before you think that it must be very expensive to use an entire pound of powdered kelp for a single seaweed wrap, note that you can reuse the kelp for up to 20 times (directions below) making seaweed wraps a very inexpensive form of detoxification – less than 50 cents per wrap in fact!
Dr. Wilson recommends these brands as acceptable: Starwest Herbs, Frontier, and Monterrey Bay Herb Company (find it here).
*If you are concerned about radiation contamination of kelp from Fukushima, call the company to ensure that the kelp has been sourced from the Atlantic Ocean or the Southern Hemisphere.
Filtered Water
4-10 cups of filtered water is mixed with the powdered kelp to make a paste. Start with 4 cups and you can always add more later when you are mixing the water with the powdered kelp (process described below).
Organic Flour
Dr. Wilson calls for 1-2 tablespoons of wheat flour to mix with the water and powdered kelp, but if you have gluten sensitivity, substitute your favorite gluten free, organic flour of choice. Addition of the flour helps make the seaweed wrap stay in place better on the skin by increasing stickiness.
Biodegradable Food Wrap
Clear food wrap is wrapped around the skin after the kelp mixture is applied to increase heat and facilitate moving around while the seaweed wrap is in place. Get petroleum free, biodegradable, compostable food wrap by clicking here.
Plastic Shower Curtain (optional)
This is used to lie down on to apply the seaweed wrap to prevent it from soiling the floor or staining furniture. Using a plastic shower curtain to recline on while the wrap is in place will also facilitate collection of the kelp for reuse for the next seaweed wrap.
How to Prepare the Seaweed Wrap
The directions for preparing your seaweed wrap are very simple.
First, bring the filtered water to a boil and then turn the heat down to a very low simmer.
Slowly begin to spoon in the powdered kelp and stir to thoroughly mix so that it doesn't burn.
Once the entire pound of powdered kelp has been mixed into the water, allow the mixture to simmer on very low heat for one hour. Stir occasionally so that no kelp sticks to the bottom of the pot and starts to burn. If you have any lumps of kelp, break them up and add additional water if the mixture seems too dry.
The hour-long cooking is important as it kills any bacteria that may be mixed in with the kelp.
After the cooking process is comlplete, remove the pot from the stove and add 1-2 tablespoons of organic flour. This adds stickiness to the seaweed paste.
Applying the Seaweed Wrap
Ok, this is where things are going to get messy. Just try to relax and anticipate that it will be fun and make you feel great so that it's not a stressful event!
Line the bathtub or the bathroom floor with a plastic shower curtain or large towels and a washable pillow. Sit down on the shower curtain after removing all your clothes and setting them aside.
Alternatively, you can place the shower curtain on top of the towels to make it a bit softer to lay on. Remember that using the plastic shower curtain will allow collection and reuse of the kelp mixture much easier after the seaweed wrap is complete.
Begin to apply the seaweed mixture all over your skin even your face if you desire. Wear a halter top and underwear or a bikini if this makes you feel more comfortable. Make sure the bathroom is nice and warm while you do this.
Dr. Wilson recommends that you not apply the kelp mixture to the elbows, knees, and underarms as it will not stay on very well in these areas.
Once the kelp mixture is spread on the skin, let it stay there for at least 2 hours and up to 3 hours. There is no need to rub it in or attempt to exfoliate with it.
It is best to apply a thicker layer as this will help the kelp mixture to remain moist for the alotted time. If it dries out, it will be harder to recycle and reuse.
To increase the heat and facilitate moving around during the 2-3 hour time period, apply clear, biodegradable food wrap (find it here) over the areas of the skin with the applied kelp mixture.
Dr. Wilson also suggests a lightweight plastic jump suit used in clean rooms as an alternative to the food wrap. Put one of these on and you can walk around the house without leaving a messy trail behind you.
Bonus! You Can Reuse the Kelp
If you sit or lie down on a plastic shower curtain, you should be able to collect most of the kelp. If you wish, add some water to it so it is not too thick, and store it in a container in the refrigerator until the next time you do the wrap.
To reuse the kelp, put it back on the stove and warm it up to near body temperature. You can boil it for a minute or two to kill germs if it is contaminated or sweaty. However, you do not need to cook it for an hour like with the original mixture.
You can reuse the kelp up to 20 times. With 1 pound of organic powdered kelp costing about $10, this brings the cost of each seaweed wrap to about 50 cents per treatment!
Much cheaper than a spa by a longshot!
How Often to Make a Seaweed Wrap?
Dr. Wilson recommends that those just starting out on a nutritional balancing program will likely need this home procedure every day for 6-12 months.
For those in good health who are simply using a seaweed wrap for relaxation and seasonal detoxification, once or twice a month would be plenty.
Enjoy!
Sources and More Information on Detoxification
Detox Baths: Which are Best and for What Ailments
Avoiding Detox Symptoms on a Cleanse
Top 4 Cleansing Myths to Watch Out For
Coffee Enema: Unmatched Detoxification for Health and Recovery
Castor Oil Pack Detoxification
Natural Deworming Methods that are Safe and Effective