Healthy recipe for marshmallow krispie bars made with sprouted gluten-free grain crisps and homemade marshmallow for a crunchy and sweet treat.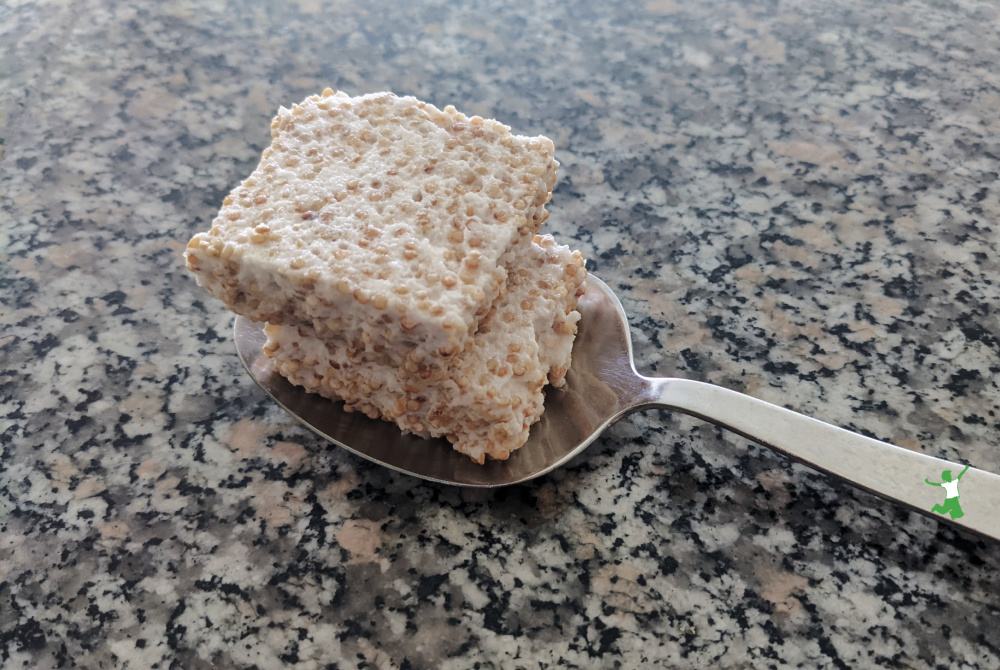 My homemade rice krispies cereal is very popular with folks trying to break the toxic cold breakfast cereal habit.
While the texture of the homemade rice puffs is perfect softened in a bowl of milk, they do not work as well when you blend them with homemade marshmallow to make Rice Krispie bars.
The rice puffs are just too hard, in my opinion.
I tried a number of different methods to get the crisped rice texture just right, but none turned out the way I hoped.
I then tried some other gluten-free grains and discovered that sprouted and toasted quinoa works deliciously well!
Be sure to use ONLY sprouted quinoa for this recipe. If you use unsprouted, you will have to rinse the quinoa first to eliminate the toxic saponins. Then, you will need to dry the grains in a warm oven before toasting.
Sprouting inherently involves rinsing and soaking in water, thus using sprouted quinoa is not only healthier, but it also saves you loads of time.
These marshmallow krispie bars are crunchy and sweet without the toxic additives, synthetic fortification, and GMOs of the Kellogg's version at the store.
They are perfect for lunchboxes or a midafternoon treat!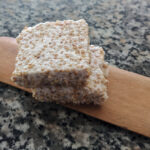 Homemade Marshmallow Krispie Bars
Healthy recipe for marshmallow krispie bars made with sprouted gluten-free grain crisps and homemade marshmallow for a crunchy and sweet treat without the toxic additives of store versions.
Instructions
Crisped Quinoa
In a large skillet, heat 1 tablespoon of expeller pressed coconut oil until medium hot.

Pour 1/3 cup of sprouted quinoa into the skillet with the hot oil and stir constantly until toasted and light brown (about 30 seconds).

Quickly scrape the crisped quinoa from the skillet into a clean bowl.

Repeat the above steps twice more. You will now have one cup of crisped quinoa. Set aside to make the marshmallow.
Homemade Marshmallow
Lightly grease an 8×8 or 9×9 baking dish with expeller-pressed coconut oil.

Place 1/4 cup water in a large bowl and sprinkle the gelatin over it in an even manner. Let sit for a few minutes.

Put the sugar and the other 1/4 cup of water in a small pot and bring to a boil while stirring. Once the hot sugar water is a rolling boil, pour it over the gelatin/water mixture and beat with an electric mixer for 5-8 minutes until white marshmallow forms with soft peaks.
Mashmallow Krispie Bars
Working quickly, add the crisped quinoa to the bowl of still warm marshmallow and stir until all the grains are evenly coated.

Transfer the krispie marshmallow mixture to the prepared baking dish with a spatula and press into an even, compact layer.

Let sit at room temperature for about 20 minutes until firm.

Cut into 16 squares and serve.

Store the krispie treats at room temperature in an airtight container for up to 3 days. Refrigerate for up to a week.
Nutrition Facts
Homemade Marshmallow Krispie Bars
Amount Per Serving (1 square)
Calories 87
Calories from Fat 23
% Daily Value*
Fat 2.5g4%
Carbohydrates 15g5%
Protein 1g2%
* Percent Daily Values are based on a 2000 calorie diet.