Table of Contents

[Hide]

[Show]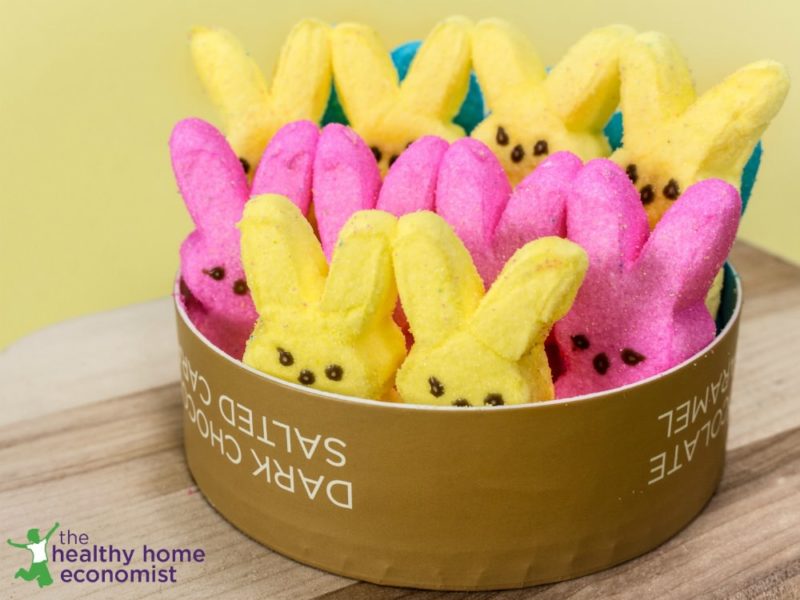 When I was a little girl, my favorite treat to find in my basket on Easter morning were those pink and yellow marshmallow bunnies and chicks, better known as peeps.
Boxes and boxes of those marshmallow peeps in every color of the rainbow are lined up just inside the entrance of most grocery stores right about now to encourage Moms and Dads to choose the grab and go approach to filling their children's Easter baskets.
Free Weekly Newsletter + Report on Secrets of Strong Immunity
I must admit that I still love those little critters. I just no longer indulge now that I know what's in them!  It's a truly stomach-turning list of ingredients: artificial flavors, colors, and high fructose corn syrup among other unpronounceables. Definitely not something I can in good conscience give to my children on a special day that they will cherish and remember as grown-ups and perhaps mimic my behavior with their own children!
I've wanted to find a healthier alternative to those chemical peeps for a very long time. It wasn't until recently that I found a recipe that is truly delicious and safe!
Homemade Peeps
The marshmallows from the following recipe contain only four ingredients! They are just as tasty as the fake ones from the store (verdict from my kids). This is important as I have tried the "healthy" marshmallows from the health food store in the past. My kids thought they were gross, not to mention expensive.
These homemade marshmallows (that are easily made into peeps) are also excellent to put on a stick and roast over an open fire. They work for s'mores too!
We have a fire pit in our backyard and roasting marshmallows is something we really enjoy doing for birthday parties or just hanging out as a family on a cool evening.
I am so glad I finally can make marshmallows that taste good and don't have a bunch of chemicals and high fructose corn syrup in them! I realize this recipe has organic white sugar in it, but marshmallows are white, after all!
Some natural alternatives to white sugar include rice syrup or cassava syrup as they are both light-colored. However, I haven't yet tried them to know for sure if they would work or taste good. Do not use beet sugar or nonorganic white sugar for this recipe as they are almost always GMO in North America.
Probably the best solution is to use date syrup and make fruit-sweetened peeps! They would be brown-colored, but hey, some bunnies are brown, right?
Thanks so much to Linda DeFever, a personal trainer and fellow Chapter Leader for the Weston A. Price Foundation in Wauconda, Illinois, for generously sharing this basic recipe!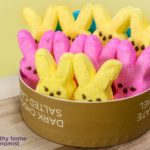 Homemade Easter Peeps Recipe
Easy recipe for homemade Easter peeps, a healthy and fun alternative to commercial brands at the supermarket with questionable ingredients. Only 4 ingredients!
Instructions
Place 1/2 cup water in a large bowl and sprinkle the gelatin over it in an even manner. Let it sit for a few minutes and then begin the next steps.

Put the sugar and the other 1/2 cup of water in a small pot and bring to a boil while stirring. Once the mixture is a rolling boil (or 242 F/ 117 C with a digital food thermometer), pour the hot sugar water mixture over the gelatin/water mixture and beat with an electric mixer for about 10 minutes until the combined mixture turns into marshmallow with peaks.

If adding optional food coloring, add required amount to achieve desired color during the whipping phase with the electric mixer.

Pour marshmallow mixture into a 9x13 glass dish that has been coated with a tiny drizzle of coconut oil to prevent sticking.

Let it sit out for several hours and up to 12 hours until firm.

If using marshmallows for roasting over a fire, simply cut into rectangles.

Store marshmallows and/or peeps in an airtight container in the pantry.