Table of Contents

[Hide]

[Show]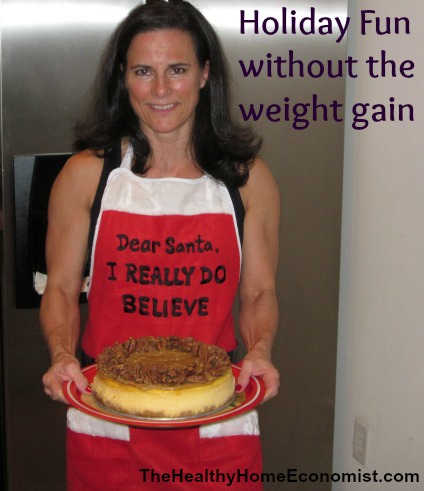 What's a gal to do when surrounded by delectable desserts, Christmas spirits, rich foods, friends, family, laughter, joy, parties, and gatherings? Is the weight gain this time of year inevitable?
Even the most militaristic health aficionado will be hard-pressed to resist the nonstop temptations.
As a decades-long fitness expert, I've found it's more what you do January through November matters most – not a few days of temporary holiday fun.
Wellness and nutrition is a lifestyle to be practiced year-round and not on a temporary basis.
Good habits throughout the year will allow for moderate indulgences on holidays and special occasions without weight gain.
The average person experiences a weight gain of 5 to 7 pounds during the holidays. That's a pretty discouraging number. However, just being aware of the pitfalls for falling into this trap can help us prevent it.
Time
Time – just doesn't seem to be enough of it!
With the shopping, holiday parties, and extra tasks of decorating, cooking, and wrapping gifts along with our regular work and family demands, time is at a premium. And one of the first things to go is exercise; that is if one was even doing it in the first place.
I don't feel the holidays are an ideal time to start full throttle into a new program and you may have to make a few concessions to your existing one because of the extra demands of the season. However, it is still possible to fit some movement in when you can.
Let's face it, the holidays are stressful and what better way to reduce the stress than to exercise. Three hours a week can still be found–and that can be broken up into smaller increments here and there.
For hardcore year-round fitness enthusiasts lighten up on the structure and do what you can. This can also be viewed as a "deload" of sorts allowing the body time to recover from the more rigorous demands typically placed on it, doing something a little different and allowing you to more freely enjoy the holidays–not a bad thing at all.
For novices or those unaccustomed to exercise make your shopping a workout in itself by parking far away and brisk walking or jogging into the mall. In between bouts of baking/decorating and wrapping presents, knock out some quick sets of basic bodyweight exercises. Put it on your calendar and hit the gym or park early am, at lunch or pm — whatever works best for you. Plan it out or plan to fail.
Lack of Commitment
I've been in the fitness industry for over 19 years and in December, our regular member participation drops about 30% in the last 2 weeks of the year which is actually pretty good. Before we were a CrossFit affiliate it dropped about 50%. Why do some people stay consistent and others don't? Commitment to lifestyle or lack thereof.
If you've been exercising regularly and eating healthy good for you — keep it up. If you haven't ask yourself why not.
What changes do you need to make, how can you make it happen? It is always possible wherever there are will and determination.
Take these last few weeks of the year to reflect and develop a plan and strategy to adopt that commitment for the upcoming year.
Parties
Gatherings with friends and family are a part of the holiday season and we don't want to miss out on these. Prioritize. Don't overload your calendar by saying yes to every invite. Choose the most important ones and politely decline the others. This will also help to reduce stress and allow more time for other tasks.
To minimize the hip and waistline expansion choose your holiday indulgences wisely. This article on navigating holiday party food to avoid weight gain can help.
Which do you prefer — a libation, dessert, or a serving of the not quite so healthy main dish?
Choose one and have a reasonable portion. Eat a light and healthy meal of meat/fish/fowl and veggies before you go to a party or gathering–this will curb your hunger and allow you to have better control. While there, politely graze on the healthiest choices; no hostess should be offended. Stand firm if they are.
Rest
The holidays are not a time to skimp on rest. Be sure the extra nightlife, shopping, and family demands do not allow your sleep deprivation to accumulate. After a late-night party take it easy the next day or grab a few cat naps here and there.
Unless you have an overflowing bank account and servants at your beck and call you're going to have to prioritize during the holidays in order to be able to get enough sleep. What's most important to you?
For me it's cooking so no matter what party I go to or guests I entertain, I am making my culinary creation from scratch with as many local, organic, and pastured ingredients as I can procure. That's important to me–I will spend more, take more time and skimp on other things. I only send cards to a few and when demands exceed my time supply, I put up select decorations to give a feel for the season. Pick your passion–everything does not and cannot be done.
Enjoyment, not stress should be the goal.
Apply these tips for your healthiest and merriest holiday season ever filled with all the wonderment that is meant to be. Reflect on your goals for the upcoming year and excuse me while I go have a piece of cheesecake . . . !