If you've ever wondered which nuts are healthiest, this article examines the most popular nuts on the market, ranking them nutritionally from best to worst.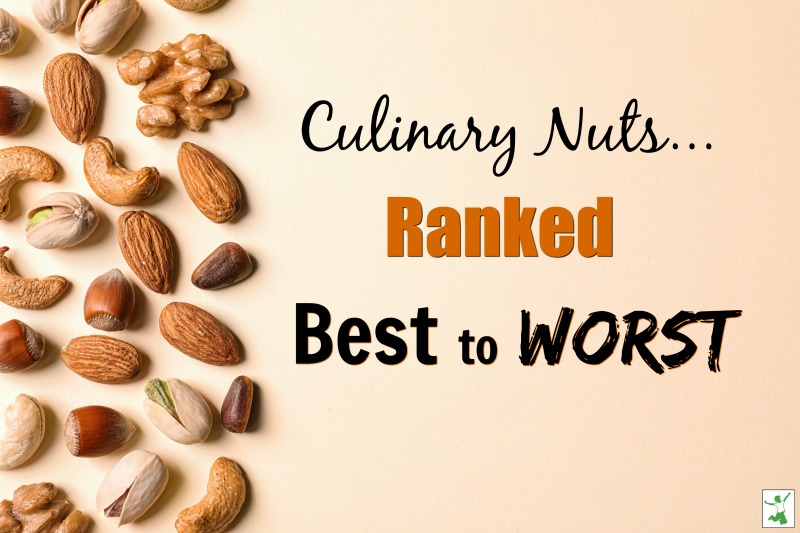 Nuts are one of the few foods that nearly all food philosophies agree upon whether modern or ancestrally-based. When consumed raw or (ideally) soaked in brine water and dehydrated at low temperature, whole nuts are a healthy addition to the diet.
Since there are so many types, however, with considerable nutritional variation between them, which nuts are truly best?
In other words, if you make your own nut granola or trail mix at home, which ones would be ideal to include?
I did a deep dive on the nutrition of all types of nuts, and have come up with some concrete answers for you!
What Exactly IS a Nut?
The first thing you are going to notice is that I've included in my analysis some "nuts" that aren't really nuts.
I realize this!
I wanted to include everything that most people typically consider nuts, whether or not this is technically true.
For example, the definition of a true nut is a simple, dry fruit with one or occasionally two seeds, where the seed case wall becomes very hard at maturity. (1)
True Nuts
Many foods called "nuts" are actually not nuts at all according to this definition.
Examples of true nuts include chestnuts (sweet), acorns, and hazelnuts.
Peanuts are actually a legume; Brazil nuts are a seed.
Walnuts, almonds, pecans, pistachios, cashews, macadamias and pine nuts are drupes. (2)
Strictly speaking, then, the allergy warning "may contain nuts" on a package of peanuts or cashews is untrue.
Culinary Nuts Ranked Best to Worst
To eliminate the immense amount of confusion when it comes to the definition of nuts, I'm going to use the term "culinary nuts" as a kind of catch-all phrase.
Hopefully, that makes sense 🙂
With semantics out of the way, let's get to the important stuff. What nuts, both true and otherwise, i.e., culinary nuts, are the healthiest?
Below is the ranking from best to worst. I've based the selection process primarily on the breakdown of fatty acids in each type of nut. In other words, some nuts have a significantly higher proportion of healthy fats versus inflammation triggering ones.
By the way, the best place to buy nuts and nut butter is here. These nuts are raw, organic, sprouted, and soaked/dehydrated at low temperature for maximum nutrient value and bioavailability to the digestive tract.
And the winner of the culinary nut contest is …..
#1 Macadamias
Macadamias are the healthiest nut due to the fact that they have the lowest omega-6 fatty acid content (4%). This means that 96% of the fatty acids in macadamias are highly stable and resistant to rancidity. (3, 4)
This is a good thing if you keep a container of them rattling around in the backseat of your car (like I do) for quick snacks. Even in the heat of the summer, they will stay nice and fresh for weeks due to their powerhouse fatty acid profile.
Westerners get plenty of polyunsaturated omega-6 fats from the processed foods they eat, which in excess, contribute to inflammation. Hence, getting even more of it from nuts isn't a good idea.
For this reason, macadamias are the nut you should reach for most often, particularly if you are still relying on processed and/or restaurant meals/takeout more than you would prefer.
#2 Walnuts
Walnuts are a close second to macadamias in nutritional content.
While they contain primarily unstable polyunsaturated fats (72%), a large portion of this is omega-3 (14%). Most Westerners are highly deficient in this important type of fatty acid, and walnuts are one of the few nuts that contain them in any sizeable amount. (5)
Hence, walnuts are incredibly healthy. Just eat them in moderation and keep them in a tightly sealed container in the refrigerator to protect the delicate omega-3 fats in the walnut oil from going rancid.
#3 Chestnuts
Next to walnuts, chestnuts, specifically sweet chestnuts, also contain a good amount of beneficial omega-3 fatty acids (8%).
They also contain nearly as much omega-6 polyunsaturated fat as walnuts. (6)
To avoid rancidity issues, keep them refrigerated and enjoy in moderation.
Note that "chestnuts roasting over an open fire" is not such a great idea as it will damage those delicate fats. Best to enjoy in raw, soaked form.
#4 Brazil Nuts
Brazil nuts are the highest of all nuts in saturated fats (26%), which makes them very satiating. You only need to eat a few to feel full.
Of all culinary nuts, brazils have the most balanced distribution between monounsaturated, polyunsaturated and saturated fatty acids.
However, they are still relatively high in polyunsaturated omega-6 fats (35%) as well as oxalate, an anti-nutrient, so keep them in moderation. (7)
#5 Hazelnuts
Hazelnuts have a very low amount of polyunsaturated fats (10%). Hence, they are quite stable and satisfying. A regular handful also won't set off inflammation or a potential munchie-fest like others that are high in omega-6 can.
Next to macadamias, the amount of monounsaturates in hazelnuts is the highest at 78% of total fat. (8)
#6 Acorns
Acorns are usually consumed as acorn flour. Their fatty acid profile is good, boasting a small amount (1.5%) of omega-3 fats too. (9)
Most people don't realize that all those acorns falling from the oak trees actually make great food. Due to the high amount of tannins, they require extensive soaking before being palatable, however.
That's just too much work for most people today, hence, they are sadly overlooked in most cases.
#7 Cashews
Cashews have a tendency to mold quickly if oversoaked. When properly prepared, however, their fatty acid profile is excellent for regular snacking. Go easy on them if you are on a low oxalate diet though.
They boast a nearly equal balance between saturated and polyunsaturated fatty acids. (10)
Some people find this characteristic to result in a more satisfying snack than other culinary nut options.
#8 Almonds
Almonds are one of the most popular nuts and for good reason. Almond flour makes an excellent low carb, grain-free baking alternative.
They are low in polyunsaturated fat (20%), which means they are unlikely to contribute to issues with inflammation as long as they are consumed in moderation.
Almonds are also low in saturated fat and high in monounsaturated fat. (11)
This ratio satisfies both traditional foodies as well as conventional dietary dogma. Note that almonds are extremely high in oxalate, and while soaking reduces the amount, it still may be best to avoid them if you are sensitive.
#9 Pecans
Pecans are one of the tastiest nuts for dessert making, but you should go easy on them when in unprocessed form.
They are quite high in inflammatory linoleic acid (37%), which nearly all of us get plenty of as it is. Too much in the diet can be inflammatory.
Pecans contain a good amount of stable oleic (monounsaturated) fat, but very low amounts of saturated fats to offset the polyunsaturates. (12)
The one bright spot is a tiny amount of omega-3 fats. If this is the type of fat you need, however, it is best to choose walnuts.
Pecans are definitely a moderation only nut.
#10 Pistachios
Pistachios are very high in natural Vitamin E, which is probably the best reason to eat them. (13)
Other than that, they contain quite a high amount of polyunsaturated fats (33%) and a breakdown of monounsaturated and saturated fat similar to peanuts.
However, unlike peanuts, pistachios don't contain an off the chart level of antinutrients. A simple soaking will take care of any digestibility issues. More on that next.
#11 Peanuts
Peanuts are one of the most popular culinary nuts with children.
At first glance, the fatty acid profile of peanuts is decent with a nearly two-thirds combination of stable, rancidity-resistant monounsaturated and saturated fats.
However, peanuts are a legume, and as such, quite high in lectins.
So, always be sure to eat them soaked and then roasted or boiled to ensure deactivation of this potent anti-nutrient. Raw peanuts are a no-no if you are looking to protect your gut over the long haul.
#12 Pine Nuts
Hands down, pine nuts (not to be confused with pili nuts) are the least healthy of all the culinary nuts. They are extremely high in omega-6 polyunsaturated fats (67%).
They even contain a special type of omega-6 backside bulging fat: pinolenic acid.
Pine nuts are very delicate and extremely prone to rancidity as a result of this highly unbalanced fatty acid profile. They are also high in oxalates. (14, 15)
Fortunately, most of us only eat them occasionally with a few tossed on a salad!
Summary
Below is a chart that summarizes the ranking of the 12 different types of culinary nuts.
| | | | | | |
| --- | --- | --- | --- | --- | --- |
| | Omega-9% | Omega-6% | Omega-3% | Saturated% | RANK |
| | Monounsaturated | Polyunsaturated | Polyunsaturated | | |
| Macadamia | 80 | 4 | | 16 | 1 |
| Walnut | 13 | 58 | 14 | 9 | 2 |
| Chestnut | 33 | 45 | 8 | 16 | 3 |
| Brazil Nut | 37 | 33 | | 26 | 4 |
| Hazelnut | 78 | 10 | | 7 | 5 |
| Acorn | 55 | 22 | 1.5 | 19 | 6 |
| Cashew | 58 | 18 | | 18 | 7 |
| Almond | 70 | 20 | | 10 | 8 |
| Pecan | 52 | 37 | 1.5 | 9 | 9 |
| Pistachio | 54 | 33 | | 13 | 10 |
| Peanut | 46 | 32 | | 17 | 11 |
| Pine Nut | 24 | 66 | | 9 | 12 |
While there are certainly other characteristics such as natural Vitamin E and anti-oxidant content to consider, the overwhelming factor in ranking nuts from best to worst is what types of fat they contain.
Given our healthy fat deficient culture, it would be wise to consider this before choosing which nuts your family regularly enjoys.
What say you? Do you eat the best types of nuts on this list and limit the lower ranking ones to occasional enjoyment only? Will you change your nut eating habits based on this information?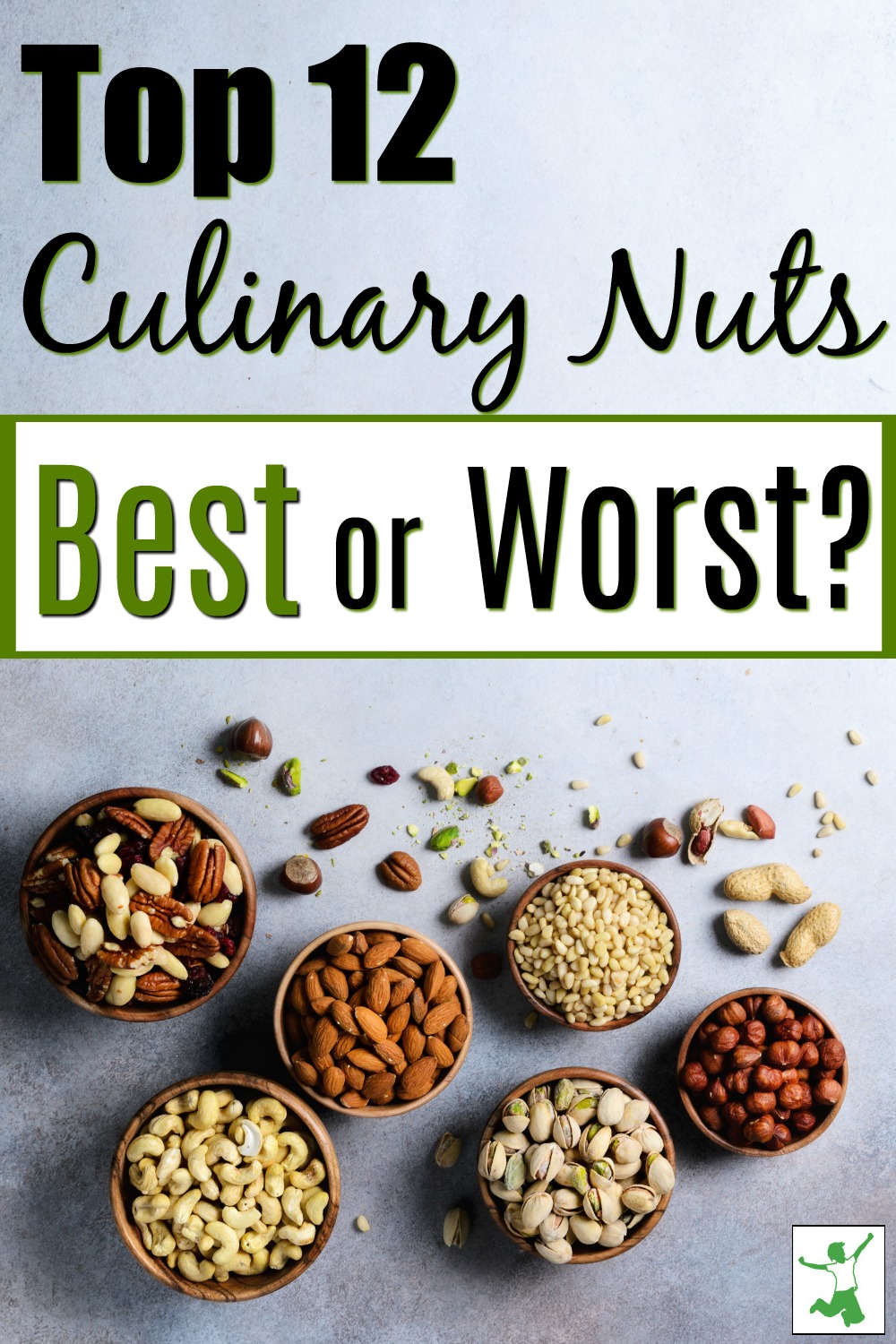 References
(1) Interesting Facts about Nuts
(2) Nuts vs Drupes
(3) Healthful oil from Macadamias
(4) Is Macadamia Oil Healthy?
(5) Walnut Oil Composition
(6) Fatty acid profile of Chestnuts
(7) Brazil Nut Essential Oil
(8) Hazelnut Oil
(9) Characterization of Acorn Fruit Oil
(10) Cashew Oil
(11) Almond Oil
(12) Pecan Oil
(13) Pistachio Oil
(14) Pine Nut Oil
(15) Oxalate Content of Nuts