Table of Contents

[Hide]

[Show]
The effects of vitamin K2 from diet or supplements on blood clotting and whether this nutrient is contraindicated for those on blood-thinning medications.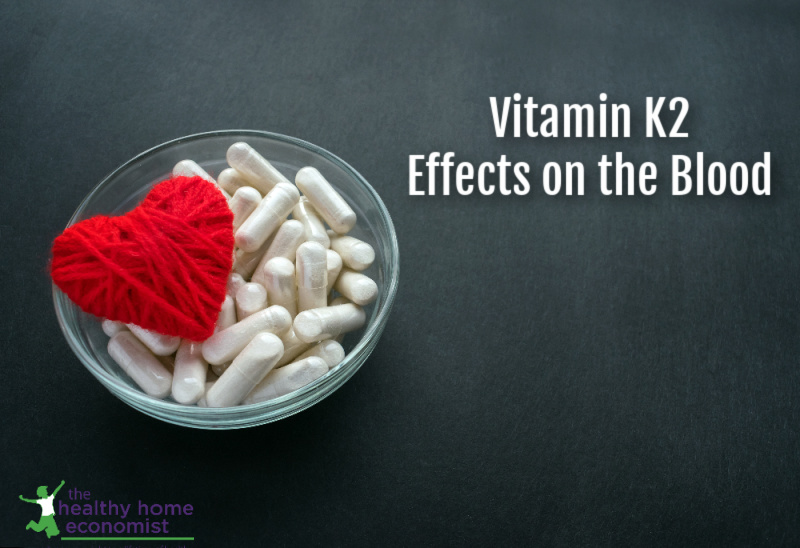 Vitamin K2 is perhaps the most critical and yet misunderstood nutritional deficiencies in the western diet.
Dr. Weston A. Price was the first to discover the magic of K2 in the early 1900s. He described it as the secret or "X-factor" supporting the high resistance to aging and the nearly complete absence of cardiovascular disease and other degenerative ailments in Traditional Cultures.
Unfortunately, depleted soils make it extremely difficult even with a clean, whole food diet, to get sufficient amounts today. Thus, many people educated on this subject choose to boost their daily intake either with the fermented form (MK7) or the animal form (MK4).
Since one of the most profound effects of increasing the amount of vitamin K2 in the diet is on the health of the cardiovascular system, the next question becomes how does K2 affect the blood?
Vitamin K2 and Blood Clotting
While blood clotting is an essential function of the body, unnatural blood clots are not. This is an important issue of late because clotting issues are one of the severe complications of coronavirus. In addition, it is a side effect of the covaxx experimental gene therapy injections.
Thus, would supplementing with K2 negatively predispose a person to this problem?
According to Dr. Kate Rheaume-Bleue, one of the foremost experts in vitamin K2, the answer is no.
The reason is that under normal circumstances, the blood clotting mechanisms in the body are dominated by vitamin K1, NOT vitamin K2.
Thus, even very large amounts of K2 from food or supplements do not markedly affect blood clotting.
The one exception to this rule is for those people who take the drug warfarin, also known as Coumadin. This drug works by creating a vitamin K deficiency in the body. Thus, any source of either K1 or K2 in the diet or via supplement will counteract its effects by restoring natural clotting capacity that is roughly the same as in an unmedicated state. (1)
Fortunately, many doctors have moved away from prescribing Coumadin in recent years, as it requires the patient to avoid many healthy foods such as broccoli that are high in vitamin K1 as well as foods and supplements with K2.
Blood Thinners
We've already established that vitamin K2 is contraindicated for those on the drug Coumadin. In Dr. Kate's words, "You ultimately can't get the benefits of vitamin K2 supplements while taking warfarin, so don't bother". (1)
But, what about other blood thinners?
Fortunately, alternatives to Coumadin are not going to be adversely affected by taking vitamin K2.
Neither vitamin K1 nor vitamin K2 interacts with other blood thinners such as aspirin, clopidogrel (Plavix), dabagitran (Pradaxa), prasugrel (Effient), or rivaroxaban (Xarelto). These drugs thin the blood using mechanisms unrelated to either form of vitamin K.
In addition, natural blood thinners such as cod liver oil and other sources of omega-3 fats such as flax or walnut oil are safe to take as well. (2)
Thus, the anti-aging benefits of vitamin K2 particularly to the cardiovascular system via inhibition and even healing of plaques are available to those most at risk of coronavirus complications as well as those on blood thinners with the exception of Coumadin.
References
(1) Frequently Asked Questions about Vitamin K2
(2) Vitamin K2 and the Calcium Paradox