An easy and delicious Caprese salad recipe that is the perfect appetizer but filling and nourishing enough to serve as the main meal when necessary.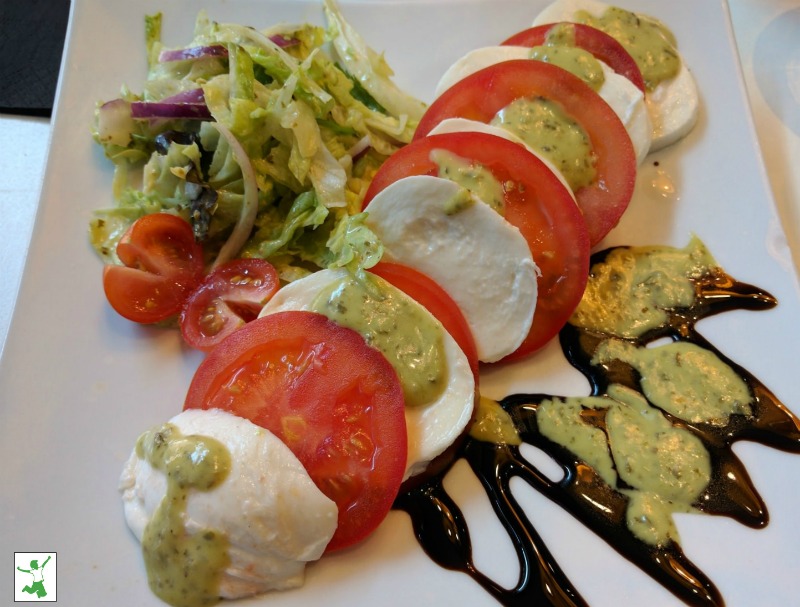 One of my favorite dishes to order while traveling is a Caprese salad. The picture above is one that I ordered in Amsterdam recently. It was amazing!
I've discovered over the years that a simple Caprese salad made exactly the same way can taste quite different depending on the location. Between the type of tomatoes arranged on the plate to the thickness, size, and taste of the mozzarella, it gives you a quick overview of the quality of food in the area like few dishes can. For this reason, I find it to be the perfect light lunch while on the road to quickly gauge the food quality of my surroundings.
Tomato Quality is Key to a Caprese Salad
When it comes to Caprese salads, premium tomatoes are an absolute must.
You see, the tomatoes serve as the foundation and main player of any Caprese salad recipe. Using hybrid tomatoes even if organic or vine-ripened is a big no-no. Hybrids are simply not flavorful enough to carry this salad.
Only the best heirloom tomatoes, preferably colorful and of local origin, will do. This video shows the difference between heirloom and hybrid tomatoes.
Trust me on this. It is worth the cost and time spent finding a farmers market in your area that carries these beauties. If you don't have much time to hunt down quality sources, you will be happy to know that I've seen good quality heirloom tomatoes in Whole Foods from time to time.
If you don't have access to heirloom tomatoes, I would suggest making another salad. Sad but true.
Mozzarella Cheese
Like the tomatoes, the quality of the mozzarella cheese included in a Caprese salad can make or break the dish. Only the firmest and freshest mozza will do. The balsamic vinegar must be authentically fermented and not watered down with wine vinegar or adulterated with sugar or additives too.
Processed mozzarella slices from the supermarket or health food store never work. You absolutely must slice the mozzarella yourself from a fresh ball ideally purchased that day from a cheese or gourmet shop.
As a country, the Netherlands is known for its amazing cheese. For example, the town of Gouda is famous for, you guessed it, Gouda cheese. There are also cheese shops all over Amsterdam. So, I knew the cheese on my Caprese salad was likely to be second to none. The Dutch don't tolerate poor quality cheese!
The picture below is of one such shop right near the Anne Frank House. I was fortunate to visit the week of the famous diary's 75th anniversary celebrations.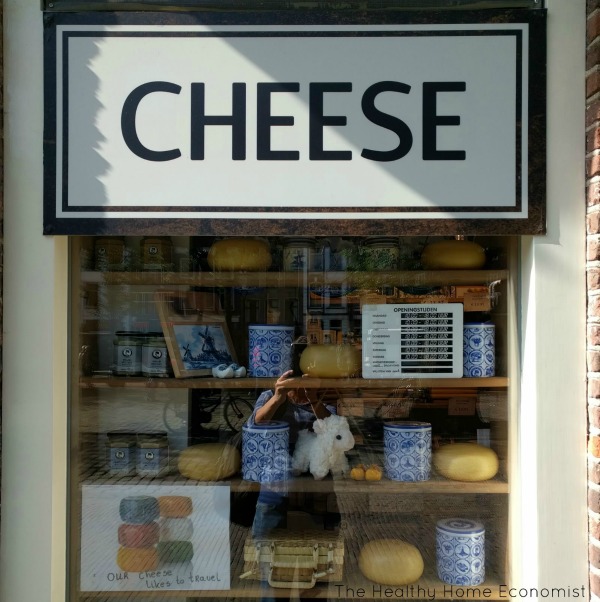 Simple Recipe for Caprese Salad
Now that you know about the main players of a Caprese salad, let's talk about the simple steps required to make it!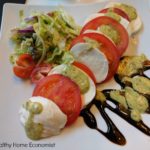 Caprese Salad Recipe
A simple and delicious Caprese salad recipe that works as an appetizer or main course preferably drizzled with authentic balamic vinegar.
Instructions
Slice the heirloom tomatoes so that each piece is of medium thickness. About 1/4 inch works well.

Slice the fresh mozzarella cheese the same way. About 1/4 inch for each slice.

Arrange the tomato and cheese slices in a straight line with an alternating pattern on two plates.

Drizzle with balsamic vinaigrette.

Sprinkle with sea salt and pepper if desired. You probably won't need any if the tomatoes and mozzarella are premium quality.
Recipe Notes
Only make what you will eat. A caprese salad is not as good as leftovers.
Use only the best quality balsamic vinaigrette you can find. The best balsamic vinegar originally comes from Modena, Italy and is aged for years. Since this is out of reach for most of us unless you have a chance to visit, simply find one without any additives or preservatives. Most brands contain chemicals that compromise the flavor, so beware.