Table of Contents

[Hide]

[Show]
Easy recipe for beer-battered gator bites cooked in healthy fat and mildly seasoned with Cajun spices. A great dinner mix-up the family will love.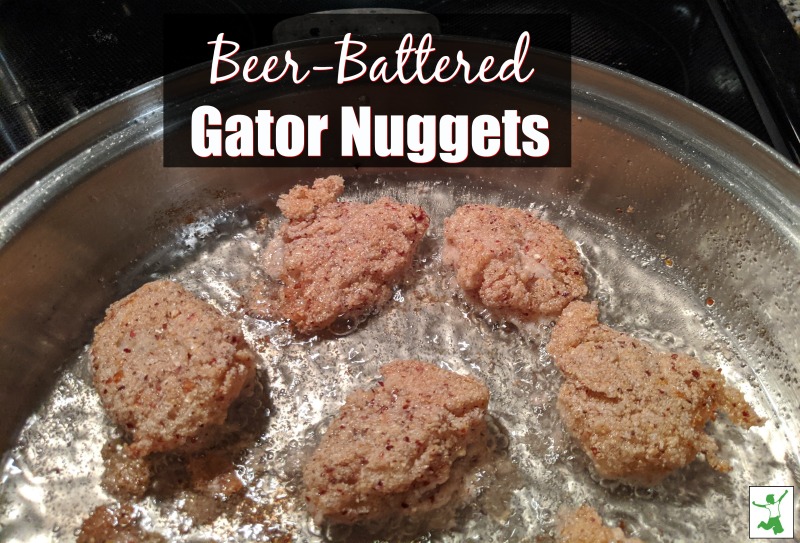 As a Florida native, I've grown up eating gator from time to time. And no, it doesn't taste like chicken!
While not a common meat by any means, a number of locally-owned restaurants do feature fried gator bites as an appetizer.
One of my children really enjoys gator meat, so I devised a healthier recipe for frying up gator fillets into nuggets. I get it from my local butcher, as I've never seen it anywhere else for sale at retail.
Gator Meat is Ultra Lowfat
Alligator meat is very, very low-fat, clocking in at around 1.6%. This is far less than skinless chicken breast (about 11% fat) and significantly lower in fat than even the leanest cuts of beef. (1, 2)
The lack of fat in gator meat means that you really need to fry it up in oil. Otherwise, it is simply too dense and chewy to enjoy in my opinion.
The downside of frying even if you cook the gator carefully in healthy fat is that the final dish potentially contains acrylamide. Thus, fried gator nuggets should definitely be a once in a while treat. Due to its cost, you probably won't want to serve it often anyway. I pay $10-12 for a pound of fresh, wild gator fillets. Ouch!
Have you ever tried gator before? Did you like it?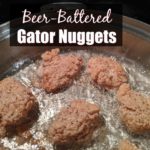 Beer-Battered Cajun Gator Bites
Easy recipe for beer-battered gator bites cooked in a healthy fat and seasoned with cajun spices.
Instructions
Slice gator fillets into bite-size nuggets.

In a bowl, combine flour and seasonings.

Slowly pour the beer into the flour mixture, blending well.

Heat the coconut oil in a large frypan.

Dip each gator nugget in the beer batter.

Fry in hot expeller pressed coconut oil for about 8 minutes until just cooked through. Flip each nugget every 2 minutes.

Remove from heat and serve promptly.

Cool leftovers and refrigerate in a glass dish with a tightly fitting lid.
Recipe Notes
The alcohol in the beer cooks off during frying, so this dish is kid-safe 🙂
Nutrition Facts
Beer-Battered Cajun Gator Bites
Amount Per Serving (4 nuggets)
Calories 348
Calories from Fat 81
% Daily Value*
Fat 9g14%
Carbohydrates 19g6%
Protein 47g94%
* Percent Daily Values are based on a 2000 calorie diet.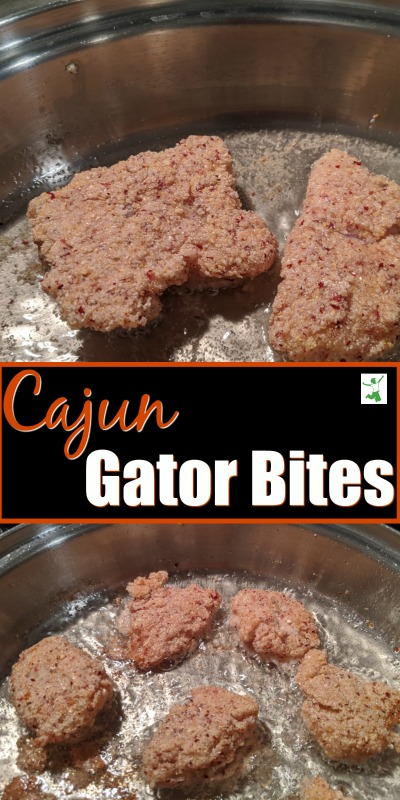 References
(1) Crocodile and Alligator Meat
(2) The Skinny on Skinless Chicken Breast