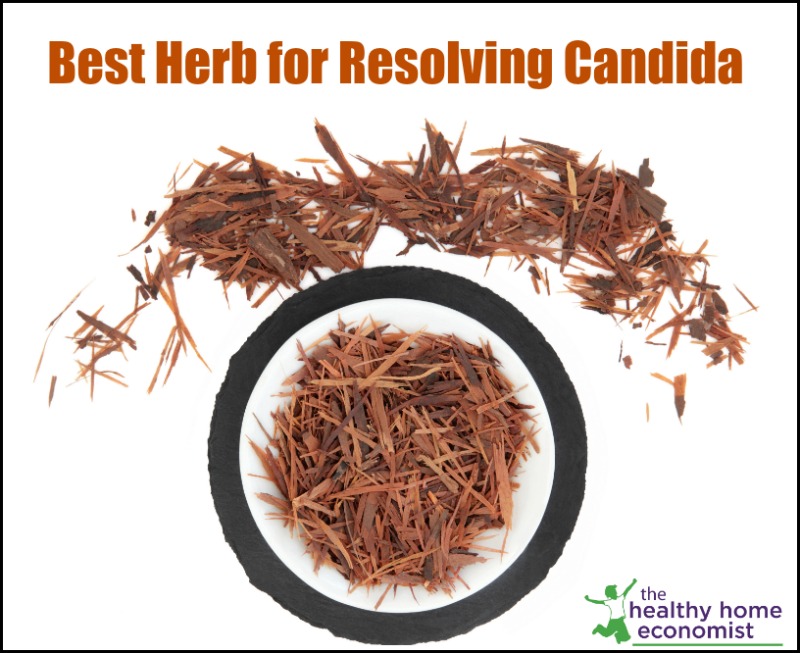 At no time during the year is the herb Pau d'arco needed more than during vacation or the holidays!
Having an awesome time while on break is wonderful and fine. However, the risk of off-the-wagon eating during this time is quite sneaky. Bad habits can make their way into our regular routine almost without us realizing what happened.
Have you ever experienced this yourself?
A week or two after the vacation has ended, you may still find yourself eating like you did on break! This can domino into candida overgrowth symptoms like waking up with brain fog, eating midafternoon candy bars or donuts for breakfast, and suffering from stiff or painful joints.
Has this has ever happened to you? Then, you know that the first day or two back on the wagon eating 100% healthy is definitely the hardest.
Those little critters known as gut pathogens which are normally in the minority in a healthy, balanced gut had a heyday while you were eating with abandon. They likely multiplied quickly and have increased greatly in proportion to the beneficial flora.
Pau d'Arco Inhibits Candida
The typical pathogen that overgrows during a period of off the wagon eating is Candida. This term refers to a large family of yeasts comprising 150+ species. Six of these are normally responsible for the bulk of human fungal infections.
Under normal circumstances, these one-celled fungi harmlessly inhabit the tissues of humans.
A balanced intestinal tract from mouth to colon easily keeps pathogenic yeasts in check. In other words, the good guys keep candida overgrowth from taking hold.
When not enough beneficial bacteria are present in a given body tissue to keep Candida under control, pathogenic strains can transform from a harmless state into an invasive species.
Candida overgrowth can occur in many tissues of the body. For example, pathogenic yeasts can take hold in the mouth as oral candidiasis known as thrush. It can also occur in the scalp as dandruff, in the feet as fungus toenails, or internally as stubborn vaginal yeast infections and UTIs.
Cutting off Candida's goodies by eliminating the dietary junk allows the beneficial microbes to re-exert their authority and bring gut pathogens back into subjection. Hopefully, this occurs before they start causing health issues.
Once given a foothold, pathogenic yeast won't go away easily!
It takes about 24-72 hours of perfect eating to get over the hump in my experience. After that, you will likely find healthy eating comfortable again. You won't be craving treats or junk all day long. This means blood sugar will stabilize back into a normal steady routine without excessive peaks or valleys.
The good news is that herbs can provide much-needed assistance during those initial difficult hours when the gut pathogens like Candida are clamoring for their sugar fix and you are struggling to put an end to the feeding frenzy.
The best herb to use for this purpose is Pau d'Arco, also known as Tabebuia.
The Pau d'Arco herb is derived from the inner bark of a beautiful, large tree that is native to the rainforests of Central and South America. It will grow in any warm, humid clime. I am fortunate to have two of these beautiful trees, Tabebuia impetiginosa, growing in my front yard.
Candida Diet Recommends Pau d'Arco
I first learned about Pau d'Arco while on the Candida Diet some twenty-five years ago. Although the Candida Diet failed miserably to improve the health either of myself or my husband (we eventually realized that eating traditionally was the way to healing and health, not fad diet silver bullets), we found this powerful herb highly effective at repressing Candida and significantly reducing sugar cravings.
Pau d'Arco has been used as a medicine to counteract fungal overgrowth for centuries. Science is validating these anecdotal observations with solid research. For example, the Brazilian Journal of Biology found that Tabebuia avellanedae, one tree species that is the source of the Pau d'Arco herb, does indeed exert an inhibitory effect on yeasts.
What Form is Best?

Pau d'Arco is most often consumed as a medicinal herbal tea. It is an acquired taste at best! Even after drinking it as needed for the past 2 decades, I still don't like it much!
The good news is that the taste isn't so terrible that you can't drink a cup or two for a few days. This practice will help you get back into the routine of healthy eating with far less agony.
If you absolutely cannot stand the bitter taste, try using a Pau d'Arco tincture instead (this is a good brand to try).
How much sugar is too much? The definition of sugar moderation is less than 36 grams (3 tablespoons) per day. Most importantly, this includes fruit and fruit juice.
To give you an idea of how little sugar this actually is, one navel orange contains approximately 23 grams of sugar.
More than 36 grams of sugar per day causes significant immune system impairment. This limit is based on the research described in the classical compendium Search for Health by Tom Valentine.
How to Use
Two cautions with regard to consumption of Pau d'Arco tea are to start slow! This avoids uncomfortable Candida die-off symptoms.
Secondly, make sure you get the real thing. There are Pau d'Arco imposters out there, so make sure the source of your herb is either the Tabebuia avellanedae tree or the Tabebuia impetiginosa tree. Mahogany bark, for example, apparently has a similar color and aroma to the bark of the Pau d'Arco tree but does not have its beneficial effects when consumed as a tea.
Getting back on the healthy eating wagon is not nearly as tough when you use Pau d'Arco as your ace in the hole!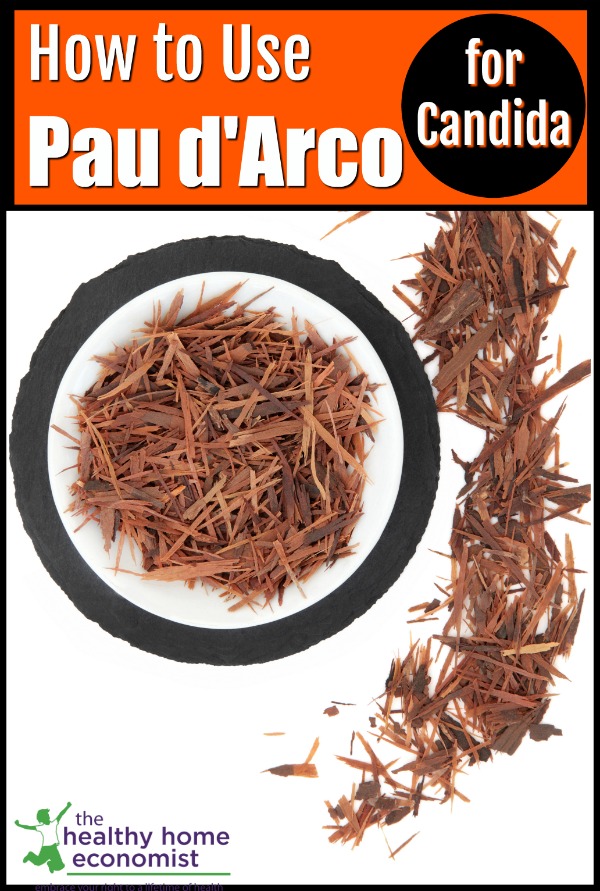 References
Antimicrobial potential of some plant extracts against Candida species
More Information
Biofilms in treating Candida
The 11 Best Natural Antibiotics and How to Use Them
Can Candida Sufferers Drink Kombucha?
Slippery Elm for Natural Digestive Relief
Rooibus Tea: Delicious and Naturally Caffeine Free
Top 3 Herbs for Fertility