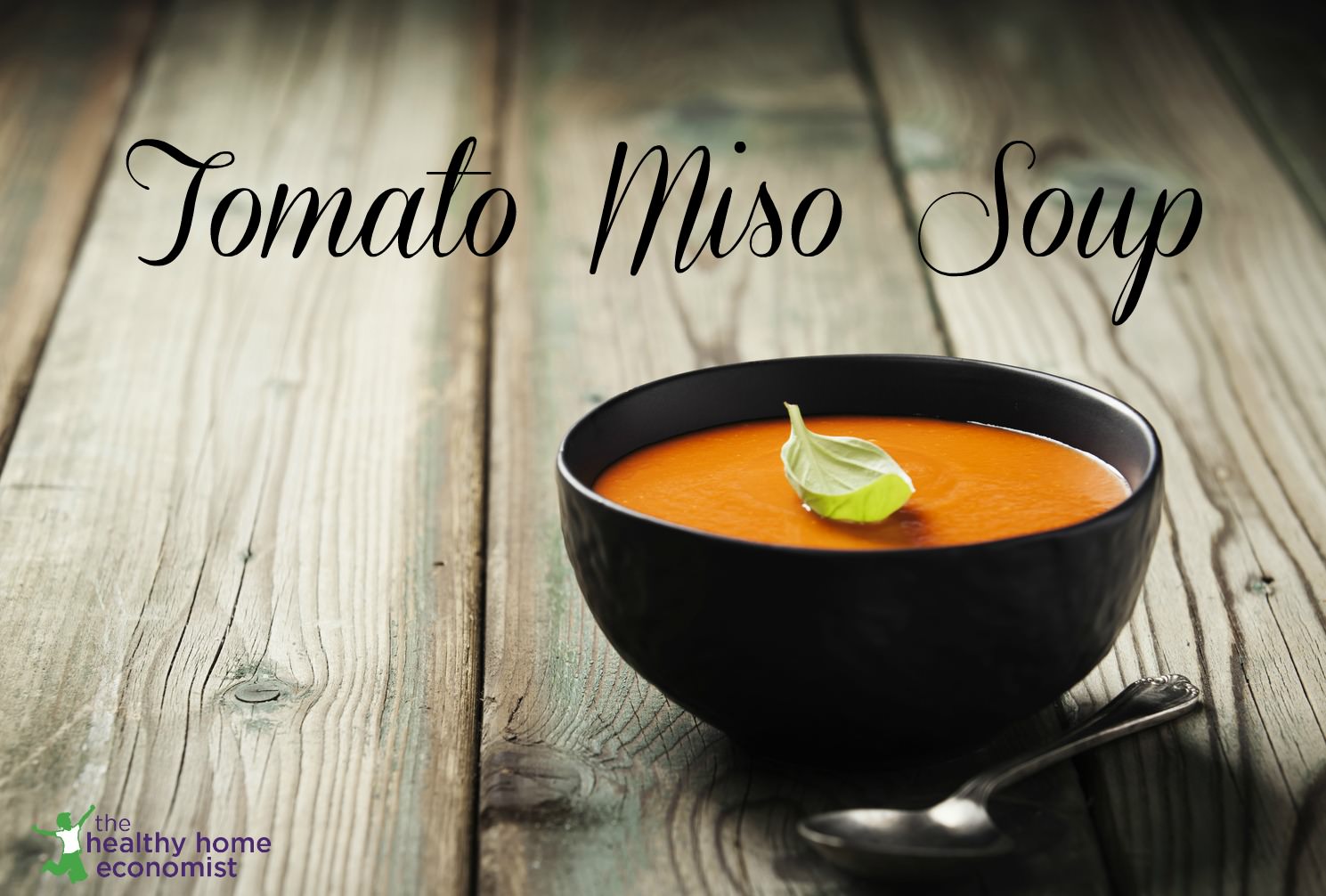 Want to make a pot of soup, and lo and behold, there is no organic bone broth in your freezer? It's easy to make a pot of tomato soup using miso as the base instead.
Whatever you do, don't resort to MSG loaded bouillon cubes, soup base powders, or cans of nutritionless (and also MSG laced) chicken stock from the store!  Even the tetra packs of organic stock from the healthfood store are no good and contain plenty of additives and MSG covertly called "spices","broth", "bouillon", or "natural flavors".
In a pinch, you can use vegetable stock as the soup base using delicious, healthy, and traditionally fermented miso paste.
Homemade Miso Tomato Soup
We recently had a hankering for tomato soup at our house and I was out of stock completely (I know, shame on me). I did have a pot of chicken broth ready to put on the stove, though. So, I was only about 24 hours from replenishment!
But, now is NOW and we all wanted soup for dinner. So, I got out my miso paste and whipped up the tomato soup recipe below. It was simply delicious and a very nice change from the flavor of basic tomato soup using chicken stock as the base.
Miso paste is a traditional food made from fermented soy, which has been used for centuries in traditional Asian cultures such as Japan. During my travels in Japan in 1988, I ate many a bowl of this fabulous food!
Be aware that only fermented soy such as miso paste, tempeh, natto, or soy sauce can be consumed safely. Any modern forms of soy are health robbing and thyroid suppressing and should be avoided.
Enjoy!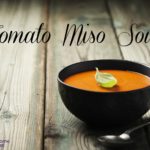 Miso Tomato Soup Recipe
Recipe for easy tomato miso soup to tantalize the tastebuds and nourish the body using traditionally fermented miso paste and other whole, nourishing ingredients.
Instructions
Put 2 cups of filtered water, coconut oil and strained tomatoes in a 3-4 quart pot. Bring to just below a boil.

Mix miso paste with remaining 1/2 cup of water in a small bowl until smooth.

Pour water and miso paste mixture into the pot and stir into water/tomato mixture.

In a small frypan, gently melt grassfed butter and lightly saute chopped onion until slightly carmelized. Add cooked onions and garlic to miso/tomato/water mixture.

Cook just below a boil for about 5-10 minutes to blend the flavors. Remove from heat and blend with a handheld blender right in the pot. Salt and pepper to taste.

Serve in bowls with a dollop of cultured cream or fresh cream that has naturally soured in the refrigerator.
Sarah, The Healthy Home Economist