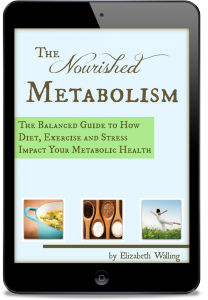 What first struck me upon reading Elizabeth's short but substantial book, is the clarity of her thinking and communication. In a field where clarity is the exception rather than the rule, The Nourished Metabolism is refreshingly quick and easy to read yet powerful in its ability to cut through the confusion and lead you to clear and practical conclusions you can benefit from immediately.
Speaking from personal experience — as opposed to being an academic — she conveys her own sense of frustration being stuck in an unhealthy state so early in life with a couple of toddlers and seemingly decades of struggle ahead.
In looking particularly at how to eat well to optimize her health, she concluded, after some years of plowing through the piles of published propaganda and misinformation served up to the masses these days, that we have been led to believe that getting healthy is a grim process requiring tremendous self-discipline and grit.
Her conclusion?
"It hit me that all the restriction and obsession wasn't for me… it's OK to make the plan fit you, instead of trying to make you fit the plan… well it's not just OK — it's actually the key to becoming a healthy, balanced person!"
Even if I wasn't committed to doing this book review, I would want to read The Nourished Metabolism based on that statement alone!
The central question Elizabeth asks is "are you nourishing your metabolism or stressing your metabolism?"
Once she's lead the reader through an expanded understanding of what we need to understand our metabolism to be (hint, it's not just your ability to burn calories, but you already knew that right?) she presents a simple list of holistic indicators to help you determine whether you have a stressed metabolism or a nourished one.
But then there's the good news (because you're probably going to get a little bad news as you check down that list) — there's a very manageable and reasonable approach to making improvements, not decades of struggle and repeated failure.
Elizabeth's starting place in her own journey to a nourished metabolism was not a fun place to be. She had trouble sleeping, was constantly tired, experienced poor circulation and skin issues. But she learned how to restore her physical system to normal levels of energy and capacity. Here are some key points she addresses from the steps she took and has helped others take since:
many diets stress the metabolism in harmful ways and end up doing more harm than good
stresses can be identified and addressed
don't blame your willpower for failing at a diet – there's another culprit!
stress causes the body to store fat in the end
improving digestion releases energy which gives the body more ability to recover from heart, brain, liver, lung etc. conditions
gut imbalance can be resolved if addressed realistically
traditional foods are more likely to support your health goals than commercially produced fad products
the "restrict and repent" cycle can be avoided
soy, salt, sugar and water are misunderstood
the difference between commercial supplements and genuine superfoods
movement is more important that exercise
how to get the right amount of sleep.
All this is supported by a simple description of the principles of healthy eating and how to integrate them into your routine without turning your life upside down.
All in all, this is an interesting read with substantial benefits presented in simple, laypersons' terms. Hope you enjoy it too!